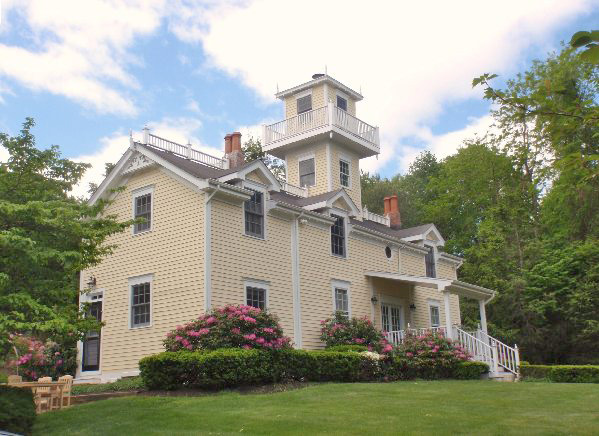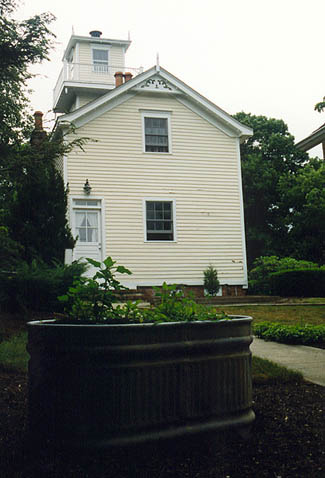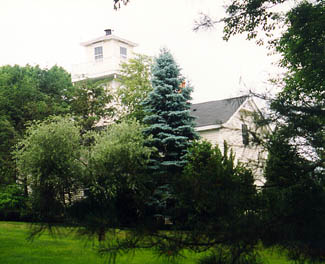 Description: Richard Carlow Jr. was responsible for building several structures used in range lights to help guide vessels into New York Harbor. These structures were described as "three hexagonal towers, three keepers' dwellings with light turret in the center, and three separate keepers' dwellings, all of wood, upon foundations of brick laid in cement." One of these dwellings with a central light turret was the Chapel Hill Rear Range Lighthouse. The other two similar edifices served as the Point Comfort Front Range in Keansburg, NJ, and the New Dorp Rear Range Lighthouse on Staten Island, NY.

Originally known as High Point, the neighborhood of Chapel Hill derives its present name from a small Baptist church built on the hill in 1809. The government purchased three acres on this hill from a Timothy Mount in 1853. Three years later, the lighthouse was constructed and commenced shining the light from its 40-foot tower towards the bay below. The Chapel Hill Lighthouse was paired with the Conover Beacon, located 1.5 miles north on the beach in Leonardo. When these two lights were aligned, one above the other, mariners knew they were centered in the Chapel Hill Channel that would safely lead them into Sandy Hook Bay.

The Chapel Hill Lighthouse served until 1957, when it was replaced by a beacon atop a steel tower positioned 200 feet north of the lighthouse. An auction for the obsolete lighthouse was held by the General Services Administration in 1959. Thomas Consorti, a Manhattan businessman, submitted the winning bid of $16,313. Consorti purchased the lighthouse as a Christmas present for his 20-year-old son Peter, an amateur astronomer, to use as an observatory. One must admit that the elevated walkway atop the lighthouse would be a good platform for stargazing.

The lighthouse has had several owners since it was sold into public hands, but it remains in excellent condition. Decorative railings have been placed atop the front porch and along the roof peak, and ornamental spindles grace the four corners of the tower's roof. The lighthouse has had an addition placed on its eastern end, as the brick chimneys marked the ends of the original lighthouse.

References
Guarding New Jersey's Shore: Lighthouses and Life-Saving Stations, David Veasey, 2000.
Sentinels of the Shore, Bill Gately, 1998.

Location: Located about 1.5 miles south of the Conover Beacon.
Latitude: 40.39825
Longitude: -74.05874


For a larger map of Chapel Hill Rear Range Lighthouse, click the lighthouse in the above map or get a map from: Mapquest.
Travel Instructions: The light is now a private residence and located at the end of a long driveway making it very difficult to see. Please respect the owner's privacy. You can view the Barbier and Fenestre lens formerly used in the Chapel Hill Lighthouse at the Navesink Lighthouse.
The lighthouse is privately owned. Grounds/dwelling/tower closed.
Find the closest hotels to Chapel Hill Rear Range Lighthouse
See our List of Lighthouses in New Jersey