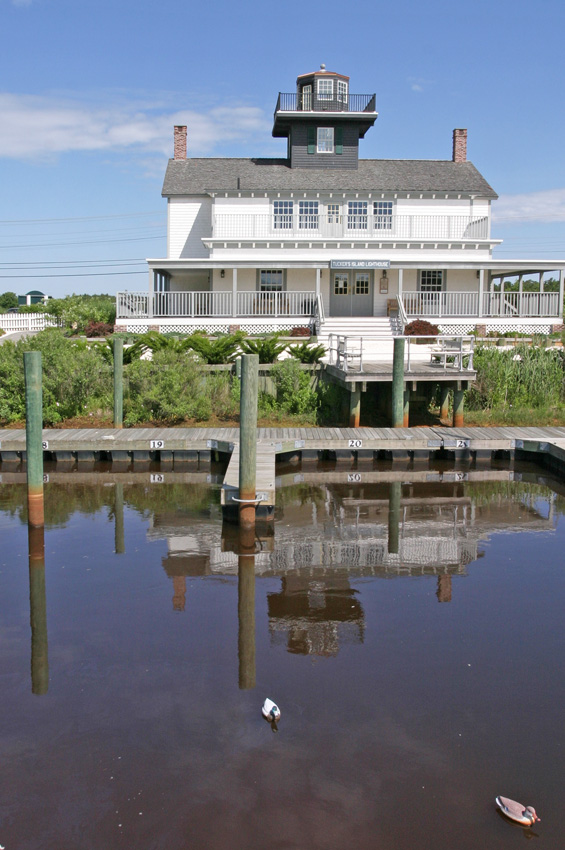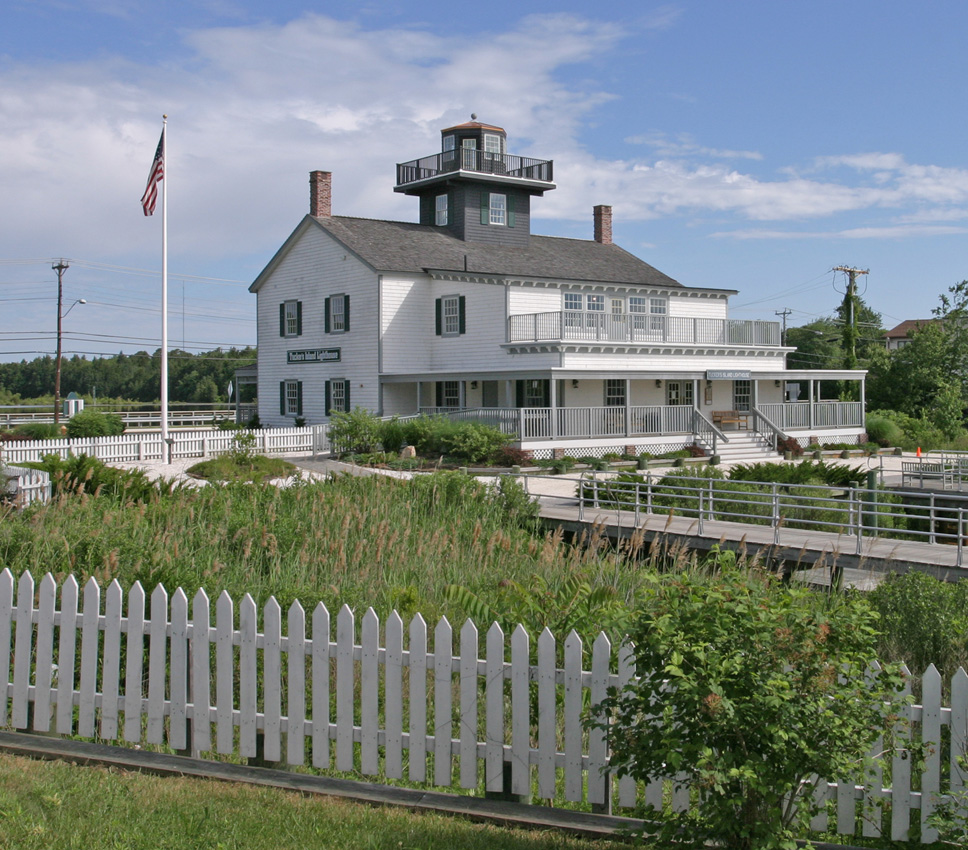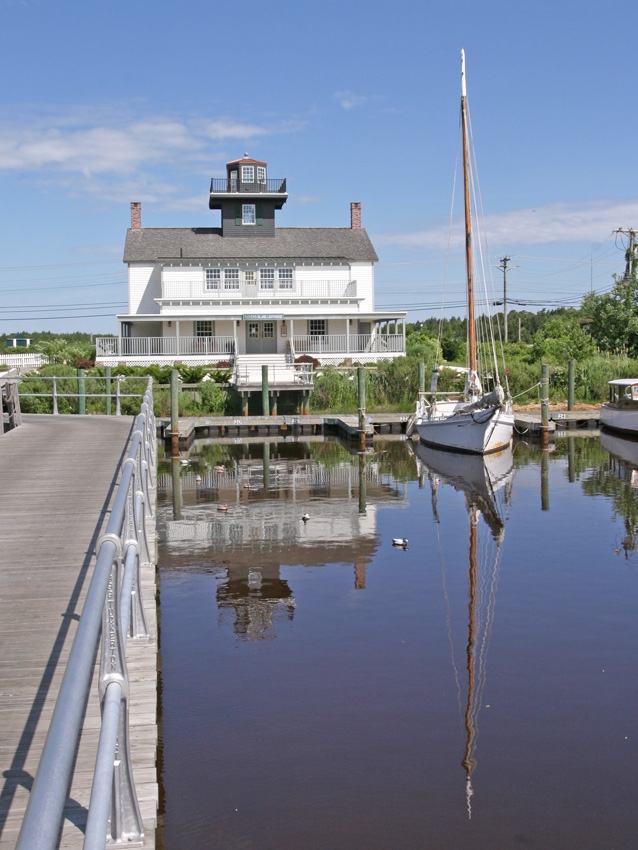 Description: Reuben Tucker purchased the southern portion of Long Beach Island in 1765, around the time when people from Philadelphia and Burlington County first started regular visits to the Jersey Shore. These early visitors brought their own supplies and would typically set up tents on the beach. Reuben Tucker realized he could make some extra money by offering more comfortable accommodations, and his farmhouse soon doubled as an inn. Following Reubenís death, his widow, ďMammyĒ Tucker, continued the inn-keeping tradition, and it wasnít long before a small community called Tuckerís Beach was established. Mammy Tuckerís Inn was later replaced by the larger Columbia Hotel, and with the addition of the four-story St. Albans Hotel, Tuckerís Beach had become an ocean resort. Sometime around 1800, the ocean cut an inlet between Holgate and Tuckerís Beach, and Tuckerís Beach was now also Tuckerís Island. A lighthouse was added to the island in 1848 to guide traffic into Little Egg Harbor, located west of the barrier island. The beacon, known both as Little Egg Harbor Lighthouse and Tuckerís Beach Lighthouse, was a short brick tower displaying an array of fifteen lamps set in 15-inch reflectors. The lighthouse had a poor reputation as exemplified by this 1852 report by Captain H. K. Davenport, skipper of the U.S. Mail Steamer Cherokee: "As for Egg Harbor Light, that had better be put out than kept as it is now, a decoy to draw vessels into difficulty looking for it. It is not as bright as the light I carry at my masthead."

In 1855, the lighthouse was fitted with a fourth-order Fresnel lens fabricated by Henry Lepaute of Paris, but the Annual Report of the Lighthouse Board for that same year indicated potential changes at the station. ďWhen the first class light is lit at Absecum, the Tuckerís Beach light will be unnecessary and inconvenient for purposes of general navigation. Indeed it will be of small local importance, as vessels cannot safely enter Little Egg Harbor at night. It will be quite sufficient to reduce it to a small harbor light, perhaps distinguished by a red or green color.Ē The Absecon Lighthouse commenced operation in 1857, and two years later the Tuckerís Beach Lighthouse was discontinued.

Rethinking its drastic move, the Lighthouse Board decided to reestablish Tuckerís Beach Lighthouse in 1867. In 1879, the original lighthouse was converted into an oil shed, and a square tower supporting a lantern room was fitted to the roof of the new, two-story keeperís dwelling. Eber Rider was the first keeper assigned to the lighthouse after it was reestablished, and a string of six other Riders would serve as keeper or assistant keeper after Eber.

The inlet north of Tuckerís Island was fickle. At times Tuckerís Island was attached to the larger Long Beach Island, while at other times it stood alone. During a blizzard in 1920, the inlet broke through and started to move south. Foot by foot, Tuckerís Island was being erased. One by one, hotels and houses were washed away, and on October 12, 1927 the lighthouse toppled into the water. Paul Rider, nephew of keeper Arthur Rider, was at the lighthouse when it fell and captured the lighthouseís final moments in this sequence of photographs. Of that final visit, he stated: ďI slept in the old lighthouseÖ, camera in hand, the night before she toppled. The government had officially abandoned her some weeks before and we knew she could go any minute. Earlier storms had broken and undermined the foundation and the sands around it were constantly being washed away.Ē The remains of the lighthouse were burned on October 14.

Eight years after the lighthouse was lost, the Coast Guard station was claimed by the sea. The schoolhouse followed in 1938, and by 1940 shorebirds were the only residents of the small patch of remaining land. The entire island had disappeared by 1952.

In the 1980s, a group of southern Ocean County sportsmen expressed concern that the old ways of bay life were in danger of extinction. This groupís vision led to the eventual creation of Tuckerton Seaport, where the areaís rich maritime heritage is captured through displays and demonstrations of boat building, decoy carving, and basket weaving. One of the many buildings at the seaport is a re-creation of Tuckerís Island Lighthouse. Located some six miles west of its original location, the lighthouse should be quite safe from the sea. The replica lighthouse looks quite authentic and even houses a Fresnel lens, though not in the lantern room. To celebrate the New Year, visitors were granted free admission to Tuckerton Seaport on December 31, 2013, and an LED light was activated that evening atop the lighthouse.

References
Informational display at Barnegat Lighthouse.
Guarding New Jerseyís Shore: Lighthouses and Life-Saving Stations, David Veasey, 2001.
Sentinels of the Shore, Bill Gately, 1998.

Location: Located alongside Route 9 in Tuckerton at the Tuckerton Seaport.
Latitude: 39.60195
Longitude: -74.34265


For a larger map of Tucker's Beach (Replica) Lighthouse, click the lighthouse in the above map or get a map from: Mapquest.
Travel Instructions: From the Garden State Parkway take Exit 58 and follow Route 539 south to the traffic light at Route 9 (Main Street). Make a right onto Route 9, and Tuckerton Seaport will be on your left across from Lake Pohatong.
The third-order Fresnel lens from the Brandywine Lighthouse is located in the Tucker's Beach Lighthouse. Open daily, 10 a.m. to 5 p.m. Call Tuckerton Seaport at (609) 296-8868 for more information.
Find the closest hotels to Tucker's Beach (Replica) Lighthouse
See our List of Lighthouses in New Jersey