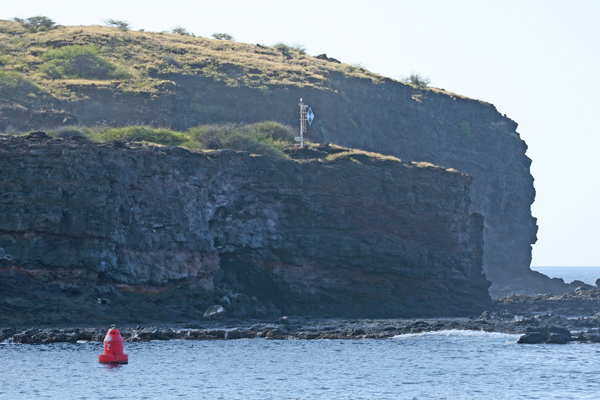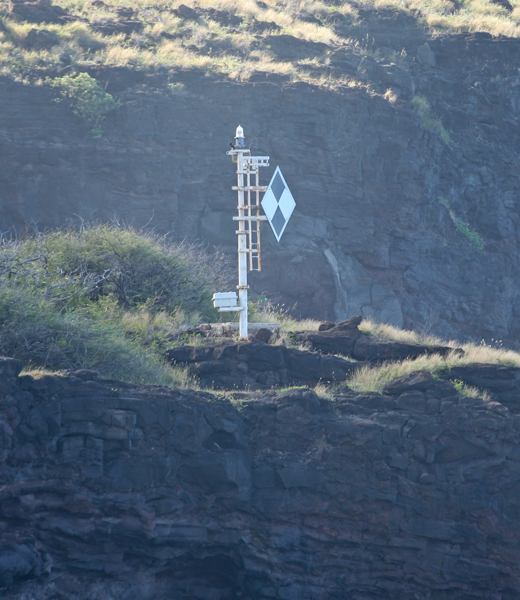 Description: James Dole purchased most of Lana'i from Harry and Frank Baldwin in 1922 for $1,100,000 and eventually devoted 15,000 acres of the island to pineapples, creating the largest pineapple plantation in the world. To transport the harvest from the island, the bight at the mouth of Kaumalapau Gulch was converted into a small harbor by constructing a breakwater on the north side of this small indentation along Lana'i's southwest shore. The island's first navigational light was established at the end of the breakwater in 1924, and the following year, the Bureau of Lighthouses assumed control for this beacon and established a second light on the south side of the entrance to Kaumalapau Harbor. This second light was originally a beacon mounted atop a small wooden building but has since been replaced with a metal pole, daymark placard, and a solar powered light.
The glory days for Lanai's pineapple crop came to an end in the 1980s, when foreign competition made the venture unprofitable. In 1985, David Murdock took over the nearly bankrupt Castle and Cooke, which assumed control of the Dole Food Company in 1961. Pineapple production has since ceased on the island, and Mr. Murdock has constructed two luxurious resorts, each with its own 18-hole golf course. Though the islands primary industry has switched to tourism, Kaumalapau Harbor still functions as the island's main working harbor.
References
The Lighthouses of Hawai`i, Love Dean, 1986.

Location: Located at Kaumalapau Harbor on the western coast of Lana'i.
Latitude: 20.7833
Longitude: -156.99162


For a larger map of Minor light of Lana'i - Kaumalapau Lighthouse, click the lighthouse in the above map.
Travel Instructions: From Lana'i City, travel west on Highway 400 (Kaumalapau Highway) to its terminus at the harbor. A view of the lighthouse, which is located on the southern side of the harbor, can be had from the breakwater made of giant, concrete jacks (tetrapods).
The lighthouse is owned by the Coast Guard. Grounds/tower closed.
Find the closest hotels to Minor light of Lana'i - Kaumalapau Lighthouse
See our List of Lighthouses in Hawaii