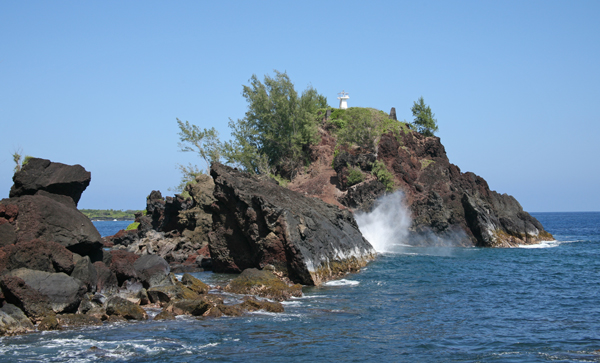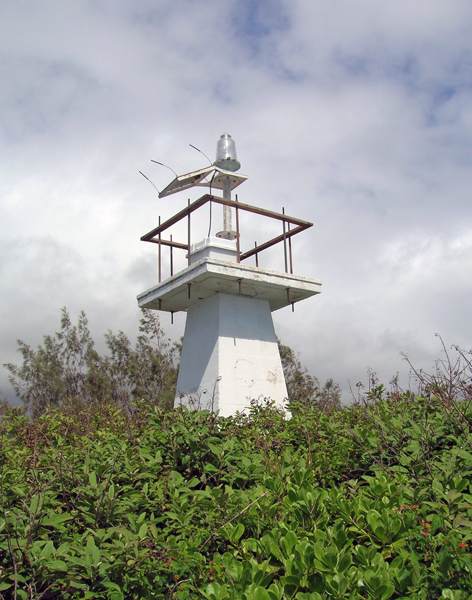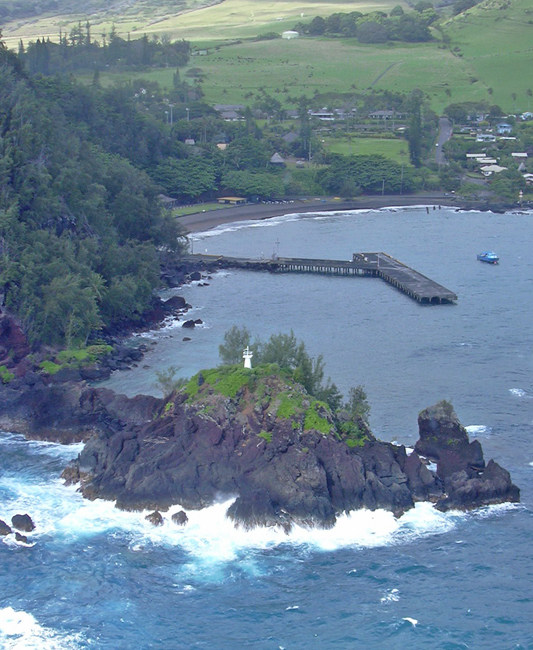 Description: Hana (Pueokahi) Bay has a diameter of about 3/8 mile and is defined by Nanualele Point on the north and Ka'uiki Head on the south. In 1919, the U.S. Coast and Geodetic Survey reported that the anchorage at Hana Bay "used by the small local steamers is inside Kauiki Head in the southwesterly part of the bay, and is marked by a mooring buoy to which vessels make their stern lines fast. This anchorage is about 200 yards wide, with depths of 14 to 36 feet; it is exposed to northeast winds and sea, and during strong southwesterly blows the wind comes offshore in such heavy squalls that vessels are apt to drag." The Lighthouse Board knew the anchorage at Hana Bay was precarious, but since it was being used by vessels engaged in interisland trade, they felt the bay should be marked by a light. Ka'uiki Head, an extinct crater with a height of 390 feet, was considered as a site for a light, but the tiny islet of Pu'uki'i located just off the head was selected instead. For some reason, however, the light has always been called the Ka'uiki Head Light. Pu'uki'i means Image Hill and at one time the image of a native god was displayed on the islet by King Umi to ward off invaders.
In 1909, a forty-foot mast and a small, one-story keeper's dwelling, with a living room, kitchen, and bedroom, were erected on Pu'uki'i. A redwood tank was used to capture water from the dwelling's roof for use of the keeper. Manuel Ferriera, who was born in Hana in 1885, was the first keeper of the light. Each night, he would light the kerosene lamp before sunset and hoist it to the top of the pole. Ferriera began his light keeping career at Ka'uiki Head Light and later moved on to serve at six other lighthouses including Barber's Point and Moloka'i.
A fourteen-foot pyramidal reinforced concrete tower was built on Pu'uki'i in 1914, and the light source was changed from kerosene to acetylene, allowing the station to be automated.
Head Keepers: Manuel Ferreira (1908 – 1914), John Weber (1914), Charles K. Akana (1914), John K. Mahoe (1914 – 1915).
Photo Gallery: 1
References
The Lighthouses of Hawai`i, Love Dean, 1986.
Coast Pilot Notes on Hawaiian Islands, E. Vance Miller, U.S. Coast and Geodetic Survey, 1919.

Location: Located on the tiny islet of Pu'uki'i just off Ka'uiki Head on the southern side of Hana Bay.
Latitude: 20.75726
Longitude: -155.97901


For a larger map of Minor light of Maui - Ka'uiki Head Lighthouse, click the lighthouse in the above map.
Travel Instructions: Take the Road to Hana (Highway 360) to the eastern shore of Maui, and then turn east onto Keawa Place, which will take you to Hana Beach Park. Park at the far end of the parking lot near the pier, and then follow a trail along the shore out to Ka'uiki Head from where you can get a view of the light on Pu'uki'i Island. Please note that the island is a bird sanctuary and is off-limits.
The light is owned by the Coast Guard. Grounds/tower closed.
Find the closest hotels to Minor light of Maui - Ka'uiki Head Lighthouse
Notes from a friend:
Kraig writes:

On Ka'uiki Head is a copper plaque placed there in 1928 to mark the birthplace of Kaahumanu, favorite wife of King Kamehameha I and, after his death, Queen Regent. Kaahumanu was born in the cave near the plaque in 1768.
See our List of Lighthouses in Hawaii