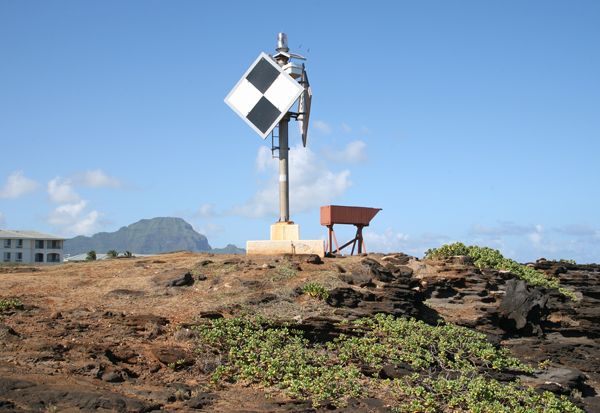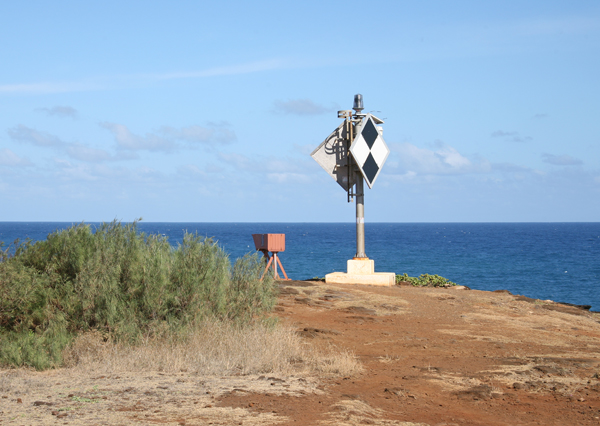 Description: The Inter-Island Steam Navigation Company maintained a red light at Koloa Point, the southernmost point on Kaua'i, around the turn of the nineteenth century, but the aid was only displayed when one of the company's vessels was expected. In 1905, the Lighthouse Board requested funds for purchasing this beacon, along with several other lights maintained by the same company, reasoning, "These lights are necessary for the safe navigation of all vessels in their respective vicinities. There are many vessels using these lights, but being private they are only shown when their own vessels are expected."
The Lighthouse Board established an official navigational aid at Koloa Point in 1908, but this was replaced in 1922 by the Makahu'ena Light, which was built about fifteen feet north-northeast of the Koloa Light. The first Makahu'ena Light was a concrete tower with a focal plane of sixty feet. This beacon served until 1983, when it was replaced by a light atop a metal pole. The lens and lantern from the old Makahu'ena Light are on display at the Hawai'i Maritime Center in Honolulu.
The foundation pier of what was likely a former tower is still present on the site and is marked USLHS.
Head Keepers: Ernest Reyher (1908 – 1909), John Kahaule (1909 – 1913), David K. Pele (1914 – 1919), Peter Kamano (1920 – 1921).
References
The Lighthouses of Hawai`i, Love Dean, 1986.

Location: location information to come
Latitude: 21.86891
Longitude: -159.44421


For a larger map of Minor light of Kaua'i - Makahu'ena Point Lighthouse, click the lighthouse in the above map.
Travel Instructions: From Lihue, take Highway 50 east and then turn south on Highway 520 (Maluhia Road). Follow Highway 520 south for 3.4 miles. The highway will turn right and become Koloa Road in Koloa. After just a short distance on Kolo Road turn left and continue south on Highway 520, which is now also known as Poipu Road. After three miles, turn right onto Pee Road and follow it until you see a vacant lot on your left. The light is at the end of the lot. There is public access to the shore from the private parking lot just past the lot.
The lighthouse is owned by the Coast Guard. Grounds open, tower closed.
Find the closest hotels to Minor light of Kaua'i - Makahu'ena Point Lighthouse
Notes from a friend:
Kraig writes:

Some of these minor lights are not much to look at, but visiting them takes you to places that you otherwise might not see. If you continue east along the coast for just under four miles, you will arrive at Spouting Horn Park, where there is a blowhole. The height of the blow is highly dependent on the wave action. This blowhole is somewhat unique as there is an adjacent hole that doesn't spout but rather creates an audible groan that can be quite impressive.
See our List of Lighthouses in Hawaii