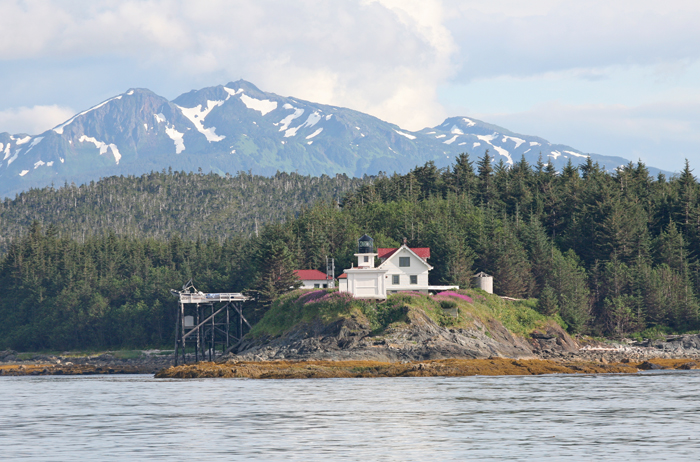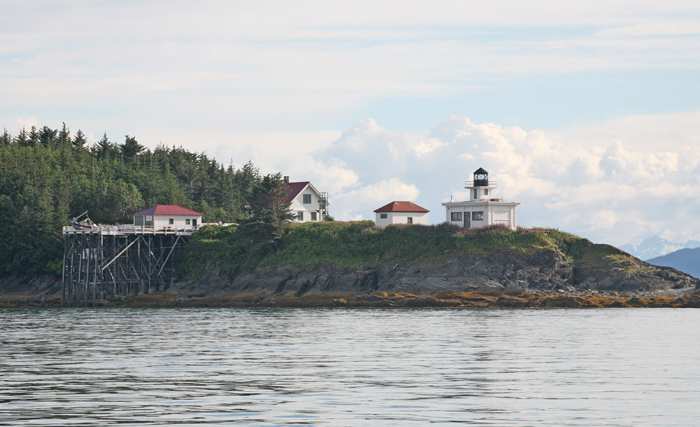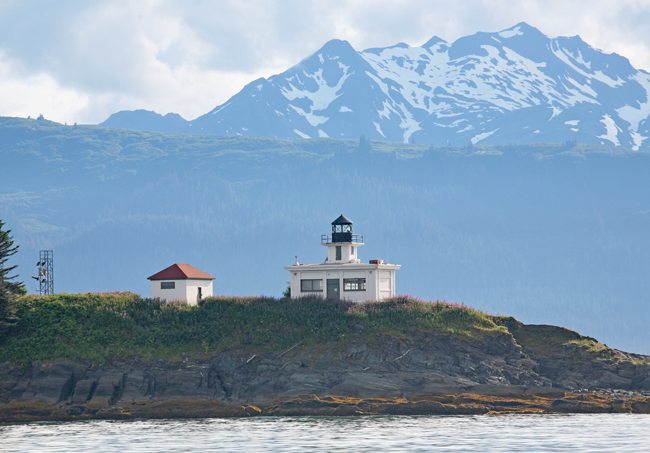 Description: Point Retreat Lighthouse is situated at the northern tip of ninety-mile-long Admiralty Island, which is bordered by Stephens Passage on the east and Chatham Strait on the west. Thousands of tourists view the lighthouse each year from the comfort of cruise ships that call at nearby ports during the temperate summer months, but few visitors actually set foot on expansive Admiralty Island as it is home to only one permanent settlement, the tiny Tlingit village of Angoon. The natives call their island Kootznahoo, meaning "Bear Fortress," and the Alaskan brown bears do seemingly rule the island, outnumbering humans by a ratio of 2:1. During an exploration voyage in 1794, Captain George Vancouver dispatched lieutenant Joseph Whidbey to obtain food and water on Admiralty Island. Whidbey took two long boats ashore and while on the island encountered natives engaged in a celebration. Not knowing if they would prove friendly, Whidbey quickly headed towards the northern tip of the island and the safety of the H.M.S. Discovery. In honor of his lieutenant's hasty retreat, Captain Vancouver named the rocky finger of land Point Retreat.

Given its prominent position along the Inside Passage, Point Retreat was set aside as a 1,505-acre lighthouse reserve in 1901 by executive order of President McKinley. The point, however, had to wait a couple of years for its lighthouse due to inadequate funding. When Point Retreat Lighthouse was finally lit on September 15, 1904, it became the tenth light station to be constructed by the U.S. Government in the Alaskan Territory.

The first Point Retreat Lighthouse was a six-foot-tall hexagonal wooden tower, topped by a hexagonal lantern room, and a one-and-one-half-story frame dwelling was constructed fifty feet south of the light. The station's boat, stored in a rectangular boathouse just east of the dwelling, allowed the keepers to make an occasional trip to Juneau.

On September 1, 1911, an automated acetylene light was activated on Point Retreat, raising the focal plane of the station's light by four feet to twenty-three feet above the water and changing its characteristic from fixed white to a group of two flashes every six seconds. With this change, Point Retreat was stripped of its personnel, but life returned to the station just over a decade later, when a new combination lighthouse and fog signal was built in 1923-24, after Congress appropriated $125,000 on March 28, 1922 for "establishing new aids and repairing and improving existing aids" in Alaska.

A one-story, rectangular (20' x 36') building housed the fog signal equipment, and from the center of this cement structure a spiral staircase led up to an eight-foot-square tower, which was topped by a circular, helical-bar lantern room. Two new keeper's dwellings, a landing wharf, derrick, hoist, boathouse, and cisterns were also built at the same time for a total price of $58,242. To provide water for the keepers and the fog signal, cisterns were built in cavities excavated out of solid rock near the dwellings and beneath the fog signal building. A 19,000-gallon cistern captured rainwater from the roofs of the dwellings, and a 1,000-gallon cistern stored water for the fog signal.

The new lighthouse also displayed an acetylene light, which retained the characteristic of a group of two flashes every six seconds. The station was equipped with four tanks, each holding up to eighty-eight cubic feet of compressed gas. As the acetylene burner consumed three-quarters of a cubic foot per hour, the tanks could keep the light operating for about a month between deliveries. The station's type "C" diaphone fog signal, produced a pair of three-second blasts every thirty seconds.

One of the two new dwellings apparently burned not long after being built, as this photograph shows a replacement dwelling being built in 1925.

One of the new station's first keepers was Charles E. McLeod, who sailed from Scotland to New York as a young boy. By 1920, Charles had found his way to Alaska where he labored as an engineer aboard a lighthouse tender, served as an assistant lighthouse keeper, and worked with a construction crew building lighthouses. On a return visit to Scotland in 1924, he met and married his wife, and then returned to his job in Alaska, telling his wife that he would send for her after his work on Point Retreat Lighthouse was finished. In 1925, Charles Jr. was born in Glasgow. The following year, the infant and his mother made the lengthy trip to Juneau and then sailed out to Point Retreat where Charles Sr. had hired on as keeper after the construction work was finished.

When Charles Jr. was just two, his mother set him on the station's dock railing so she could have both hands free to change the film in her Kodak box camera. While she was distracted, Charles fell forty feet from the dock to the rocks below. Charles Jr. seemed to have suffered little from the fall until a while later when his legs started to bother him. He was taken to Juneau, where he had the misfortune of being treated by a doctor whose inept handling of his injuries left him crippled for life. The station's small launch used for transportation between Point Retreat and Auke Bay was named Hard Luck Charlie after the boy. Charles Sr. soon had his share of bad luck too, as he developed pneumonia in 1929 and passed away.

With the increase of commercial flights to Alaska, airlines launched an intensive campaign for aeronautical beacons to be placed along the Alaskan coastline. Rather than add a second beacon on Admiralty Island, the lantern room from Point Retreat Lighthouse was simply removed in the 1950s and replaced by an eight-foot-tall concrete block supporting a double-ended airways beacon that produced alternate red and white flashes. In this manner, Point Retreat lighthouse could serve both captains and pilots.

As the station moved towards automation, one of the two keeper's dwellings was torn down in 1966 to make room for a helicopter landing pad. Then, in 1973, the station was downgraded to a minor light, and the remaining personnel were removed.

The lone dwelling stood vacant and the station received only an occasional checkup visit from the Coast Guard until a thirty-year lease on the property was granted to the Alaska Lighthouse Association in 1997. Five years later, the same group received outright ownership of the buildings and the entire 1,505-acres originally set aside for the station. Several groups tried to block the land transfer, feeling that only ten acres should be awarded with the lighthouse. The Alaska Lighthouse Associations plans to use the property to house a maritime museum and a small bed-and-breakfast. Stipulations in the transfer require that the property be accessible to the public.

In 2002, all the structures at Point Retreat received a fresh coat of paint, but the station seemed incomplete without the lantern room that was removed decades earlier. A search for the missing lantern room was unsuccessful so Seidelhuber Iron and Bronze Works of Seattle was contracted to build a steel replica using architectural drawings found in the National Archives. The new lantern room was installed atop the lighthouse in 2004, just in time for the centennial of the station. Point Retreat Lighthouse is now fit to start another century of service complete with short-term "keepers" residing in the dwelling.

Keepers:
Head: Mortimer Galvin (1905 – 1910), Antone Peterson (1910), Gustaf Tesch (1910), Charles P.Mercer (1910 – 1911), Charles E. McLeod (1925 – 1929), Eugene E. Mead (at least 1930), Frank W. Ross (at least 1940).
Assistant: Arthur F. Frey (1929 – 1930), Edward C. Hope (1935), August Waltenberg ( – 1940), Paul Schuttpelz, Jr. (1940 – at least 1941).
References
Annual Report of the Lighthouse Board, various years.
Annual Report of the Commissioner of Lighthouses, various years.
Lighthouses and Other Aids to Navigation in Alaskan History, U.S. Coast Guard.
"Alaska Land Transfer Puts Senator on Spot," New York Times, August 21, 2001.
"A good, tough life," Anchorage Daily News, August 29, 2004.

Location: Located on the northern tip of Admiralty Island, twenty-one miles northwest of Juneau.
Latitude: 58.41151
Longitude: -134.9551


For a larger map of Point Retreat Lighthouse, click the lighthouse in the above map.
Travel Instructions: Point Retreat Lighthouse can be seen from the ferry that operates between Auke Bay (Juneau) and Glacier Bay National Park (different companies have offered this service in the past). The Alaska Marine Highway ferries that operate between Juneau and Sitka also pass by the lighthouse as does Alaska Fjordlines, Inc., which operates between Skagway/Haines and Juneau.
The lighthouse is owned by the Alaska Lighthouse Association. Grounds open, dwelling/tower open by arrangement with Alaska Lighthouse Association.
Find the closest hotels to Point Retreat Lighthouse
Notes from a friend:
Kraig writes:

retreat n.
1. The act or process of withdrawing, especially from something hazardous, formidable, or unpleasant.
2. A place affording peace, quiet, privacy or security.

Although, Point Retreat received its name based on definition #1, in the future, it will be more associated with definition #2, as people escape to the peninsula to enjoy the incredible views, amazing scenery, and diverse wildlife that this place, conveniently located near Juneau, has to offer.

We were fortunate to be graciously given a tour of the buildings at Point Retreat in 2005. The keepers house was being restored using fine wood and granite, and it will eventually be open as a B&B allowing visitors to experience it for more than just a brief visit.

Paula the Lighthouse Years tells the story of an Estonian mail-order bride who was wed to August Waltenberg, a keeper at Point Retreat. When Waltenberg died, Paula married George Alexius a keeper who served at Scotch Cap.

The book's author, Suzan Heglin, provides the following description of the novel: "In the 1930's lighthouse keeping was dangerous and mundane, a way of life and isolation from life. Estonia was thriving and backward, unique and powerless. Women were submissive and yet the impetus for all things. And marriage was mandatory. But romantic love was the sweetest and most unlikely twist of fate.

Paula is a woman I knew in my childhood. She was an Estonian immigrant. She was a mail-order bride. Her husband was an Estonian-American, a lighthouse keeper, a wife beater and maybe a pedophile.

Paula, an educated woman in Estonia, came to this country not knowing the language or culture and was kept a virtual prisoner for more than a decade at a string of lighthouses on the rugged Alaskan coast. Paula was a woman who's life, while dictated by tradition, was full of excitement and adventure and characterized by passion and courage. And while at times there seems no end to the misery she endured, a love story unfolds."
See our List of Lighthouses in Alaska