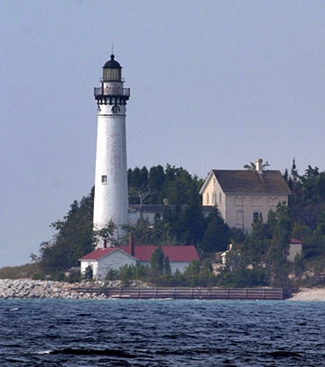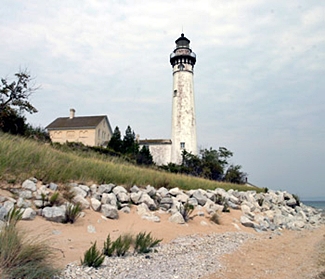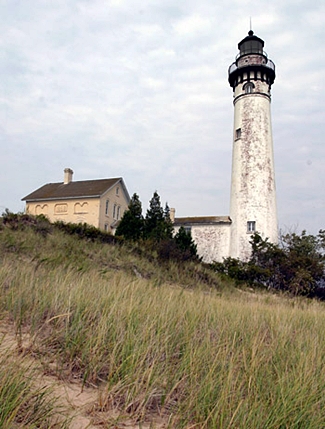 Description: Indian legend has it that a mother bear and her two cubs, fleeing a fire in Wisconsin, attempted to swim across Lake Michigan. The mother bear safely reached the Michigan mainland and climbed atop a dune to wait for her offspring, but the journey was too much for the cubs, who drowned just offshore. The Great Manitou (Great Spirit) raised the cubs up from their watery grave to form North and South Manitou islands, while their mother laid down atop the dune, creating the feature from which Sleeping Bear Dunes National Lakeshore takes its name.

Six-mile-wide Manitou Passage, which lies between the islands and the mainland, was used by most vessels traveling between the Straits of Mackinac and Chicago, or other destinations in the southern end of Lake Michigan. South Manitou Island has a fine, crescent-shaped harbor on its eastern side, and in the 1800s steamers anchored at the island to take on fuel or to seek shelter from storms. Lieutenant James T. Homans stopped at South Manitou Island during his 1838 voyage spent examining existing lighthouses and proposing sites for new ones. Homans placed a stake on a high knoll on the southern side of South Manitou's harbor to mark the site for the lighthouse for which Congress had appropriated $5,000 earlier that year.

The first lighthouse on South Manitou Island was built in 1839 and displayed a fixed white light using eight lamps and fourteen-inch reflectors. The lighthouse, built with the same specifications used for the still-standing old Presque Isle Lighthouse, consisted of a thirty-four by twenty-foot stone dwelling and a detached thirty-foot-tall, brick and stone tower. The tower's lantern room was roughly thirty-five feet above the ground, but the knoll on which the lighthouse stood gave the light a focal plane of sixty-five feet above the lake.

William N. Burton, son of the island's first permanent settler, was employed as the light's first keeper. An inspection report in 1850 noted the tower and dwelling both needed pointing and whitewashing and that the fireplaces in the dwelling had been undermined by rats. A fourth-order Fresnel was installed in the tower's lantern room in 1857, and by that time a fog bell was also being used at the station.

Crafted into the yellow bricks on the southern side of the current keeper's dwelling is the year of its construction: 1858. With the original lighthouse beyond repair, a new one was built in 1858, consisting of the current keeper's dwelling topped by a short wooden tower and lantern room. This lighthouse resembled the one built that same year in Grand Traverse and the one built at Port Washington, Wisconsin in 1860. The 1858 lighthouse used the fourth-order Fresnel lens installed in its predecessor the previous year, but a decade later the light was considered inadequate for so important a location. In its 1869 annual report, the Lighthouse Board noted:
Through the channel between South Manitou Island and the main land the principal commerce of the lakes passes, guided by this light, which should have a lens of a higher order, with greater elevation and a characteristic distinction not readily mistaken. It is also a guide to a harbor of refuge, which is probably more used than any other on the entire chain of lakes, and it is frequently impossible to distinguish the present light from those on board of vessels at anchor.
Congress appropriated $10,000 for improving the light on South Manitou Island in 1870, and added another $20,000 to this on March 3, 1871. A work crew arrived on the island in 1871 and constructed the current 100-foot brick tower atop a pile foundation. The tower has a diameter of eighteen feet, four inches and its base and tapers to twelve feet, eight inches at its top, where a third-order Fresnel was installed inside a decagonal lantern room to produce a fixed white light at a focal plane of 104 feet. A forty-four-foot-long covered passageway connected the new tower to the 1858 dwelling.

Two years after the tower was built, sixty feet of shore in front of the station was lost, leaving just twenty feet between the lighthouse and Lake Michigan. A sixty-five-foot-long log wall was built in 1883 to protect the embankment between the tower and the lake. In 1875, a ten-inch steam whistle, the first on Lake Michigan, was established near the lighthouse, and three years later a duplicate was added as a backup. A circular iron oil house was erected 100 feet northeast of the lighthouse in 1893.

Before being appointed head keeper of South Manitou Island Lighthouse in 1866, Aaron A. Sheridan served in the Civil War, where the bones in his lower left arm were shattered during the Battle of Ringgold. On July 14, 1869, W.H. Arthur, master of the Equinox out of Buffalo, filed a complaint with the customs collector at Chicago claiming that the light on South Manitou Island was out between midnight and 1 a.m. the previous day. Keeper Sheridan was asked to explain the outage and responded that the lamp was overflowing that night, prompting him to reduce the flow by about one-third. After watching the light until midnight, Keeper Sheridan laid down for an hour or so, and when he got up to check on the light, he found the oil had stopped flowing and the light had gone out.

Keeper Sheridan and his wife Julia, who was serving as an assistant keeper, were returning from the mainland on March 15, 1878 with their ten-month-old and Chris Ankerson, a resident of South Manitou, when the boat they were in capsized about a mile from the island. Ankerson was able to cling to the upset vessel until help arrived from the island and reported that Keeper Sheridan could have saved himself but sacrificed his life trying to save his wife and child. Keeper Sheridan twice assisted his wife and son to the overturned boat, but due to the high seas and cold water, Julia was unable to maintain a grip on the rolling boat. Julia eventually slipped beneath the waves, and in a vain attempt to save her, Keeper Sheridan followed her to a watery grave. Katherine Hutzler was babysitting the Sheridans five other sons at the time of the accident and often told the story of how the boys, who were between the ages of three and twelve, ran up and down the beach weeping while searching for the bodies of their parents and baby brother. During his twelve years of service, Keeper Sheridan had an excellent record, and his final act speaks highly of his devotion to his family. Lyman Sheridan, Aaron Sheridan's first cousin, became the next head keeper of the lighthouse.

Keeper James P. Burdick, who served as head keeper from 1908 to 1928, sent the following report to his superiors in 1917:
A duck flew through the storm pane and plate glass in the tower last night. Both the outside and inside glass were cracked all to pieces, and one duck lay dead near the lens. I think more than one struck, but only one got inside. When the inside plate broke it struck the lens and chipped it in a few places. We have put in a new storm pane.
Bird strikes occasionally occurred at lighthouses, but it wasn't often that the fowl actually broke through the glass panes and damaged the Fresnel lens.

The fog signal at South Manitou was changed to an air diaphone in 1933, and in 1942, the light was supplied with electric power. South Manitou Island Lighthouse was deactivated in 1958 and stood neglected until it was incorporated into Sleeping Bear Dunes National Lakeshore in 1970. Park rangers provide tours of the tower to some of the almost 9,000 people who take the ferryboat ride to South Manitou each summer, but restoration of the interior of the dwelling is still awaiting funding.

After a successful campaign carried out by the Manitou Island Memorial Society and Manitou Island Transit to re-light the light, the Park Service restored the lantern room and the tower's spiral staircase in the summer of 2008, and a replica of the light's original third-order Fresnel lens, created by Artworks Florida, was installed in the lantern late that fall. In conjunction with the reactivation of South Manitou Lighthouse on May 30th, 2009, an interpretive talk on the history of the Manitou Passage and the shipwrecks that made the lighthouse necessary was held at the park's maritime museum, housed in a historic lifesaving station in Glen Haven. The modern beacon, which was lit by Jack Sheridan, great-grandson of Keeper Aaron Sheridan, now shines forth each year between May and October.

Keepers:
Head: William N. Burton (1840 – 1843), Zael Ward (1843 – 1845), George Clarke (1845 – 1849), Benjamin Ross (1849 – 1853), Alonzo J. Styfield (1853 – 1859), Patrick Glenn (1859 – 1861), P.W. Kirtland (1861 – 1866), Aaron A. Sheridan (1866 – 1878), Lyman F. Sheridan (1878 – 1882), Martin N. Knudsen (1882 – 1889), Nelson Knudsen (1889 – 1892), Thomas R. Kitchen (1892), Thomas J. Armstrong (1892 – 1904), William P. Larson (1904 – 1908), James P. Burdick (1908 – 1928), Ernest G. Hutzler (1928 – 1935), John K. Tobin (1935 – 1941), Ronald W. Rosie, Sr. (1941 – 1942), Jack D. Rogers ( – 1950), Melvin N. Nelson (1950 – ).
First Assistant: Julia Sheridan (1872 – 1878), Alexander Thompson (1878 – 1882), Jeremiah Becker (1882 – 1883), Nelson Knudsen (1883 – 1887), James D. Armstrong (1887 – 1889), John C. Gallagher (1889 – 1890), Thomas R. Kitchen (1890 – 1892), Wesley A. Smith (1892), Phil Sheridan (1892 – 1895), Louis Hutzler (1895 – 1898), Bertrand C. Green (1898 – 1902), James P. Burdick (1902 – 1903), William H. Burdick (1903 – 1906), John Fitzgerald (1906 – 1907), Ernest Hutzler (1907 – 1908), Robert A. Mckillop (1908 – 1912), Ernest Hutzler (1912 – 1919), Henry Rocheleau (1922 – 1925), John K. Tobin (at least 1930), Ronald W. Rosie, Sr. (1935 – 1941).
Second Assistant: Jeremiah Becker (1875 – 1882), Phil Sheridan (1882 – 1883), Barney Ewers (1883 – 1885), James D. Armstrong (1885 – 1887), S.H. Roosa (1887 – 1888), John C. Gallagher (1888 – 1889), Thomas R. Kitchen (1889 – 1890), Thomas J. Armstrong (1890 – 1891), George C. Hendryx (1891 – 1892), Benjamin E. Arnold (1892), Louis Hutzler (1892 – 1895), Bertrand C. Green (1896 – 1898), August Nelson (1898), Guy Stephenson (1898 – 1900), Guy M. Blake (1900 – 1901), James P. Burdick (1901 – 1902), William H. Burdick (1902 – 1903), William Fraser (1903 – 1904), Ernest Hutzler (1904), John Fitzgerald (1904 – 1906), Ernest Hutzler (1906 – 1907), Thomas H. Wheeler (1907), Andrew T. Burdick (1907), Robert A. McKillop (1907 – 1908), Herbert H. Wheeler (1908 – 1909), Ernest Hutzler (1909 – 1912), John K. Tobin (1912), Henry Rocheleau (1922), Ray Robinette (1925 – 1927), Cecil S. Scofield (1927 – 1929), Ray Robinette (1929 – 1938).
References
Annual Report of the Lighthouse Board, various years.
Annual Report of the Commissioner of Lighthouses, various years.
Annual Report of the Lake Carriers' Association, various years.
Lighthouse Service Bulletin, various years.
Information from Steve Sheridan, great grandson of Keeper Aaron Sheridan.

Location: Located on South Manitou Island, part of the Sleeping Bear Dunes National Lakeshore.
Latitude: 45.00755
Longitude: -86.09397


For a larger map of South Manitou Island Lighthouse, click the lighthouse in the above map or get a map from: Mapquest.
Travel Instructions: Manitou Island Transit offers ferry service and day trips to South Manitou Island from Leland. It is an easy walk to the South Manitou Lighthouse from the ferry landing.
The lighthouse is owned by the National Park Service and is managed by Sleeping Bear Dunes National Lakeshore. Grounds open, dwelling closed, tower open in season for tours.
Find the closest hotels to South Manitou Island Lighthouse
Notes from a friend:
Kraig writes:

Martin Knudsen served as head keeper at South Manitou Island from 1882 to 1889 and during this time developed the following system for drying out damp masonry structures:

My first experience, and in fact the only experience I ever had, with high masonry towers and damp dwellings, was at South Manitou Light Station, Mich. It was very bad there. Puddles of water often stood on the floor of the tower at base from the moisture running down the walls, stairways were wet, and a whole atmosphere of dampness seemed to fill every room above the kitchen. Paper on the walls loosened up, water from moisture frequently ran down the walls on the second floor during damp weather. This was the state of both tower and dwelling when I came there in the summer of 1882, and this I entirely overcame by opening every window in clear, dry weather, closing them and keeping doors closed during damp weather, except one window to leeward in the top of tower under watch room, which was always left open, except in stormy or very damp weather. This was constantly looked after. In the dwelling was also opened windows and doors in fine clear weather when the air was dry, closed them in damp weather, kept the stoves up, and when atmosphere felt damp and chilly built a fire long enough to take this dampness out of the rooms.

During the winter months the dampness would come through the walls of the tower into the inside walls, at first over a half inch in thickness or depth like snow. This I would sweep down from top to bottom and throw out. This happened after cold weather when a spate of mild weather existed outside for any length of time, and this I did as often as any frost could be seen on the interior walls, every winter till I had overcome it. I was at South Manitou from 1882 till in September, 1889, and during the last two years was not troubled with any dampness in tower or dwelling, and am satisfied that by constant care in ventilating when the weather is favorable, both summer and winter, very little dampness need be experienced in most localities.
See our List of Lighthouses in Michigan