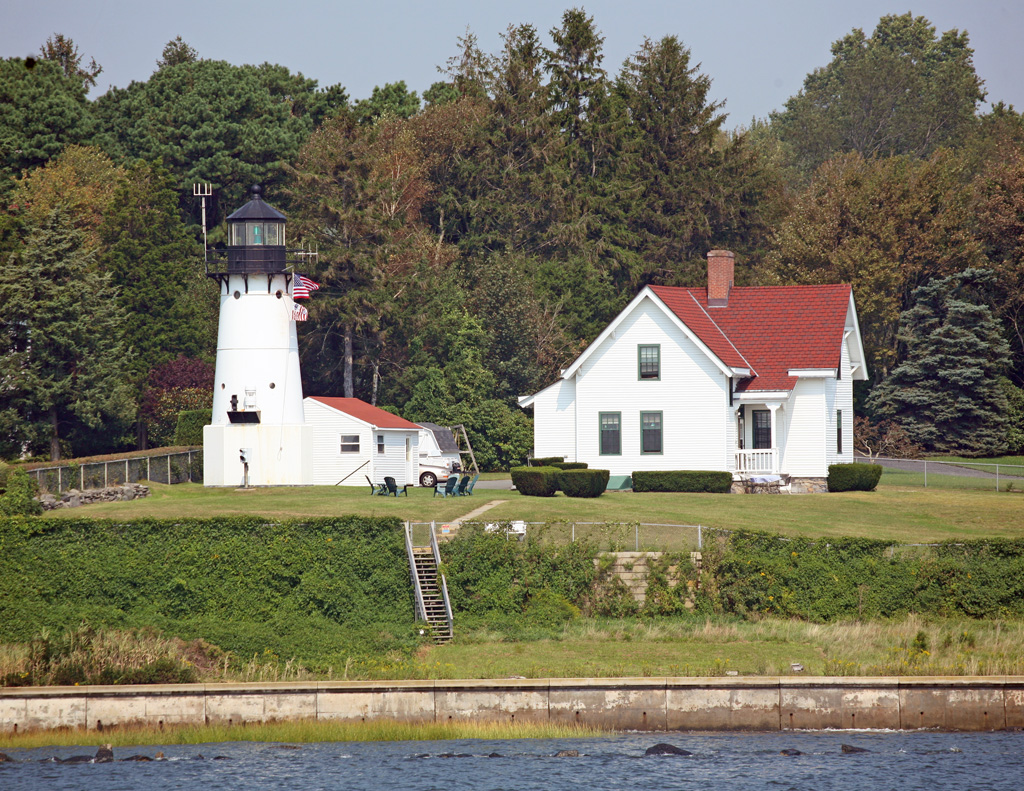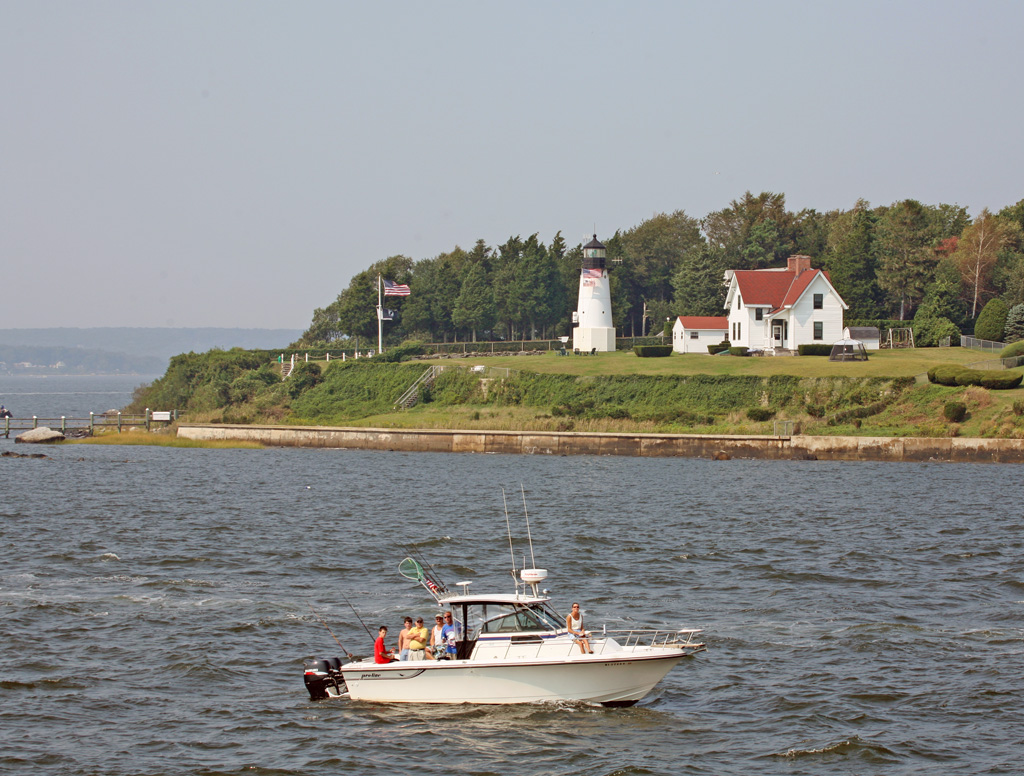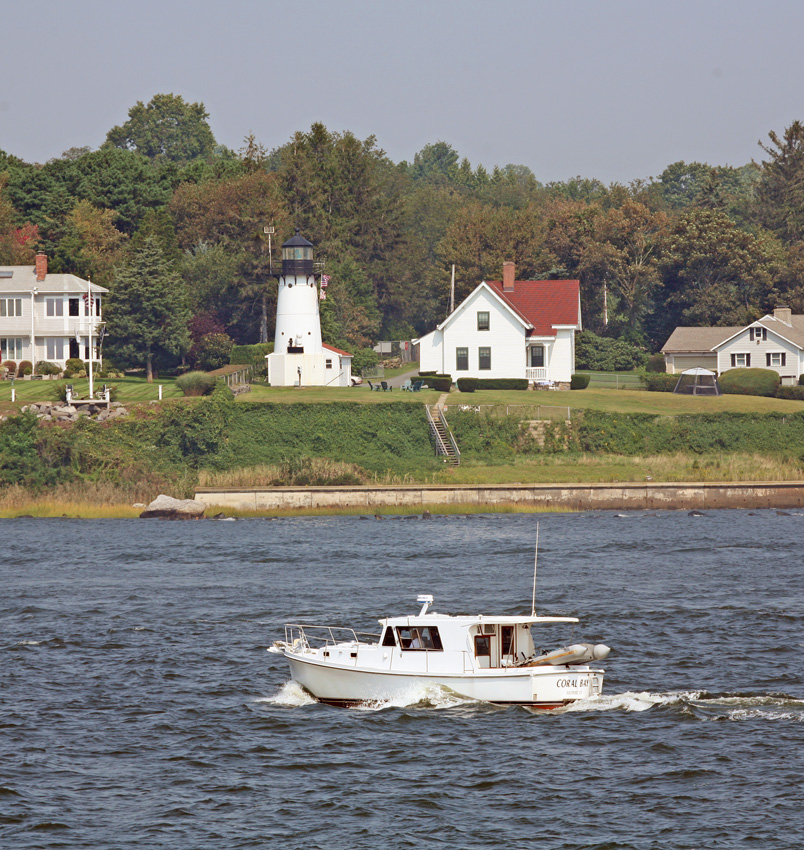 Description: The first light station at Warwick (sometimes known as Warwick Neck or Warwick Point Lighthouse) was completed in 1826, at the southern tip of Warwick Neck. The stone tower stood thirty feet tall with a small, 120-square-foot stone house attached and was described as an odd-looking structure, more like a windmill than a lighthouse. In 1833, a three-room wooden building was added to the keeper's dwelling. Two years later, a lime and pebble covering was applied to the structure. The original beacon was apparently a typical arrangement of lamps and reflectors around a circular table. In 1856, this apparatus was replaced by a fourth-order Fresnel lens showing a fixed green light. In 1888, the wooden addition was moved and converted into a barn. The following year, a one-and-a-half-story Victorian wood-framed house was built, which still stands today. In July of 1831, new Keeper Daniel Waite arrived at the Warwick Lighthouse to begin his first day of duty there, only to find that Elisha Case, the man he was replacing, refused to leave. Case first wanted assurance from the government that he would be able to continue growing and to harvest some crops he had already planted at the station. Case also demanded compensation for a barn he had put up on the grounds. In the early days of American lighthouses, facilities for horses and other farm animals were usually not provided, leaving the keepers to put up any extra buildings they needed. The federal government allowed this practice, but also insisted that the keepers be responsible for the removal of any such technically unauthorized buildings. Elisha Case was allowed to come back and harvest his crops, but he received no money for the barn he had put up.
Keepers at Warwick were treated to an excellent view of Narragansett Bay. The Warwick beacon marked the narrow passage between Warwick Point and the northern tip of Patience Island. Three major currents converged in the area, making the waters especially treacherous. The light also aided ships traveling on either side of Prudence Island. After Warwick Light was established, mariners were given new instructions to follow after passing Dutch Island Lighthouse: "Steer N. E. 14 miles, for the light to Warwick Neck, leaving it on the larboard (left) hand one-quarter of a mile, where you anchor in 3 fathoms of water." This was followed by warnings that the channel from that point was only marked with wooden stakes, and not to proceed without a pilot with local knowledge. Even though a lighthouse was established at nearby Nayatt Point two years later, it was another half century before the busy Providence River channel was well marked.
By the early 1930s, erosion had put the Warwick Lighthouse in danger of falling into the sea, and in 1932 a new tower was built further inland. The old tower was left standing until the new thirty-one-foot steel tower was completed in June of 1932. Just six years later, the New England Hurricane of 1938 tore another big chunk out of the bank, and after the storm the new tower was inches away from falling into the water as well. The following year, a series of massive jacks lifted the thirty-five ton tower and moved it even further inland to its present location. It was placed on an eight-foot tall concrete base so that ships could see its beacon over the top of the keeper's house. The move only took one day, and the light continued to shine throughout the entire move.
In a 1986 interview, May Bakken Chrietzberg shared her memories of the original lighthouse that was torn down in 1932. She was born in the farmhouse next to the old tower shortly after her father, Jorgen Bakken, was transferred to duty at Warwick from New York's Fire Island Lighthouse. He remained keeper at Warwick for thirty-two years. May Bakken was an eyewitness to the building of the new tower, the transfer of the Fresnel lens, and the destruction of the old lighthouse. "It still saddens me to speak of it in the past tense," she wrote much later. May also wrote that her father received commendations for several rescues he performed, including one from President Herbert Hoover, but there were many more rescues that went unrecognized, which her father considered merely part of his job.
During Prohibition, lighthouse keepers also had the unofficial duty to keep an eye out for bootleggers. May Bakken recalls as a child lying at night in the bedroom with her sister Madeline and listening to the sounds of Coast Guard boats trying to catch rum-runners on the water. At some point the notorious Redich gang was caught at their hideout - a nearby estate that had a hidden passage along the shoreline that illegal boats used to enter the property.
In 1985, Warwick became the last Rhode Island lighthouse to be automated, and the Fresnel lens was replaced with a modern lens at that time. The station is listed in the National Register of Historic Places. The lighthouse is owned by the Coast Guard and continues to be an active aid to navigation, showing a flashing green light. The keeper's dwelling is used as housing for Coast Guard personnel.
Keepers:
Head: G.S. Armstrong (at least 1839), John Rice (1841 - 1845), John W. Green (1845 - 1849), Franklin McGuire (1849 - 1853), Stephen W. Arnold (1853 - 1861), William Tanner (1861 - 1866), Thomas E. Anthony (1866 - 1867), Alfred Fisk (1867 - 1870), Clarke L. Woodmanser (1870 - 1873), Joseph N. Smith (1873), George H. Burroughs (1873 - 1886), Edward P. Hoxie (1886 - 1895), Thomas S. Fishburne (1895 - 1898), Nathaniel Dodge (1898), James McCann (1898 - 1901), Joseph D. Burke (1901 - 1905), Nathaniel Dodge (1905), Elmond Barnes Cole (1905 - 1906), Charles I. Mulford (1906 - 1908), William H.H. Lake, Jr. (1908 - 1912), Jorgen Bakken (1912 -), Edward Murphy (1933 - at least 1947).
Assistant: Thomas J. Murphy (1909), A. Peterson (1909 - 1910), J.H. Gregoire (1910), Walter E. Whitford (1910 - 1911), Edward M. Grant (1911 - 1912), Charles C. Fletcher (1912 - ), Edward Murphy (1920 - 1933).

References

America's Atlantic Coast Lighthouse, Kenneth Kochel, 1996.
Northeast Lights: Lighthouses and Lightships, Rhode Island to Cape May, New Jersey, Robert Bachand, 1989.
The Keeper's Log, Spring 1986.

Location: Located at the southern end of Warwick Neck, south of Warwick.
Latitude: 41.66714
Longitude: -71.37844


For a larger map of Warwick Lighthouse, click the lighthouse in the above map or get a map from: Mapquest.
Travel Instructions: The best views of the lighthouse come from the water, but partial views can be had from the street near the lighthouse. From Highway 117 in Warwick, turn south on Warwick Neck Avenue and follow it for 2.6 miles to its end, where you will see the light.
The light station is owned by the Coast Guard. Grounds/dwelling/tower closed.
Find the closest hotels to Warwick Lighthouse
See our List of Lighthouses in Rhode Island