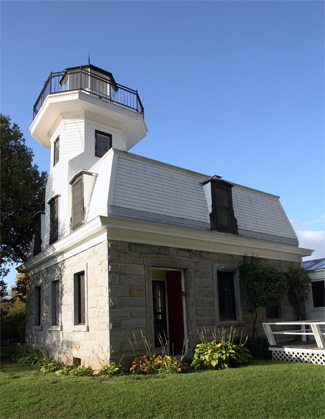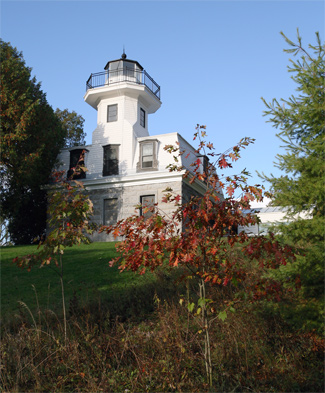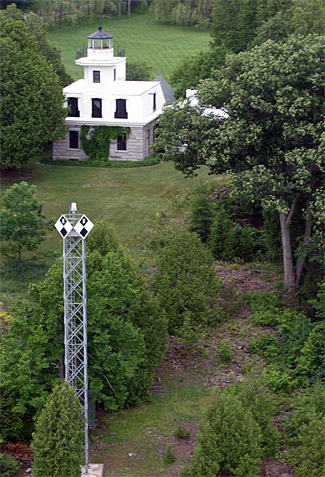 Description: In 1785, Major Hezekiah Barber began clearing land on the eastern shore of Lake Champlain just south of the modern day town of Westport. The following year, Barber returned with his brother-in-law and spent most of that year cutting wood. In the spring of 1787, Mrs. Barber journeyed from Connecticut on horseback, carrying a baby in her arms, to take up residence in a rude log cabin that had been prepared by her husband and brother. Such was the beginning of the settlement of what is now known as Barber's Point. Barberís Point is roughly midway between Split Rock Point to the north and Crown Point to the south. This stretch of 125-mile-long Lake Champlain is quite narrow, averaging only two miles in width. Barberís Point was thus a logical place for a ferry, and records indicate that Hezekiah Barber operated one that crossed Lake Champlain between Barberís Point, New York and Arnold Bay (Panton), Vermont.

The geography at Barberís Point also made it a prime candidate for a lighthouse, and in 1868, the Lighthouse Board petitioned Congress for the necessary funds. A sum of $15,000 was finally allocated on July 15, 1870, but due to difficulties in securing a valid title for the desired parcel, construction did not begin until 1872.

Work on the lighthouse, a two-story structure with a Mansard roof and an integrated thirty-six-foot tower, continued through the end of 1872, and the light made its debut at the opening of navigation on Lake Champlain in 1873. The lower story of Barberís Point Lighthouse is faced with blue limestone blocks and originally had a brown-shingled roof. A fifth-order Fresnel lens, with a focal plane of eighty-three feet above the lake, beamed a fixed white light, which was visible for 14 ĺ miles.

Due to the remoteness of the lighthouse, the keeper was obliged to keep a horse to procure supplies for his family. A barn was thus needed at the lighthouse, and $1,000 was requested for its construction.

After the Civil War, the Lighthouse Board gave preference to disabled veterans when filling lighthouse keeper positions, and Barberís Point Lighthouse was manned almost exclusively by these veterans. The final keeper of the lighthouse, however, was an artist, who spent his spare moments capturing the surrounding scenery on his canvas.

It seems that sailing vessels are not the only objects that frequent the waters off Barberís Point. In 1871, passengers aboard the steamer Curlew claimed they saw a creature near Barberís Point that was 40-feet-long, had a large globular head dirty-white in color, and traveled so fast it threw up a wake. Several sightings of this monster have since been reported around Lake Champlain. Though not as famous as its Scottish cousin ďNessie,Ē Lake Champlainís ďChampĒ does maintain quite a following to this day.

In 1935, the Barberís Point Lighthouse was replaced by a steel skeletal tower, topped with an automatic light. The lighthouse and surrounding property were sold in 1936 and have been used as a private residence ever since. The brown-shingled roof has now been repainted a striking white with black trim. A small addition has been added to the rear of the lighthouse, and a wooden garage stands near the road. The lighthouse is included in the Camp Dudley National Historic District, just south of Westport, New York.

References
Annual Report of the Light House Board, various years.
Lake Champlain Lighthouses, George Clifford, Clinton County Historical Association, 1999.
ďThe Lighthouses of Lake Champlain,Ē Morris Glenn, The Keeperís Log, Winter 1994.

Location: Located on Barber Point, 2.5 miles southeast of Westport.
Latitude: 44.15434
Longitude: -73.40451


For a larger map of Barber's Point Lighthouse, click the lighthouse in the above map or get a map from: Mapquest.
Travel Instructions: From Highway 22 south of Westport, turn onto the loop road County Road 22G, also known as Dudley Road. Look for Barber's Lane and go east on it to the lighthouse.
The lighthouse is privately owned. Grounds/dwelling/tower closed.
Find the closest hotels to Barber's Point Lighthouse
See our List of Lighthouses in New York