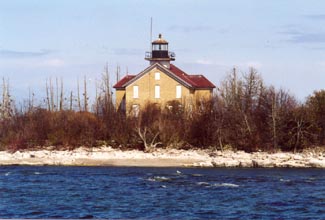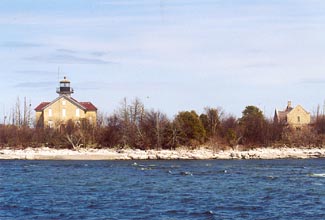 Description: Porte des Morts, or Death's Door, is a narrow strait separating the tip of Door County Peninsula from a collection of islands that extends north to Michigan's upper peninsula, and in 1848 Congress appropriated $3,5000 for a lighthouse to guide vessels through this passage, which links Lake Michigan and Green Bay. A stone tower and dwelling were built on the southern end of Plum Island in 1848, but it was soon apparent that this light was located too far inside the passage to properly serve mariners. Pilot Island, a low-lying, roughly elliptical islet situated at the southern end of Death's Door, was selected as the site for a new lighthouse, and a construction crew arrived there in 1858. The highest point of the island, just eleven feet above the surrounding water, was chosen for the lighthouse, and the crew blasted a hole in the island's dolomite to serve as a basement. A two-and-a-half-story, thirty-five-foot-square keeper's dwelling was built out of cream-colored brick with a one-story kitchen attached to its northeast corner. A square tower topped by a decagonal, cast-iron lantern room was mounted atop the dwelling's western gable, and a fourth-order Fresnel lens was employed to cast a flashing white light out over the waters at a focal plane of forty-six feet.
William Shurtleff, the second keeper of the first Porte des Morts Lighthouse, transferred from Plum Island to Pilot Island along with his assistant, Royal Riggins, to care for the new light in 1858, but the pair was dismissed the next year. Six additional head keepers would serve short terms before Victor Rohn began a ten-year stint at the lighthouse in 1866. Victor had served as a lieutenant in the Union Army, and when he and his wife, Janette, moved to Pilot Island, they had seven children, all under the age of thirteen.
In 1864, a wooden fog signal building was built south of the lighthouse to house a wood-fired steam boiler that powered a fog trumpet. During the summer of 1875, a first-class steam siren was installed, which had two disks, a fixed one and a rotating one, in the throat of its trumpet. Each disk had twelve radial slits, and the rotating disk made 2,400 revolutions per minute to produce 28,800 powerful vibrations each minute.
On July 4, 1874, a strong southeast gale prevented Keeper Rohn from launching the station's craft and attending the annual Fourth of July celebration on Washington Island. A bit perturbed, Rohn penned the following that day:
Independence day came in fine after a heavy southeast gale. This island affords about as much independence and liberty as Libby Prison, with the difference of guards in favor of this place, and chance of outside communication in favor of the other.
During the summer of 1880, a duplicate steam siren was erected on Pilot Island to lessen the chance that the station's fog signal would be inoperable. Emmanuel Davidson, who had replaced Rohn in 1876, was serving as head keeper at the time, with his wife, Christina, as first assistant, and John Boyce as second assistant. John Boyce was ashore on Washington Island in June and mentioned to Martin Knudsen, the justice of the peace, that he would soon be leaving Pilot Island. Encouraged by his wife, Martin wrote a letter to Keeper Davidson expressing his interest in becoming a keeper should Boyce leave. On the way to the post office, Martin met Boyce, who offered to personally deliver the letter to Davidson. The next Sunday, one of the masons who was working on the new fog signal building came to Washington Island to request that Martin return with to preside at an inquest into the death of John Boyce.

Martin learned that the previous week Boyce had helped a farmer butcher a cow and had been particularly interested in the location of the jugular vein. The body of John Boyce had been discovered lying face down in some bushes with both of his jugular veins cut. Boyce had been depressed prior to taking his life, and many people believed it was the isolation and loneliness of being a keeper on Pilot Island that drove him to take his own life, but a relative of Boyce insisted his depression was due to a failed romantic relationship.

Following the inquest, Martin Knudsen was made second assistant keeper, a position his brother Peter had held for two years before being made head keeper of Poverty Island Lighthouse. After two years, Martin was promoted to keeper of South Manitou Lighthouse in 1882. Peter Knudsen returned to Pilot Island as keeper in 1883, when Keeper Davidson was transferred to Grand Haven. In 1888, Peter was transferred to Peninsula Point, and his younger brother Nelson, who had been serving as an assistant, was made head keeper.

After just over a year as keeper, Nelson was transferred to another station, and Martin Knudsen was recalled from South Manitou Island to take over at Pilot Island. Martin and his son Edward left for Pilot Island at once, and his wife and other children followed a few days later aboard the lighthouse tender Dahlia. Inspector Clark had refused to provide passage for Nellie, the family's cow, but some friends volunteered to take their schooner to South Manitou to retrieve the cow. Upon their return, it was too rough to land at Pilot Island, so Nellie was unceremoniously pushed overboard near Plum Island so she could safely swim to its gravel beach. When the waters were calmer, Martin sailed over to Plum Island and picked up Nellie. As Pilot Island Lighthouse typically closed during the winter, Nellie, along with the family cat and dog, were taken to the family's farm on Washington Island each fall and would return to Pilot Island in the spring.

Several significant changes took placed on Pilot Island while Martin Knudsen was in charge. In 1891, a new lens was installed in the lantern room, changing the light's characteristic from flashing white to fixed red. This change didn't last long, as in 1894 district lampist Crump returned with yet another lens, and the characteristic was changed to fixed white varied by a white flash every fifteen seconds. A new circular iron oil house was put up on the island in 1892.

In 1894, the station's fog signals were changed from sirens to ten-inch steam whistles, which were easier to repair. A new cement floor was laid in fog signal house number two, and both of the whistles and boilers were installed therein. The steam fog signals had previously relied on well water, but a water supply crib, linked to the fog signal building by a footbridge, was added in 1894. Keeper Knudsen sounded the new whistles, which gave a five-second blast every thirty-five seconds, on May 18, 1894. Martin made some repairs to fog signal house number one and converted it into a workshop and darkroom, where he could develop film and make prints.

On October 28, 1892, the A.P. Nichols, which was trying to pass a storm in the lee of Plum Island, drug its 1400-pound anchor and ran aground on a reef extending from Pilot Island. After hearing the crash, Keeper Knudsen had rushed out into the water to assist the crew. Captain David Clow, Jr. was amazed by the keeper's efforts:
It is a wonder to me how Martin Knudsen found his way out along that ledge of rocks in the darkness to the Nichols. He is about the bravest man I have ever seen. How he managed to keep his bearing after rescuing the crew has been a wonder to me ever since. A single misstep and we would have all fallen off the rocks into deep water and undoubtedly been drowned. He seemed to know the reef as well under water and in the darkness as if it has been above water in the daytime.
Keeper Knudsen received a gold medal in recognition of his courage and humanity in rescuing the crew. Due to wrecks like the Nichols, work on a lifesaving station commenced on Plum Island in 1895. The following year, range lights were built on Plum Island to guide mariners through Death's Door, and Martin Knudsen was appointed keeper of the new station when it was commissioned at the opening of navigation in 1897.
In 1901, while Gottfired Hansen, Martin's successor, was keeper, the dwelling on Pilot Island was enlarged and reconfigured to provide separate quarters for the keeper and first assistant. Twin, two-story brick enclosures, containing stairways, were added on the north and south sides of the dwellings to provide separate entrances to the new quarters, which each had five rooms and a cellar. Up until 1899, the keeper and his two assistants were able to live in the lighthouse as there had never been three families amongst them, but this changed in 1899 with the appointment of Frank Drew as second assistant. Using salvaged wood, Drew built a small shack so his family could live with him on the island. This crude structure was abandoned in 1901, when fog signal building number one was remodeled to house the second assistant.
In 1904, workmen built a new brick fog signal building with stone trimmings to house duplicate sixteen-horsepower diesel engines and compressors. The new fog signal commenced operation on September 12, giving a three-second blast followed by thirty-two seconds of silence. The old fog signal boilers and apparatus were sold at public auction in Sturgeon Bay on May 31, 1905.
In 1913, Keeper Henry R. Bevry and his two assistants rescued the crew of a motor boat carrying U.S. mail that had become frozen in ice ten miles from the station. The keepers freed the boat and towed it back to Pilot Island and also rescued three men in a rowboat who were searching for the mail boat. To effect this rescue, the keepers went without sleep or rest for seventy-two hours.
Pilot Island Lighthouse was staffed until 1962, when the Coast Guard removed its personnel from the island, installed an automatic light, powered by wet-cell batteries, and discontinued the fog signal. Eldron Ellefson rented Pilot Island from the Coast Guard through 1981, after which the Sea Scouts took it over for use as a camp.
Jurisdiction over Plum and Pilot Islands was transferred to the U.S. Fish and Wildlife Service in 2007, when the islands were added to Green Bay National Wildlife Refuge. Friends of Plum and Pilot Islands, Inc. was formed the following year and is working to preserve the historic structures on the islands. The roof of the 1904 fog signal building has collapsed, but a new roof was put on Pilot Island Lighthouse in 2008.
The lighthouse and brick fog signal building are the only structures that remain on the island. Cormorants, whose waste has killed most of the vegetation on the island, inhabit the northern end of the island, while gulls occupy the southern end.
Keepers:
Head: William Shurtleff (1858 – 1859), Mathew Garey (1859 – 1861), E.T. Wells (1861 – 1863), John C. Kenward (1863 – 1864), D.A. Read (1864), Jacob H. Stahl (1864 – 1865), John C. Kenward (1865 – 1866), Lt. Victor E. Rohn (1866 – 1876), Emanuel Davidson (1876 – 1883), Peter Knudsen (1883 – 1888), Nelson Knudsen (1888 – 1889), Martin N. Knudsen (1889 – 1897), Gottfried M.S. Hansen (1897 – 1903), Charles Bavry (1903 – 1907), Henry R. Bevry (1907 – 1913), Walter Ottosen (1913 – 1920), Robert G. Young (1920 – 1925), George I. Hass (1925 – 1935), Clarence John Anderson (1935 – 1945).
First Assistant: Royal F. Riggin (1858 – 1859), John Garey (1859 – 1862), Whitmond Taylor (1862 ), John Kenward (1862 – 1863), Joel Westbrook (1863 – 1864), E.H. Read (1864), Joel Westbrook (1864 – 1867), Jane A. Rohn (1867 – 1876), Christine Davidson (1876 – 1883), Jesse L. Miner (1883 – 1886), August Stein (1886 – 1887), Nelson Knudsen (1887 – 1888), Frederick Bertschy (1888 – 1889), Jacob Young (1889 – 1890), Charles E. Young (1890 – 1891), Thomas J. Armstrong (1891 – 1892), Gottfried M.S. Hansen (1892 – 1897), Charley Boshka (1897 – 1900), Frank A. Drew (1900 – 1903), Edward H. Cornell (1903 – 1909), John T. Trucker (1909 – 1912), Alfred L. Cornell (1912), Clarence John Anderson (1922 – 1934), Hartwig J. Jacobsen (1939 – at least 1941).
Second Assistant: Peter Knutsen (1875 – 1877), Byron Olson (1877 – 1879), John Boyce (1879 – 1880), Martin Knudson (1880 – 1882), Lesander Davidson (1882 – 1883), Charles Johnston (1883), Edward Peterson (1883 – 1884), Jacob Young (1884 – 1886), John P. Carroll, Jr. (1886 – 1887), William P. Rooney (1887 – 1888), Frederick Bertschy (1888), Jacob Young (1888 – 1889), Charles E. Young (1889 – 1890), Gottfried M.S. Hansen (1890 – 1892), Hans J. Hanson (1892 – 1897), Peder H. Pedersen (1897 – 1898), Frank A. Drew (1899 – 1900), Edward H. Cornell (1900 – 1903), Jesse G. Denio (1903 – 1905), Chrisitan O. Pedersen (1905 – 1906), Charlie E. Tesnow (1906 – 1907), Fred Magnussen (1907), John T. Trucker (1907 – 1909), Alfred L. Cornell (1909 – 1912), R.G. Peterson (1912), Stannie Sigurdson ( – 1916), Hartwig J. Jacobsen (1935 – 1939), Peter J. Scrip (1939 – 1942).
References
Annual Report of the Lighthouse Board, various years.
Keepers of the Lights, Steven Karges, 2000.

Location: Located on tiny Pilot Island, marking the eastern entrance to Death's Door Passage.
Latitude: 45.28442
Longitude: -86.91959


For a larger map of Pilot Island Lighthouse, click the lighthouse in the above map or get a map from: Mapquest.
Travel Instructions: Pilot Island Lighthouse can be seen distantly from the Northport - Washington Island ferry. Excursions that pass by the island are offered during the annual Lighthouse Festival sponsored by the Door County Maritime Museum, and by Shoreline Resort in Gills Rock.
The lighthouse is owned by the U.S. Fish and Wildlife Service. Grounds/dwelling/tower closed.
Find the closest hotels to Pilot Island Lighthouse
See our List of Lighthouses in Wisconsin