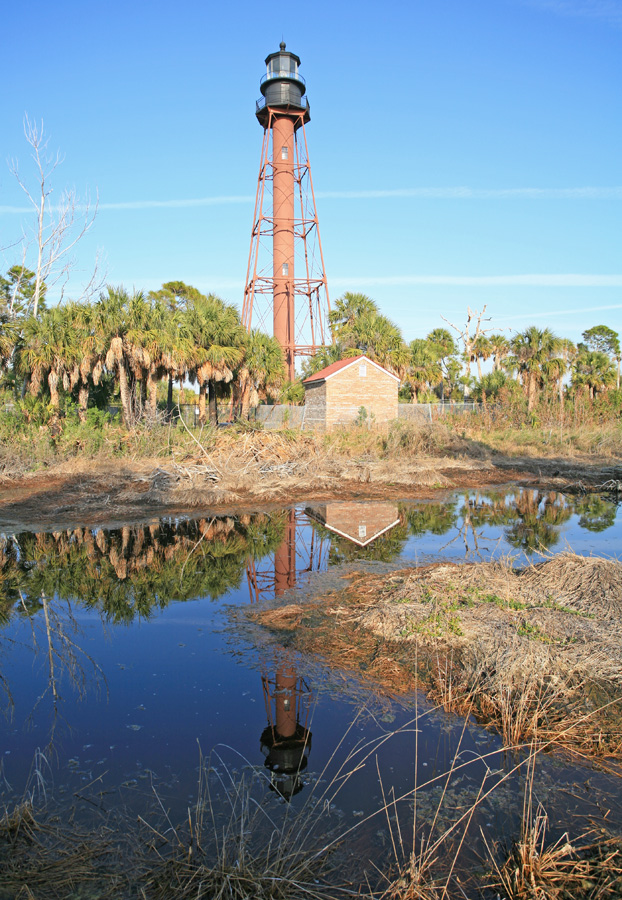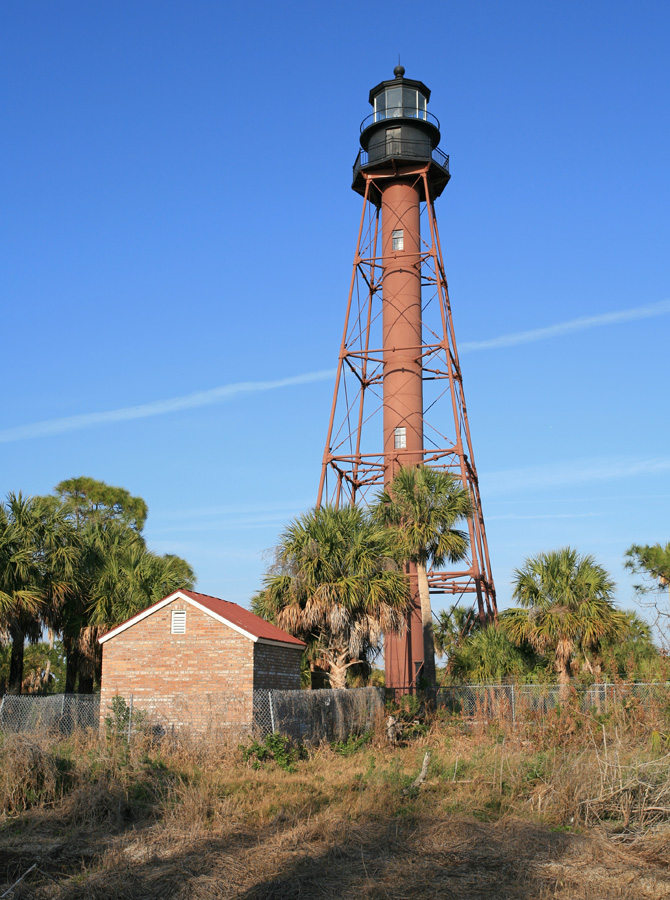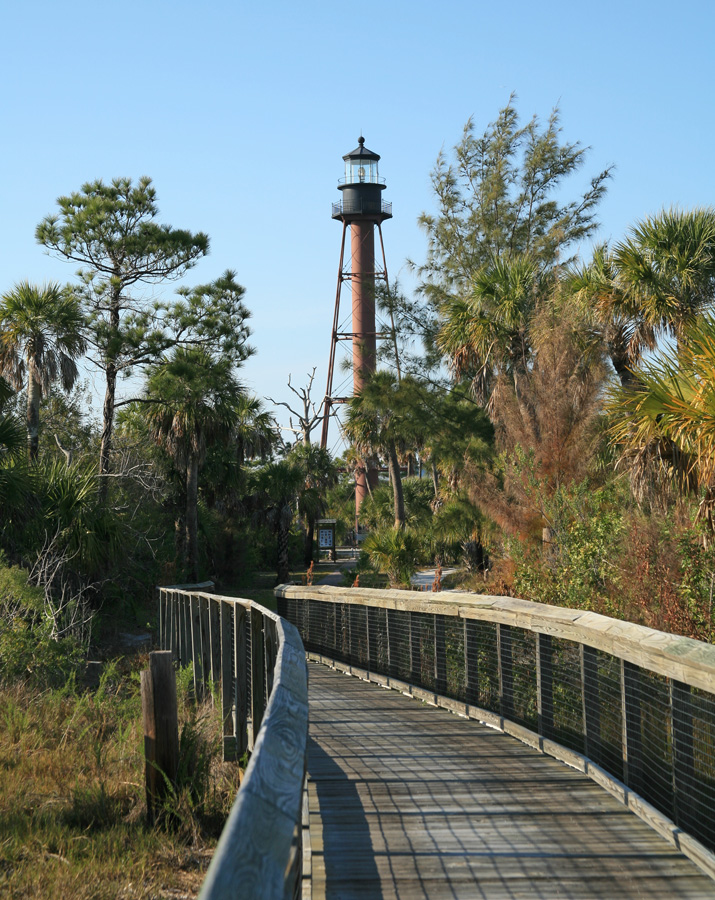 Description: Anclote Key is the largest of a collection of small islands, known as the Anclote Keys, found three miles offshore from Tarpon Springs and the mouth of the Anclote River. The islands were named Anclote, Spanish for anchor, due to the method Spanish sailing vessels would use to navigate the shallow channels in the area. The navigation was accomplished by attaching a line to a kedge anchor, dropping the anchor at a distance in the desired direction of travel, and then using the line to pull the boat to the anchor. Although the name Anclote appears on maps dating as far back as 1715, it wasn't until the mid-1860s that the area was permanently settled. The year 1887 was a big one for the area – the City of Tarpon Springs was incorporated, the railroad arrived, and Anclote Key Lighthouse was built on the southern end of Anclote Key. The land for the lighthouse had been acquired in 1866, but funds for its construction were not made available until Congress appropriated $17,500 on March 3, 1885. The Lighthouse Board intended to build a skeletal tower similar to Cape San Blas Lighthouse, which had just been completed at a cost of $35,000. A request was thus made for additional funds, and Congress responded with another $17,500 on August 4 of the following year.

The tower was prefabricated in the north and then shipped to the island, arriving in June 1887. It took just three months to assemble the cast-iron structure, and Keeper James Gardner lit the light for the first time on September 15. The tower's lantern room is supported by a central cylinder, which houses a spiral staircase, and four supporting columns, which slope outward to form a square, pyramidal structure. Four levels of horizontal braces connect the central cylinder to the supporting columns.

A revolving third-order Fresnel lens was originally used in the tower to produce four, grouped white flashes every thirty seconds, displayed at a focal plane of 101 feet. In 1899, the signature was changed to one red flash every thirty seconds.

Bids for building the station's two keeper's dwellings were considered excessive, so the structures were built using hired labor. The dwellings were painted white, with green shutters, while the iron tower was brown, with a black lantern room. Each dwelling was roughly square, was covered in clapboard siding, and had a chimney protruding through the center of a double hipped roof. The dwellings were elevated about eight feet on piers to protect them from flooding, and the roofs had an exaggerated overhang to protect the inhabitants from the sun.

A round wooden cistern, also elevated on piers, was attached to the gutter and down spout system of each dwelling to provide water to the station. From the southern end of the island, a wharf extended 209 feet into the gulf. A boathouse, with rails leading to the water, was constructed onshore, adjacent to the wharf. The wharf, tower, dwellings, privies, and oil house were all connected by a network of brick walkways. A white fence, 400 feet long, five feet high, and fitted with four gates, encircled the station.

Keepers were required to maintain a logbook to record activity at the station. Much of the history of various lighthouses has been pieced together from log entries, which unfortunately were kept quite brief. One can only imagine the emotion that must have accompanied the following short entries made by a keeper in the Anclote Key logbook:
| | |
| --- | --- |
| Oct. 6, 1889 | Baby was taken very sick at 5 p.m. |
| Oct. 7, 1889 | Baby boy dies this morning at 2:30 o'clock. Keeper and wife went over to bury him today. |
| Aug. 30, 1890 | Baby born. Keeper's wife. Bad weather. |
Life at the lighthouse was tightly connected with life on the mainland at Tarpon Springs. The keepers frequently visited town to pick up supplies, retrieve mail, and attend church. Visitors to the island were not infrequent either, as town folks took advantage of the island's pristine beaches. Around the beginning of the twentieth century, John K. Cheyney started a commercial sponge venture in Tarpon Springs called the Anclote and Rock Island Sponge Company. John M. Cocoris, a native of Greece, was hired by Cheyney for his skill at harvesting and processing sponges. Cocoris sent for his brothers and an experienced diving crew from his homeland, and it wasn't long before Tarpon Springs was known as the sponge capital of the world. The Greek influence in Tarpon Springs is still clearly visible today.
Thomas A. Moody served as head keeper of Anclote Key Lighthouse from 1914 to 1923. Besides minding the light and maintaining the station, Keeper Moody kept an active eye on activity in the surrounding waters. In 1919, the Lighthouse Service recognized him for the following accomplishments: rescuing two men from a capsized sloop, towing a disable sponge-divers' boat to safety with two men aboard who were without food and water, and towing to safe anchorage a schooner that was lying six miles offshore in a disabled condition.
Anclote Key Lighthouse was automated by the Coast Guard in 1952, and then discontinued in 1984. A tall smokestack in Tarpon Springs equipped with strobe lights would serve as a night light for boaters. Abandoned, the station soon started to deteriorate. The keeper's dwellings were burned, all the glass in the tower was shot or knocked out, and the tower was soon marred with "spray-painted declarations of love and teenage glory." The skeletal tower eventually became part of Anclote Key Preserve State Park, and a grassroots restoration effort was launched to save the abused tower.
Thanks to efforts by the Gulf Islands Alliance Citizen Support Organization, Tampa Bay Harbour Lights Club, and the Tarpon Springs Historical Society, a Re-Light the Light Committee was formed and over a million dollars was secured to restore the lighthouse property. In January 2003, International Chimney Corporation began an eight-month restoration project on the oil house and tower, which culminated in a relighting ceremony on September 13. Here are three pictures showing the tower before restoration: 1 2 3. On November 15, 2004, the modern beacon that was being used in the lantern room was replaced with an accurate replica of a fourth-order Fresnel lens crafted by Artworks Florida. Members of the U.S. Coast Guard Aids to Navigation Team St. Petersburg assisted with the lens installation.
A dwelling has been constructed just north of the lighthouse to house a state park ranger who will help protect the restored tower from any future acts of vandalism. After fifty years without a keeper and twenty years without a light, Anclote Key Lighthouse is back in service, and, as before, dwellers of the mainland are welcome to come out to the island to enjoy its beaches and visit its tower.
Keepers:
Head: James Gardner (1887 – 1888), Samuel E. Hope, Jr. (1888 – 1889), James M. Baggett (1889 – 1891), Robert S. Meyer (1891 – 1914), Thomas A. Moody (1914 – 1923), Robert S. Meyer (1923 – 1933), James L. Pippin (1933 – at least 1949).
Assistant: Samuel E. Hope, Jr. (1887 – 1888), Jordan W. Hope (1888), James M. Baggett (1888 – 1889), Robert S. Meyer (1889 – 1891), George M. Angus (1892 – 1898), Thomas S. Coleman (1898 – 1901), John Peterson (1901 – 1904), David D. Klingner (1904 – 1911), Osborn C. Johnson (1911 – 1912), Clifton H. Lopez ( 1912 – at least 1915), Charles W. Elden (at least 1917), Walker C. Brown (at least 1919), Erik Danielsen, Sr. (at least 1921).
References
Annual Report of the Lighthouse Board, various years.
Report on Anclote Key Lighthouse, United States Department of the Interior, National Park Service.
"The new keeper of the Anclote Key Lighthouse steps into history," Candace Rondeaux, St. Petersburg Times, September 11, 2003.
"Working to Relight the Anclote Key Light, Florida," Wayne Hawes, Lighthouse Digest, February, 2003.
"International Chimney Restoring Anclote Key Light," Lighthouse Digest, May, 2003.

Location: Located on the southern end of Anclote Key, three miles offshore from Tarpon Springs.
Latitude: 28.16708
Longitude: -82.8447


For a larger map of Anclote Key Lighthouse, click the lighthouse in the above map.
Travel Instructions: Pontoon boats to get you out to Anclote Key can be rented from Anclote Village Marina near Tarpon Springs and Windsong Boat & Kayak Rentals. SouthWind Charters offers water taxi service and tours to Anclote Key. You can also get a distant view of the lighthouse from Fred Howard Park. The lighthouse is not open for climbing.
The lighthouse is owned by Florida State Parks. Grounds open, tower closed.
Find the closest hotels to Anclote Key Lighthouse
Notes from a friend:
Kraig writes:

We had arranged for a guy to take us to Anclote Key in his boat, but he stood us up. None of us has too much boating experience, but our desire to see the lighthouse outweighed our fear of captaining our own boat. With a bit of trepidation, we rented a pontoon boat and had a great time tootling out to the key and back. We highly recommend trying it. If you can drive a car, you can handle a pontoon boat.

The swampy ground near the lighthouse is prime breeding ground for mosquitoes. I think I donated a couple pints of blood during my most recent trip to the island.
Marilyn writes:

On our visit in 2006, we noticed a wooden walkway up to the lighthouse had been put in which was nice. You will need to wear shorts or pants that roll up easily when visiting this light since the boats can only come up so far on the beach and likely you will have to wade through the water for a few feet to get to shore. The water is beautiful, warm and not deep so it is an easy task.
See our List of Lighthouses in Florida