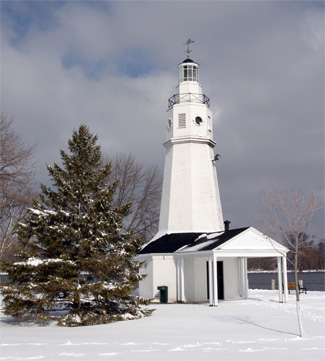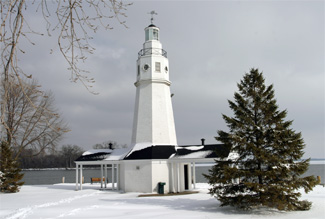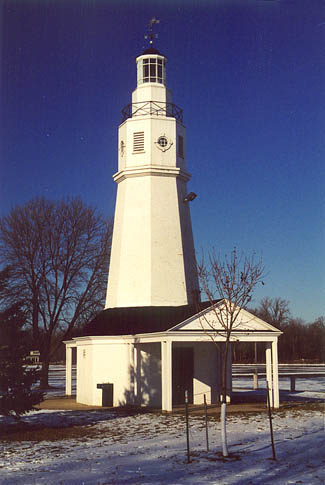 Description: In 1872, John Alfred Kimberly was one of four men who founded Kimberly, Clark and Company at Neenah, Wisconsin. The company began as a paper company, but later developed personal products that today account for the majority of its income. The success of the company permitted the Kimberly family to make significant contributions to the City of Neenah.
Helen Kimberly Stuart, daughter of John A. Kimberly, donated land overlooking the confluence of the Fox River and Lake Winnebago to the cityís park system in 1929. A decade later, the Kimberly family offered to erect a functional lighthouse on the land, then known as Kimberly Point Park, but the outbreak of World Ward II interrupted these plans. In 1944, Helenís brother, James Cheney Kimberly, donated funds for the lighthouse, and Flour Brothers Construction Company of Oshkosh constructed the present structure the following year. The tower, which includes a comfort station in its base, was built of brick and Haydite block and cost $7,500. When first built the tower stood forty feet tall, but it was raised to a height of forty-nine feet in 1954. Today, the top of the tower is topped by a weathervane in the shape of a sailboat.
In 2009, the Neenah Landmarks Commission added the Kimberly Point Park Lighthouse to the Neenah Register of Historic Places. This designation gives the Landmarks Commission the authority to review proposed alterations to the exterior of the lighthouse, which will help maintain the architectural and historic character of the structure. Three years later, in 2012, the cityís Landmarks Commission received confirmation that the lighthouse had been placed on the Wisconsin State Register of Historic Places by the Wisconsin Historical Society. The lighthouse was added to the National Register of Historic Places in 2013.
References
"Kimberly Point Lighthouse gets historic designation," The News-Record, June 6, 2012.

Location: Located in Kimberly Point Park on the south side of the entrance to Fox River from Lake Winnebago.
Latitude: 44.1853
Longitude: -88.4425


For a larger map of Neenah (Kimberly Point) Lighthouse, click the lighthouse in the above map or get a map from: Mapquest.
Travel Instructions: From Highway 41 west of Neenah, take Exit 131 and follow Highway 114 east into the city. After 1.6 miles, turn right onto E. Wisconsin Avenue. After 0.9 miles, where Wisconsin Avenue ends at the lake, turn left on Lakeshore Avenue, which will lead to the park and the lighthouse.
The lighthouse is owned by the City of Neenah. Grounds open, tower closed.
Find the closest hotels to Neenah (Kimberly Point) Lighthouse
See our List of Lighthouses in Wisconsin