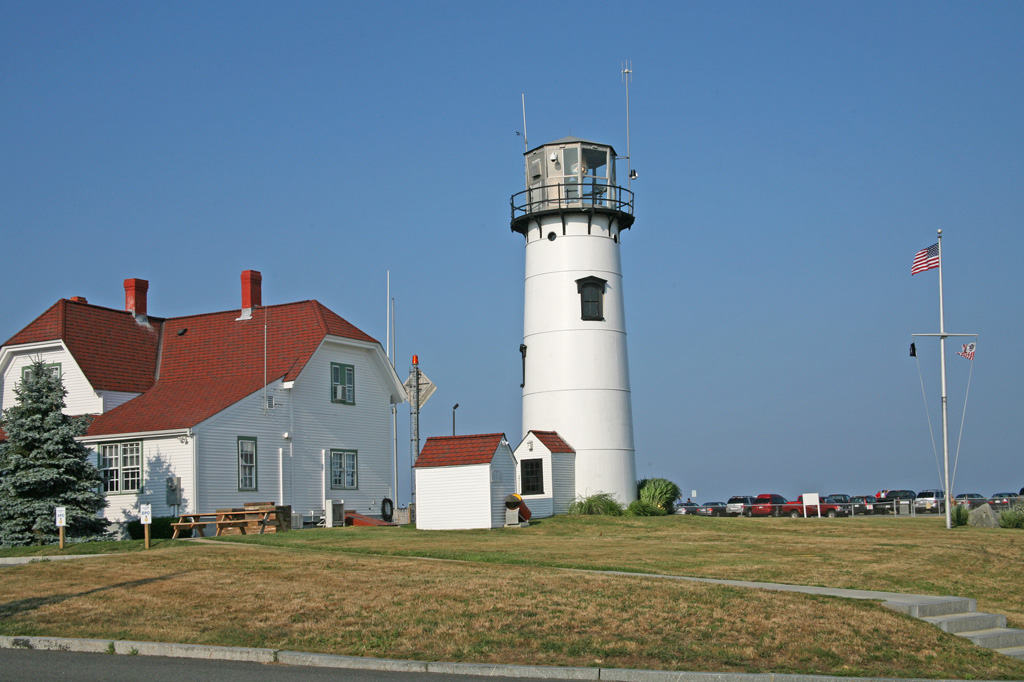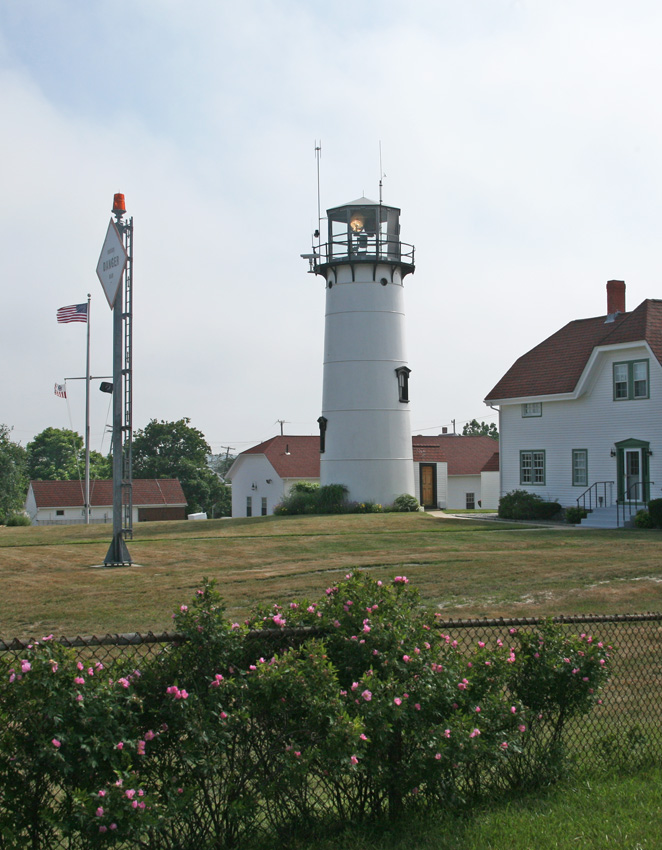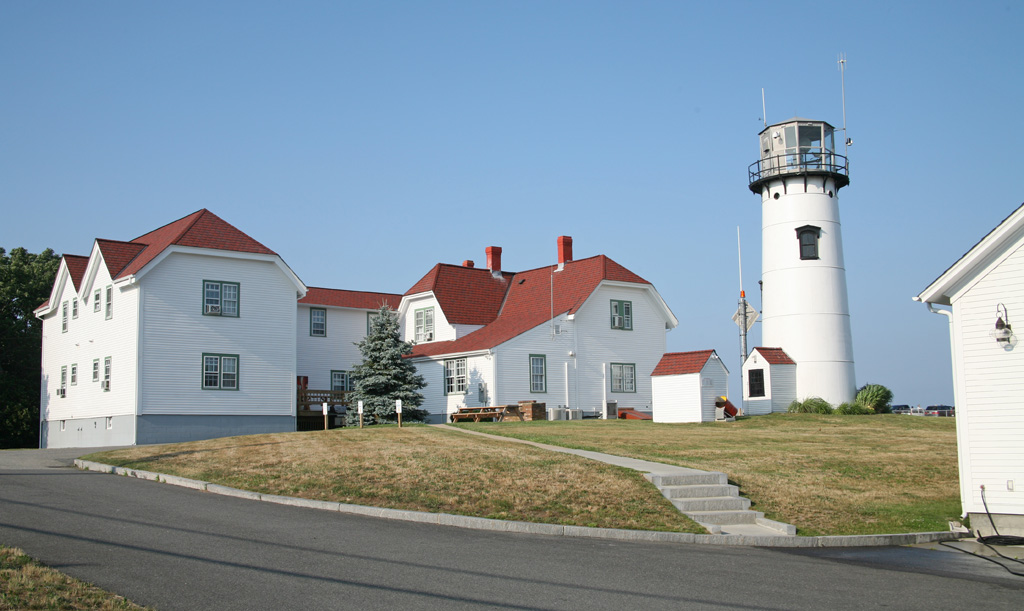 Description: Chatham, with sixty-six miles of shoreline, is the only Cape Cod town surrounded on three sides by water – to the north is Pleasant Bay, to the south is Nantucket Sound, while to the east lies the open Atlantic Ocean. If the Cape were a bent arm, Chatham would be the elbow. The beauty of Chatham's shores hides some of the most dangerous waters in Cape Cod: It is said that half of the known wrecks on the entire Atlantic and Gulf of Mexico coasts have occurred off the Outer Beach of Cape Cod. On April 21, 1806, Congress allotted $5,000 for a light station at Chatham and added an additional $2,000 two years later. To avoid confusion with Highland Light, built nine years earlier near the northern tip of the Cape, two light towers were used at Chatham. The contractor, obviously not from the Cape, planned to fabricate the lights on the twelve acres acquired on James' Head using local stone, only to learn that there is a lack of stone on the Cape. His attempt to import stones came to naught, leading the ill-fated builder to report on June 26, 1806: "There are no stones to be had so the Lights will have to be made of wood."
The two octagonal, wooden towers, about forty-feet tall, were placed seventy feet apart atop movable wooden skids (which were later used once to move the towers). Also constructed was a single story, one-bedroom keeper's house measuring seventeen by twenty-six feet. The lights, which were suspended on chains, used lard as fuel.
Before construction was even completed, several petitions were filed seeking the appointment of an acquaintance to the coveted post of Chatham's first keeper. One such petition contained 125 names in favor of Samuel Nye, and on October 7, 1808 President Thomas Jefferson appointed Nye keeper.
Joseph Loveland succeeded Nye as keeper, and he was followed by Samuel Stinson. In 1839, Stinson resigned after being charged of dereliction of duty by local inspector David Henshaw. Stinson requested reimbursement for an addition to the keeper's house he had made, but his petition was denied.
From the beginning, many people, including Lieutenant Edward W. Carpender, believed a single distinguishable light at Chatham would have been sufficient. Carpender's November 1, 1838 report suggested a single red fixed light and contained the following write-up on Keeper Stinson.
The present towers at Chatham are of wood, very much shaken and decayed, so as to make it dangerous to ascend them in windy weather. They each contain 6 lamps, with 8 ˝-inch reflectors, and with plano-convex lenses of green glass, nine inches, in front of them. The reputation of this light is very low, owing, however, I apprehend, principally to the very neglectful manner in which they have been attended. I visited them late in the afternoon, and found them in as bad order as they well could been—nothing done to them from the previous night; the reflectors, apparently, not having been burnished for a length of time; the glass very smoked, and the lamps neither filled nor trimmed. A sly attempt was made by the keeper to have them prepared through his son; but what were partially done only served to show more plainly the condition of the remainder. If there can be any excuse for this keeper, it is the dilapidated condition of these towers, requiring a severe tax upon the pride he may possess for a faithful discharge of his duty.
Carpender recommended that the keeper's house be replaced and that the southern tower should be rebuilt of brick or stone. According to Carpender's calculations, the reduction to a single tower would save $215.25i in oil annually, but his words fell on deaf ears, and nearly ninety years would pass before one of the towers would be removed.

Collins Howes, a Cape Cod fisherman who had lost a leg in an accident, was appointed keeper in 1841 at $400 per year. Howes, however, lost his job in 1845 when James Polk became President and appointed Simeon Nickerson keeper. When Nickerson died in October 1848, his penniless wife Angeline was given his position. After Zachary Taylor became President in 1849, Howes wrote to the Secretary of the Treasury maneuvering for his old job, but this action was thwarted by the intervention of Mrs. Nickerson's friends. One Chatham resident wrote in her defense: "I can testify that it has never been in a better condition than it has been under her charge, nor is there any Light upon the Coast superior to it." Mrs. Nickerson remained keeper at Chatham Light, where she continued to rear her four young children, until 1862.

In 1841, "being entirely unfit for use" the two forty-foot light towers were torn down and rebuilt in brick for $6,750, by Winslow Lewis. A new brick keeper's dwelling was connected by covered walkways to the twin towers, each of which were outfitted with ten oil lamps and an equal number of fourteen-inch reflectors.

Scarcely twelve months later the inspection report of civil engineer I.W.P. Lewis, Winslow Lewis' nephew, contained a statement from Keeper Howes complaining about the wretched construction practices used:
I expected to have a light-house, and everything in first rate order, when these new buildings were put up; but I was mistaken. In first place, the house is leaky about the roof and windows, every part being badly built as far as I can judge. The cellar and foundation walls are laid on sand, without any footing to the walls, and so little below the surface, that rats burrow from the surface and infest the cellar. All the chimneys in the house smoke baldy. The kitchen is built particularly bad - in the oven, which is not large enough to get any thing like a good batch of bread into it; also in the walls being plastered into the brick work without furring. The house stands midway between the two towers, with a covered way leading to each; this covered way leaks badly. The lanterns were glazed with plate glass, and, during the gale of October last, both lanterns were burst in by the force of the winds; and 17 panes of glass were broken, this accident occurred entirely in consequence of the insufficient manner in which the glass was originally set by the contractor; and had I not been so fortunate as to discover the accident before the whole of the glass was blown in, both of the lanterns would have been destroyed, and the light put out. …The numerous leaks about my house cause so much dampness, that I find it difficult to preserve my provisions from moulding.
Fourth-order Fresnel lenses with lamps burning lard oil were installed in the tower in 1857.

Captain Josiah Hardy II was keeper from 1872 to 1899 and kept a daily log in which he recorded frequent entries detailing the erosion of the bluff near the station after the outer beach was washed away. Keeper Hardy noted that on December 21, 1874, the south tower was 190 feet from the bank. On September 30, 1876, the distance from the same tower to the bluff was 126 feet, and roughly five months later, on February 28, 1877, the distance was just 95 feet.

Alarmed by the rate of erosion, authorities quickly approved the construction of a new station across the road from the previous site. Five cast-iron rings were bolted together and lined with brick to form each of the new twin towers, and on September 6, 1877, the Fresnel lenses were moved into the new towers and lit that night. The duplex keeper's dwelling that stands today was also built at that time. The position of assistant keeper had been added to the station in 1859, and two keepers would be responsible for the light through 1880. A door was cut to connect the two halves of the double dwelling in 1881 for the convenience of the head keeper after the position of assistant keeper was eliminated.

On September 30, 1878, Keeper Hardy noted that the old south tower was twenty-six feet from the edge of the bluff. Exactly one year later that distance had shrunk to merely twenty-seven inches. Two months later, a third of the foundation was over the edge, and locals began to place bets on the exact time when the tower would topple over the bluff.

At 1 p.m. on December 15, 1878, the south tower plummeted to the beach below. Fifteen months later, the 1841 keeper's home and the north tower followed suit. Remains of the north tower could still be seen at the edge of the bluff as late as 1919.

A brick oil house, measuring roughly nine by eleven feet, was added to the station in 1893.

Beginning in the early 1900s, the government began to phase out twin lights as a cost-cutting measure. In 1923, a fourth-order, L. Sautter & Cie. Fresnel lens that flashed four times every thirty seconds was installed in the south tower. The lens used a clockwork mechanism for rotation, while its lamp used incandescent oil vapor for fuel. The increased range of the light and its new characteristic negated the need for two towers.

In May 1923, the government opted to relocate Chatham's northern tower to Nauset Beach to replace the final remaining tower of the Three Sisters of Nauset, which had deteriorated beyond repair. The newly situated tower became known as Nauset Light or Nauset Beach Light.

George F. Woodman, who became keeper in 1928, received a number of superintendent's efficiency stars for excellent service. He was noted for his outstanding courtesy, even when responding to the silliest of questions posed by visitors, such as, "Is that the lighthouse?" In addition to his regular duties, he received 1,500 visitors between mid-July and mid-September 1936.

An electric motor replaced the clockwork drive at Chatham Light in 1939, when the Coast Guard took over control of the country's lighthouses. During World War II, Chatham was one of just a few lights that remained an active navigational aid.

In 1969, a 2.8 million candlepower aerobeacon that can be seen twenty-eight nautical miles out to sea was installed in a new, larger lantern room (which was required to house the beacon). Chatham's old lantern room and Fresnel lens were removed to the grounds of Chatham Historical Society's Atwood House Museum.

Chatham Light was automated in 1982, and in August 1993, crowds gathered to watch as new DCB-224 aerobeacons were installed in the lantern room.

Despite the town's efforts to stem ongoing erosion and damage to Chatham's shore and bluff-top buildings, the coastline continues to wear away. At present, Chatham Light remains unthreatened due to its relocation on the west side of the road by forward-thinking individuals in 1877, but the day will likely come when Chatham Light will need to be moved again.

Keepers:
Head: Samuel Nye (1808 – 1813), Joseph Loveland (1813 – at least 1833), Samuel Stinson (at least 1835 – 1839), Lot Norton (1839 – 1841), Collins Howes (1841 – 1845), Simeon Nickerson (1845 – 1848), Angeline M. Nickerson (1848 – 1862), Charles H. Smith (1862 – 1872), Josiah Hardy, Jr. (1872 – 1899), Charles H. Hammond (1899 – 1907), James T. Allison (1907 – 1928), George F. Woodman, Jr. (1928 – 1940), George T. Gustavus (1940 – 1945).
Assistant: Warren Rodgers (1859 – 1863), F.C. Nickerson (1863 – 1867), Samuel H. Hawes (1867), Ezra Hutchings (1867 – 1872), Josiah Hardy, Jr. (1872), Cyrenus C. Hamilton (1872 – 1880), Gilbert Hay (at least 1913 – at least 1921), Thomas E. Carew (at least 1930), James H. Dobbins (at least 1940).
References
Annual Report of the Light House Board, various years.
The Lighthouses of New England, Edward Rowe Snow, 2005.
The Lighthouses of Massachusetts, Jeremy D'Entremont, 2007.
"The Essential Chatham," Corinne K. Hoexter, New York Times, August 26, 1990.

Location: Located in Chatham near the southern entrance to Chatham Harbor.
Latitude: 41.67141
Longitude: -69.94991


For a larger map of Chatham Lighthouse, click the lighthouse in the above map or get a map from: Mapquest.
Travel Instructions: Take Route 28 to the roundabout in Chatham, and from there follow Main Street through Chatham. Main Street will make a sharp right turn when it intersects with Shore Road. From this point, go south on Main Street 0.4 miles to the lighthouse. Public tours are offered by the local Coast Guard Auxiliary every Wednesday from 1 p.m. to 3:30 p.m. during July and August and the first and third Wednesday of May, June, September and October, from 1 p.m. to 3:30 p.m. The lighthouse is also open on December 31st from noon to 2 p.m. Click here for contact information and a tour schedule.
The tower's original lantern room and Fresnel lens are on display outside the Atwood House Museum.
The lighthouse is owned by the Coast Guard. Grounds and tower open during scheduled tours, dwelling closed.
Find the closest hotels to Chatham Lighthouse
Notes from a friend:
Kraig writes:

An obelisk near Chatham Lighthouse memorializes seven lifesavers who lost their lives attempting to rescue the owner of and four men aboard the barge Wadena. The inscription on the monument reads:

In Memory of William Henry Mack, of Cleveland, Ohio, 1873 - 1902 [owner of the Wadena]
Erected in 1903, by his loving mother and sister
Twilight and evening bell and after that dark!
and may there be no sadness of farewell when I embark.
For tho from out our Bourne of time and place the flood may bear me far
I hope to see my pilot, face to face, when I have crost the bar.

Crew of the barge Wadena lost on shoveful shoal March 17, 1902
Christian Olson, Capt.
Robert Molanux
Walter Zeved
Manuel Enos

Monomoy lifesavers lost March 17, 1902 in attempting to rescue William H. Mack and the crew of barge Wadena
Marshall N. Eldridge [Monomoy station keeper]
Osborn F. Chase
Isaac F. Toye
Valentine D. Nickerson
Arthur D. Rogers
Edgar C. Small
Elijah Kendrick

In Memory of the hero of the Monomoy disaster
Capt. Elmer F. Mayo, 1862 - 1935 Chatham, Mass.
and his gallant rescue of surfman Seth L. Ellis from a watery grave on shoveful shoal off Monomoy Point March 17, 1902.

In Memory of the surfman Seth L. Ellis, 1858 - 1935 Harwichport, Mass. Sole survivor of the U. S. life saving crew in their heroic attempt to rescue the imperiled crew of the barge Wadena."

More about this disaster can be read here.
See our List of Lighthouses in Massachusetts