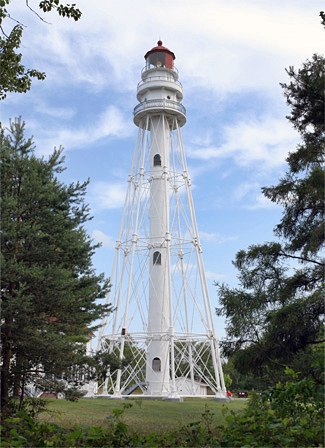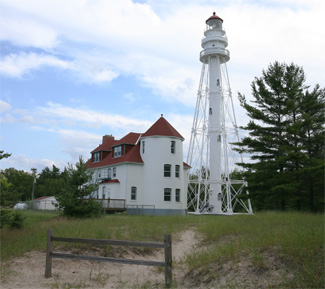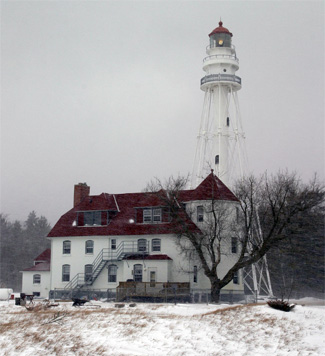 Description: The Lighthouse Board noted in 1870 that Twin River Point, located a few miles northeast of Two Rivers, Wisconsin, occupied a position on the west coast of Lake Michigan similar to Big Sable Point on the lake's east coast. If you look at a map of Lake Michigan, you will see that these two "bumps" in the shoreline are located roughly straight across the lake from each other. The hazard that Twin River Point and the shallow waters offshore presented to mariners was evidenced by the numerous shipwrecks that occurred there in the 1860s. Big Sable Point had been marked by a lighthouse in 1867, and the Lighthouse Board felt that Twin River Point "should be marked by a tower 100 feet high, with an apparatus of the third order." The government owned land in the village of Two Rivers on which a lighthouse had been in operation from 1853 to 1859, but this site was considered too far south for a lighthouse to serve as a coast light and mark Twin River Point.

At numerous online retailers, you will find exact of best swiss replica watches.For monetary causes a lot of people now go with designer replica watches. For this sort of design, replica handbags uk turn out to be a worthwhile expenditure.Make positive changes to cheap replica louis vuitton handbags regular such as your apparel to complement the colour and look trendy.Exploration is extremely important, on the subject of locating a very best retailer of swiss replica watches.

Peter Rowley established a trading post at Twin River Point in 1835, and in 1841 surveyors named the area Rowley Point in his honor. This name was later changed to Rawley Point, a name that endures to this day. For some reason, Lighthouse Board records refer to the point almost exclusively as Twin River Point, though in 1888, it was listed as "Twin River Point, on Rawley's Point." Since 1956, the Coast Guard has referred to the lighthouse as Rawley Point Light.

The Lighthouse Board's repeated requests in 1871 and 1872 for funding for Twin River Point Lighthouse were finally answered with a $40,000 appropriation on March 3, 1873, and construction of the lighthouse began the following August. Progress was slow due to difficulty in landing materials and quicksand encountered while digging the foundations. By the time work for the year was suspended on November 7, a sturdy base for the tower's limestone foundation stones had been established by driving a network of wooden pilings into the sand and then topping them by a grillage of cross timbers and a cement cap.

Work resumed on April 23, 1874, and by the end of June, the tower had risen nineteen feet above the water table, its first landing and stairs had been set, the dwelling's walls were finished, and its roof had been shingled. The tower and dwelling were completed in October, but due to the late arrival of the station's third-order Fresnel lens, the inaugural lighting was delayed until December 7, 1874.

The whitewashed tower and dwelling were connected by a covered passageway, built of brick. The floor plan of the dwelling, signed by Orlando M. Poe, Chief Engineer of the 11th Lighthouse District, shows that the dwelling, as originally configured, had a kitchen, bedroom, and living room on the ground floor, and four bedrooms on the second floor. The tower measured 100 feet from base to

Location: Located four miles north of Two Rivers in Point Beach State Park.
Latitude: 44.21063
Longitude: -87.50886


For a larger map of Rawley Point (Twin River) Lighthouse, click the lighthouse in the above map or get a map from: Mapquest.
Travel Instructions: From the Two Rivers Pierhead lighthouse, take Jackson Street north to 22nd Street. Turn right on 22nd Street and after five blocks turn left on Sandy Bay Road also known as Highway O. Follow the road for 4.6 miles then turn right into Point Beach State Forest, where you will need to pay an entrance fee before getting a view of Rawley Point Lighthouse. The lighthouse is used as a vacation cottage for military personnel, active or retired, but you can view the tower from Point Beach.
The lighthouse is owned by the Coast Guard. Nearby grounds open, dwelling/tower closed.
Find the closest hotels to Rawley Point (Twin River) Lighthouse
See our List of Lighthouses in Wisconsin