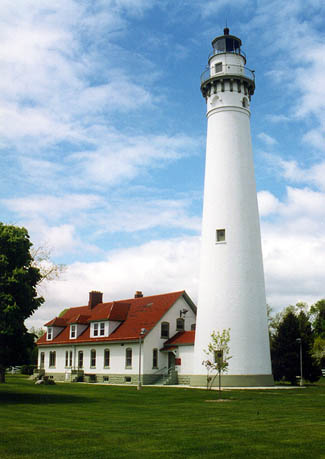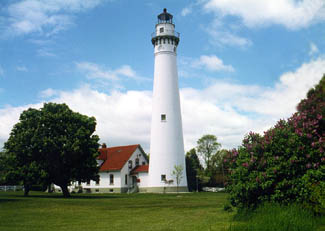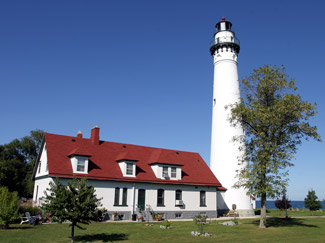 Description: In 1870, the Lighthouse Board petitioned Congress for $40,000 to construct a lighthouse and fog signal on Racine Point, located three-and-a-half miles north of Racine and eighteen miles south of Milwaukee. A lighthouse had been established at Racine in 1835, but this light was shut out by Racine Point for vessels approaching Racine from the north. The Lighthouse Board felt that a lighthouse on Racine Point could help mariners avoid Racine Reef, which lies well offshore, and would allow the light at Racine to be discontinued. The Lighthouse Board repeated its request each year until Congress finally appropriated $40,000 in 1878 for building a lake-coast lighthouse and fog signal on Racine Point. Once the structures were completed, the Lighthouse Service records started referring to the station as Wind Point instead of Racine Point. Wind Point was supposedly named after a tall, windblown tree on the point that was a familiar landmark for mariners on Lake Michigan. The tree was appropriately replaced by a tall lighthouse that proved to be even more beneficial to mariners.

In May of 1879, a lot on Wind Point measuring 295 by 292.5 feet was purchased for $1,000 along with a 33 by 628 foot right-of-way to the public highway. Also that year plans for the station were submitted and approved, and duplicate fog whistles were ordered.

Built of brick with an inner and outer wall, Wind Point Lighthouse gradually tapers from a diameter of twenty-two feet at its base to twelve feet eight inches at its lantern. The tower stands atop a ten-foot-deep stone foundation and measures 110 feet three inches from its base to the ventilator ball atop its lantern room. The tower features two distinctive architectural embellishments found in many of the tall towers on the Great Lakes: masonry gallery support corbels and arch-topped windows. A spiral cast-iron staircase, with 144 steps and five landings, winds up the inside of the tower to the watchroom and lantern room, which are each encircled by a gallery.

The ten-sided lantern room originally housed a third-order Fresnel lens manufactured by Barbier & Fenestre in Paris, France. This lens, which is now on display at the lighthouse, has twelve flash panels and revolved once in six minutes to produce a six-second flash every thirty seconds. The lens rested atop sixteen ball bearings and was rotated by a clockwork mechanism powered by a weight suspended in a drop tube located between the inner and outer walls of the tower.

Alfred B. Finch, a Civil War veteran, served as the first head keeper at Wind Point, and his son Asa served as the first assistant keeper. After just a few days of operation, the revolving machinery malfunctioned, and Alfred and Asa had to manually turn the lens for five frigid nights.

The tower is attached via a twenty-two-foot-long covered way to the brick keepers' dwelling. Besides, the lighthouse, the station was also originally equipped with ten-inch steam fog whistles in duplicate. The light and fog signal were placed in operation on November 15, 1880.

To warn mariners of Racine Reef, a red light was shown from a window in the watchroom. This light was modified in 1888 so that it was visible only over an arc of nineteen degrees and forty-five seconds. In 1897, a locomotive headlight with a parabolic reflector replaced a sixth-order lens as the light for covering Racine Reef. The reef light was discontinued on January 24, 1907, after a lighthouse was established on Racine Reef.

A circular iron oil house was erected on the station grounds in 1894 to store the volatile kerosene oil used for the light. The current concrete oil house was built in 1910.

A thirty-four-foot by twenty-foot extension with a back building was added to the keepers' dwelling in 1899. In 1910, the dwelling had seven rooms for the head keeper, and five rooms for each of the two assistants.

A brick fog signal building was constructed in 1900 to house duplicate, compressed-air sirens. Two years later, two automatic Brown sirens, with copper trumpets were installed, and one of the two old wooden fog signal buildings was moved to the southwest part of the lot and converted into a woodshed. The characteristic of the fog signal was changed in 1906 from a three-second blast separated by twenty-seven seconds of silence, to a three-second blast separated by fifty-seven seconds of silence.

A wharf, topped by iron rails, extended 103 feet into Lake Michigan from the station, and its outer end was protected by a twelve-foot-square crib equipped with two boat davits. Though the station was accessible by road from Racine, the keepers were supplied a boat, which was stored atop a trolley in the station's boathouse at the western end of the wharf. The keepers put their boat to good use in helping mariners, who encountered difficulties off Wind Point. Keeper Henry R. Bevery, whose tenure from 1913 to 1945 was the longest of any keeper at Wind Point, went to the aid of numerous people. In 1915, he and his two assistants saved the motorboat Jeanette in rough seas. In 1918, Bevery and an assistant rendered aid to the auxiliary cruiser Driad that was grounded on a reef, and in 1921 Bevery and his assistants rescued two boys on a draft that were blown out into deep water.

On December 5, 1923, Wind Point Lighthouse became just the second light on the Great Lakes to be electrified when a 300-watt light bulb was placed inside the Fresnel lens. The lens was replaced with a DCB-24 aerobeacon in 1964, when the station was automated and de-staffed. The lens was given to the Racine Historical Museum (now the Racine Heritage Museum), the fog signal was discontinued, and the station buildings were leased to the Village of Wind Point. The three apartments in the keepers' dwelling were put to good use, with one housing the offices of the Wind Point police, one serving as the residence for a curator/caretaker and his family, who maintain the buildings and grounds, and one being converted into a village hall for village meetings, non-profit group gathering, and rentals.

In recognition of the key role this lighthouse had played in the maritime history of Racine County, it was placed on the National Register of Historic Places in 1984.

The Fresnel lens was loaned to the village in 1989 to be displayed at the lighthouse for the bicentennial of the Lighthouse Service, and has remained there ever since. The National Park Service awarded title of the lighthouse to the Village of Wind Point in 1997. Formed in 1999 to help interpret and restore the site, The Friends of the Wind Point Lighthouse was has turned the fog signal building into a museum and has opened the tower for climbing on select days during the summer.

In May 2007, the Jeld-Wen Company announced that the lighthouse would receive new windows and doors as the co-winner of a national competition. Also in 2007, the DCB-24R aerobeacon failed and was replaced by a VRB-25 lens. This change led to complaints by boaters in the area who felt the new light was too weak. Letters were sent to the Coast Guard by the City of Racine Harbor Commission, the State of Wisconsin Waterways Commission, the Racine County Sheriff's Department, and the Village of Wind Point, asking that the intensity of the light be increased and that the false flashes produced by the new beacon be eliminated. After nearly three years of dialogue, the Coast Guard addressed the complaints by replacing the beacons thirty-five-watt bulb with a 100-watt bulb and adding screens to the western windows in the lantern room to eliminate the extra flashes.

Keepers:
Head: Alfred B. Finch (1880 – 1881), Lawrence A. Easson (1881 – 1883), John V. Sandell (1883 – 1891), Peter J. Peterson (1891 – 1913), Henry R. Bevry (1913 – 1945), Theodore Grosskopf (1945 – 1954), Oscar L. Franseen (1954 – 1964).
First Assistant: Asa D. Finch (1880 – 1881), James A. Easson (1881 – 1883), Lewis A. Rose (1883 – 1886), John L. Sullivan (1886 – 1887), George W. Rose (1887 – 1891), Dwight G. Spice (1891), Gabriel Ariansen (1891 – 1895), August Beckstrom (1895), Charley Boshka (1895 – 1897), Edward Ellefsen (1897), James L. Matzen (1897 – 1899), Frederick W. Raether (1899), Emil Mueller (1899), Frederick W. Raether (1899 – 1902), Henry R. Bevry (1902 – 1907), George J. Meengs (1907 – 1910), Jospeh Kilgore (1910), Julius Lonne (1910 – 1912),.
Second Assistant: Edward Ellefsen (1896 – 1897), Albert H. Benson (1897), James L. Matzen (1897), Emil Mueller (1898 – 1899), Henry R. Bevry (1899), Emil Mueller (1899 – 1901), Frank W. Tipil (1901), Alvin H. Cornell (1901 – 1902), George Gilbert (1902), Albert N. Speelman (1902 – 1905), Charles J. Petersen (1905), Smauel A. Dodd (1905 – 1907), George J. Meengs (1907), John C. O'Donnell (1907 – 1908), Julius Lonne (1908 – 1910), William H. Nash (1910 – 1912).
References
Annual Report of the Light-House Board, various years.
Report of the Commissioner of Lighthouses, various years.
"Afer two years, Wind Point Lighthouse solution is better lightbulbs," Lindsay Fiori, The Journal Times.com, October 13, 2010.
Wind Point Lighthouse, Barb and Ken Wardius, 2007.

Location: Located on Wind Point, 3.5 miles north of Racine.
Latitude: 42.78115
Longitude: -87.75839


For a larger map of Wind Point Lighthouse, click the lighthouse in the above map or get a map from: Mapquest.
Travel Instructions: From Highway 32 roughly 3 miles north of the harbor in Racine, turn east on Three Mile Road and follow it to where it turns left and becomes Lighthouse Road. Follow Lighthouse Road for just over a mile. You will pass through a golf course and the lighthouse will then be down a short road on your right.
Wind Point Lighthouse is open for tours on select dates during the summer. Reservations can be made by calling (262) 880-8266.
The lighthouse is owned by the Village of Wind Point. Grounds open, part of dwelling is a hall that can be reserved, tower open during open houses.
Find the closest hotels to Wind Point Lighthouse
Notes from a friend:
Kraig writes:

The keeper of Wind Point Lighthouse received the following letter, dated April 21, from the officer in charge of St. Joseph Coast Guard Station:

Assuming that it would be interesting for you to know that I saw your light here the other night, I was dropping you these few lines.

At about 8:30 p.m. on the 17th instant I was called to the lookout by the man on watch there on account of flashes of light in the northwest which were showing up with a wonderful clearness and regularity, and seemingly not so far off. After having observed the light myself and being struck by the unfaltering regular intervals between flashes, the motor lifeboat was launched and started off for the bearings that had such unusual system in displaying distress signals as well as to find out what it was all about. Having traveled along northward by west for more than two hours and laid about 17 miles behind us without noticing the slightest change or variation in the light ahead of us, together with the fact that thousands of other lights at this time appeared on the scene, the engine was stopped for better observing the grandest of scenery. Here were Milwaukee (75 miles from St. Joseph), Racine, Kenosha, Waukegan, Chicago, and so on, to the eastward in full view - not merely illumination of the places but each place glaring forth with multitudes of actual points of lights. It was a sight worth seeing, and everybody thankful to old Wind Point for having coaxed us out to witness this the grandest of displays and the scenery of a lifetime. At about 11:15 p.m. the mirage was over and every light disappeared from view.

The distance from St. Joseph to Wind Point Lighthouse is about 80 miles.
See our List of Lighthouses in Wisconsin