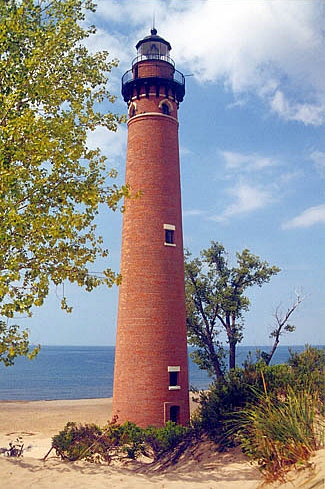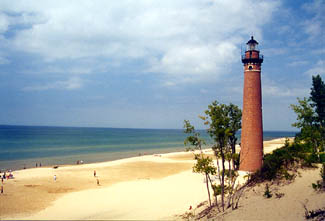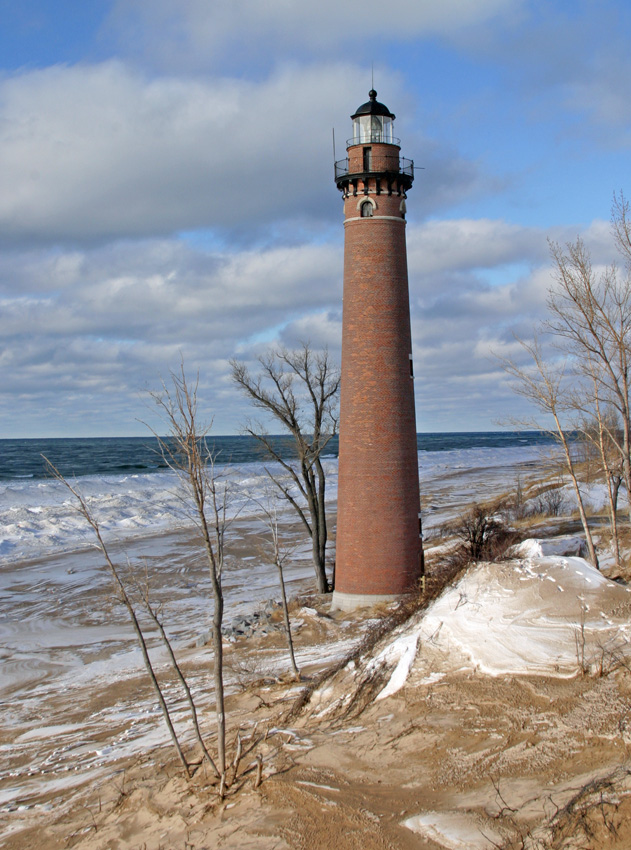 Description: Take a look at a map of Lake Michigan, and you will see three prominent "bumps" along its eastern shore. Point Betsie, the northernmost of these bumps, received a lighthouse in 1858, and Big Sable Point, the next bump going south, got its lighthouse nine years later. In 1871, the Lighthouse Board noted that "a simple inspection of the chart of Lake Michigan" would demonstrate that a third-order, lake-coast light was needed on the third bump, Little Sable Lighthouse. In early records, this point was referred to by its French name Petite Pointe au Sablé, which translated means Little Sand Point. Complying with the Lighthouse Board's request for funds, Congress appropriated $35,000 for the lighthouse on June 10, 1872. Over forty acres of what was public land was set aside by President Ulysses S. Grant the following month, and a working party arrived at the site the following April. The crew first built a dock for landing material and provisions followed by temporary buildings for their accommodations. By July, more than 100 piles had been driven into the sand and topped off by a timber grillage to serve as a foundation for the tower. A cofferdam was then built in the sand so that the ground water could be pumped out and cement could be poured over the grillage.

With the foundation in place, work began on the brick tower, which slowly grew to a height of roughly 100 feet. Atop the tower, a decagonal lantern room was installed to house a third-order Fresnel lens, manufactured by Sautter & Co. of Paris, France. This lens was different than most in that its lower and center section were fixed, while its upper section, made up of ten bull's-eye panels, revolved once every five minutes to produce a flash every thirty seconds. Brackets supporting the upper section of the lens were connected to a pedestal that revolved atop chariot wheels. Every eleven hours, the keepers had to wind up a ninety-pound weight that was suspended between the tower's inner and outer walls and powered the revolving mechanism.

A covered way connected the base of the tower to a twelve-room, two-and-a-half-story dwelling, built for the light's two resident keepers. The tower and dwelling were both left their natural redbrick color. James Davenport, who was transferred from his position of assistant keeper at Waugoshance Lighthouse to be the first head keeper at Little Sable Point Lighthouse, activated the light atop the tower upon the opening of navigation in 1874.

A circular iron oil house, capable of holding 360 gallons, was built 100 feet northeast of the tower in 1893, and a decade later, a brick oil house, with a metal roof and door, was added. In 1900, the tower was painted white to set it off from the surrounding dunes, and in 1911 dormers were added to the top story of the dwelling, greatly expanding its living space.

Joseph Arthur Hunter served as head keeper at Little Sable Lighthouse from 1899 to 1922, longer than any other keeper. On December 9, 1904 while driving his team of horses along a road, Hunter encountered his first car. No incident took place. Keeper Hunter was a Wesleyn Methodist and took his religion seriously. In 1905, he heard a speech he thought would convince anyone to be a prohibitionist and the following year he voted for prohibition. Keeper Hunter would patrol the beach near the lighthouse, gathering anything that washed ashore. By 1922, he had salvaged enough shingles and lumber to build his retirement home.

On May 22, 1926, Congress passed an act authorizing the Secretary of Commerce to sell unused portions of the lighthouse reservations at Big Sable and Little Sable to the State of Michigan for public park purposes.

Henry Vavrina was serving as assistant keeper to William Krumwell in November 1940, when the Armistice Day Storm struck the area. Wind gusts of ninety-two mph whipped up thirty-foot waves that hammered the eastern shore of Lake Michigan. The lake freighters William B. Davock and Anna C Minch foundered off Little Sable Point, taking down fifty-six crewmembers with them. The Canadian freighter Novadoc, bound from Chicago to Montreal loaded with carbon coke, ran aground just north of the point, but all but two of its crew of nineteen were able to survive by going below decks. The men were saved by Clyde Cross, captain of the tug The Three Brothers, who braved mountainous seas to reach the freighter. After being rescued, Captain Steip of the Novadoc handed Captain Cross a roll of bills as a token of his gratitude. Captain Cross leaned back against the bulkhead of his tug, eyed the money, and replied, "Hell no, captain. Glad to be of service." A Coast Guard board of inquiry was held to determine if its Ludington station was negligent in not reaching the Novadoc before the tug. Keeper Krumwell testified that conditions prevented the crew at Ludington from responding sooner.

After Keeper Vavrina lost his wife before World War II, he raised their two daughters at the lighthouse, where he was known by many in the area as a fine cook. In 1947, Keeper Vavrina hosted a large party at the lighthouse, treating his guests to a dinner that included homemade rolls, pies and other treats served on freshly pressed linen cloths. This was quite the feat for the keeper considering the station had no electricity. In 1949, Keeper Vavrina married Elizabeth Harkenrider, a local divorcée who had two young sons. It was hard for many to understand why it took so long for electricity to reach the station as nearby towns had power, but whenever anyone mentioned this to Keeper Vavrina, he told them to not stir the pot. He enjoyed his little lakeside paradise and rightly knew that it would disappear when electricity arrived. Before being electrified, Little Sable Lighthouse was reportedly the last lighthouse on the Great Lakes using an incandescent oil vapor lamp.

Little Sable Lighthouse retained its keeper until 1954, one year after the station was electrified and automated, but the pavement around the lighthouse was in poor condition as shown in this photograph take in 1951. Henry Vavrina, who had been head keeper of the lighthouse since 1939, transferred to Big Sable Lighthouse, where he served another decade before retiring. No longer needed, the handsome brick dwelling was torn down in 1958, leaving the tower alone on the beach. The tower was sandblasted in 1974 to eliminate the need for regular painting.

In 2005, the Michigan Department of Natural Resources leased the lighthouse to the Big Sable Point Lighthouse Keepers Association. The twenty-five year lease allowed the group to open the tower to the public for the first time since the station was manned. An organization known as the Little Sable Point Lighthouse seekers was formed in 1999 with the goal of opening the tower, but after exhausting many options to reach their objective, they reached out to the Big Sable group for help. Big Sable Point Lighthouse Keepers later changed their name to Sable Points Lighthouse Keepers Association to reflect their expanding role in overseeing multiple lighthouses.

Keepers:
Head: James Davenport (1873 – 1879), Gabriel Bourissau (1879 – 1885), Lawrence Kilmurry (1885 – 1886), George Buttars (1886 – 1890), Joseph Hanson (1890 – 1899), Joseph Arthur Hunter (1899 – 1922), Wallace S. Hall (1922 – 1923), Lewis Allard (1923 – 1924), Charles Lennis (1924 – 1930), Arthur Almquist (1930 – 1935), D. Martin (1935 – 1939), William E.H. Krumwell (1939 – 1941), William Kinkaid (1941 – 1945), Raymond Robinette (1945 – 1948), Henry Vavrina (1948 – 1954).
First Assistant: John Carley (1874 – 1878), Fred W. Teachout (1878 – 1879), James Lasley (1879 – 1880), F.G. Bourissau (1880 – 1881), B.M. Jones (1881 – 1882), Antony Gauthier (1882), Lawrence Killmurry (1882 – 1885), John F. Cumming (1885 – 1886), John Millidge (1886 – 1888), Robert Wixson (1888 – 1889), Belden J. Margeson (1889 – 1890), Joseph Arthur Hunter (1890 – 1899), George W. Chamberlin (1899 – 1910), H. Gertrude Hunter (1910), Guy Patterson (1910 – 1912), Arthur Almquist (1925), Frederick W. Leslie (1925 – 1927), Alvin R. Anderson (1931 – 1933).
References
Annual Report of the Lighthouse Board, various years.
Lighthouse Keeper's Bulletin, June 1926.
"Hank Vavrina, The Last Keeper of Michigans Little Point Sable Lighthouse," Margaret Butcher, The Keeper's Log, Spring 2005.
"Clyde Cross – An American Hero," James Doanhue.

Location: Located on the shore of Lake Michigan near Silver Lake State Park, which is roughly midway between Ludington and Muskegon.
Latitude: 43.65156
Longitude: -86.53934


For a larger map of Little Sable Point Lighthouse, click the lighthouse in the above map or get a map from: Mapquest.
Travel Instructions: From Highway 31 at Shelby, take Shelby Drive west 6.3 miles where it ends. Turn right and drive 1.5 miles to Buchanan. Turn right on Buchanan and then left on 18th. 18th will end after 1.8 miles near Silver Lake where you will turn left on Scenic Drive. After a half mile, you will take a right and then a quick left which will put you on the road which leads to the Little Sable Point Lighthouse. The lighthouse is open daily from 10 a.m. to 5 p.m., June through September. Call (231) 845-7417 or visit the Sable Points Lighthouse Keepers Association website to confirm hours.
The lighthouse is owned by the Michigan Department of Natural Resources and is managed by Sable Points Lighthouse Keepers Association. Grounds open, dwelling/tower open in season.
Find the closest hotels to Little Sable Point Lighthouse
Notes from a friend:
Marilyn writes:

A definite favorite of mine. We practically fell on our knees to worship it when we saw it. Everything about it is so incredible - the light, the beach, the view.
See our List of Lighthouses in Michigan