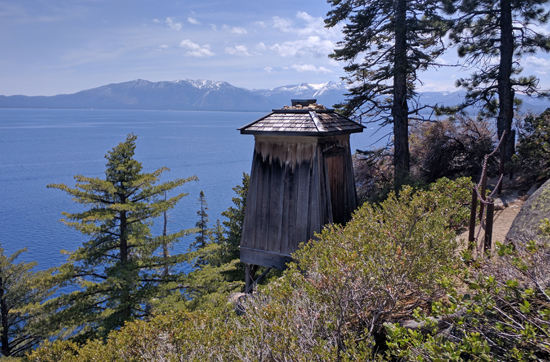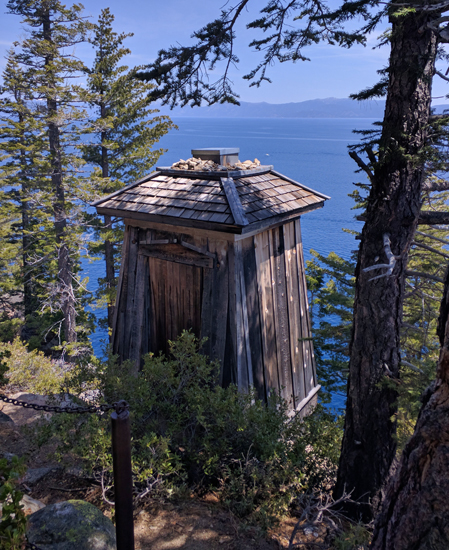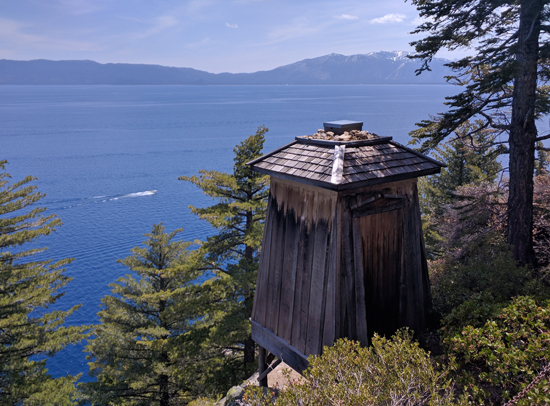 Description: After three years of requests by the Lake Tahoe Protective Association, Congress authorized the establishment of aids to navigation for Lake Tahoe on August 28, 1916 but failed to provide funds for the project. At this time, numerous steamers and launches were carrying a great many passengers on Lake Tahoe, and the lake, which is twenty-one miles long, had a seventy-mile-long mail route.
The Annual Report of the Commissioner of Lighthouses for the fiscal year ended June 30, 1920 notes that during the previous twelve months an acetylene light, consisting of a 200-millimeter AGA lantern and flasher mounted on a small lantern house had been established at Rubicon Point on Lake Tahoe at a cost of $1,352. The light had a focal plane of 200 feet above the lake and produced a white flash every five seconds.
In 1921, the light on Rubicon Point was discontinued and moved four-and-a-half miles north to Sugar Pine Point where it was established on a square, pyramidal, wooden tower, which gave the light a focal plane of thirty-four feet above the lake. The Coast Guard's Light List for 1979 indicates Sugar Pine Point Light was still being displayed from a white tower, but its 1980 Light List indicates that a light atop a steel tower had taken the place of the wooden tower.
In 1929, the D.L. Bliss family donated 744 acres to the State of California, and D.L. Bliss State Park, which includes Rubicon Point Lighthouse was created. D.L. Bliss was a pioneering lumberman, railroad owner, and banker in the Lake Tahoe region. Renovation and stabilization of Rubicon Point Lighthouse was completed in 2001.
References
Annual Report of the Commissioner of Lighthouses, various years.
Signage in D.L. Bliss State Park

Location: Located at Rubicon Point on the west shore of Lake Tahoe.
Latitude: 38.99582
Longitude: -120.09466


For a larger map of Rubicon Point Lighthouse, click the lighthouse in the above map.
Travel Instructions: From Highway 89 on the west shore of Lake Tahoe, turn east on Lester Beach Road, stop and pay your entrance feet to D.L. Bliss State Park, and then continue to one of the three parking lot near the beach at the end of the road. It is just under a mile to the lighthouse, and you can make a loop by taking the lower Calawee Cove Trail first and returning via Lighthouse Trail. Both trails are part of Rubicon Trail, which leads from Calawee Cove Beach to Emerald Bay. Click here for a park brochure that has a map of the trail. It is also possible to park just beyond the park pay station and hike to the lighthouse, but doing a loop from Calawee Cove Beach is a more enjoyable hike with less backtracking.
Find the closest hotels to Rubicon Point Lighthouse
Notes from a friend:
Kraig writes:

If Rubicon Point Lighthouse isn't enough to entice a visit, you can certainly combine it with other enjoyable activities in the area. After hiking to the lighthouse, we proceeded north to Sugar Pine Point State Park where we toured Hellman-Ehrman Mansion. After visiting the mansion, we followed Rod Beaudry Trail, which begins between the park's gift shop and bathrooms, to reach Dolder Nature Trail. Signs along the nature trail will guide you to "Sugar Pine Point Navigational Light." If you weren't impressed with Rubicon Point Lighthouse don't bother hiking to this navigational light, but it is the modern replacement for the historic wooden lighthouse. I would also recommend a hike to Vikingsholm and Eagle Falls in Emerald Bay State Park.
See our List of Lighthouses in California