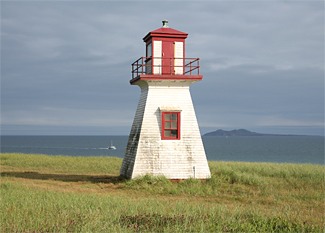 Description: Havre-aux-Maisons with its beautiful landscapes, winding roads, and colorful houses is considered by many to be the most beautiful island in the Magdalen Island archipelago, and Cap Alright lighthouse, perched on a rich red sandstone cliff jutting out into the sea, is one of its gems.
Featured on a 2003 Canadian stamp and possibly the most photographed lighthouse in the Magdalens, the eight-metre (twenty-seven-foot) white tower, topped with a red lantern and gallery, overlooks Baie de Plaisance with Entry Island looming offshore.
Grégoire Lafrance, a lobster fisherman on Havre-aux-Masions who owned property at Cap Alright, requested that a light be built there to help guide the local fishermen home. The little lighthouse was constructed in 1928, the last light to be established in the Magdalen Islands. With a focal plane of twenty-four metres (seventy-nine feet), its signature is a white flash every five seconds that can be seen for twenty nautical miles.
References
"Les Phares des Îles de la Madeleine," Jason Bent.

Location: Located on the southeast tip of Île du Havre aux Maisons.
Latitude: 47.390829
Longitude: -61.773854


For a larger map of Cap-Alright (Île du Havre aux Maisons) Lighthouse, click the lighthouse in the above map or get a map from: Mapquest.
Travel Instructions: From the ferry landing at Cap aux Meules, turn right onto Chemin Principal (QC-199). After 5 km, turn right onto Chemin de la Pointe Basse and continue for 3.2 km, where you will see the lighthouse on your right.
The lighthouse is owned by the Canadian Coast Guard. Grounds open, tower closed.
Find the closest hotels to Cap-Alright (Île du Havre aux Maisons) Lighthouse
Notes from a friend:
Kraig writes:

I visited Cap-Alright a couple of times during my stay on the islands. One day I stopped at Fromagerie du Pied-de-Vent, also located on Chemin de la Pointe Basse, sampled their various cheeses, and then purchased Fromage de Terrior and some bread to enjoy at th lighthouse overlook. Another fun thing to do near the lighthouse is to hike the hill with the cross on it. To reach the trail head, drive down the hill from the parking area near the lighthouse for 250 metres where you will find a few parking spaces overlooking a beach. From here, cross the road and you will find a trail that leads around the hill to its summit. While I was enjoying this hike, a couple was getting married at the lighthouse. The wedding party walked down to the lighthouse, and the bride was flown in by helicopter.

A nice B&B with a view of Cap-Alright Lighthouse is La Maison des Falaises.

While on the islands, I was informed that the land on which the lighthouse stands was purchased by Pierre Karl Péladeau and Julie Snyder. I must admit that I did not know who they were, but the couple is apparently quite famous in Quebec.
See our List of Lighthouses in Quebec Canada