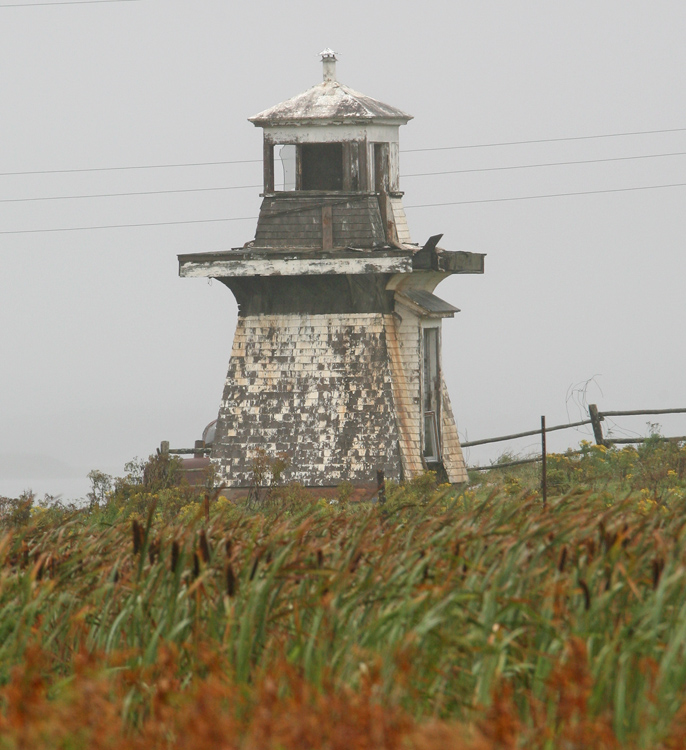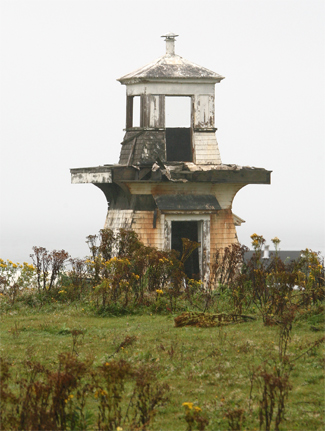 Description: In 1909, L. Mury, of West Arichat, Nova Scotia, built two twenty-two-foot-tall lighthouses under contract at a cost of $1,340. The twin towers were square in plan, with sloping sides, and were topped by square, wooden lanterns.
The following description of the L'Ardoise Range Lights was given in a 1920 Light List:
The front light, fixed red, 20 feet, visible 6 miles, is shown from a white square wooden tower with sloping sides and square lantern, erected on the beach 300 yards northward of Martin Point.

The rear light, fixed red, 52 feet above high water, visible 8 miles, is shown from a similar tower, situated 300 yards, 43°, from the front light.

These lights in line, bearing 43°, lead to the anchorage, passing about 100 yards westward of the breakwater extending from Martin Point.
The range lights were discontinued around 1970. The rear range light has reportedly remained in its original location, but the front range light was relocated by the Morrow family to Point Michaud.


Location: Located in Lower L'Ardoise.
Latitude: 45.596894
Longitude: -60.743043


For a larger map of L'Ardoise Harbor Rear Lighthouse, click the lighthouse in the above map.
Travel Instructions: From L'Ardoise travel east on NS-247 for 3.2 km (2 miles), and then turn right on George Peters Road from where you will get a view of the lighthouse.
The lighthouse is privately owned. Grounds/tower closed.
Find the closest hotels to L'Ardoise Harbor Rear Lighthouse
See our List of Lighthouses in Nova Scotia Canada