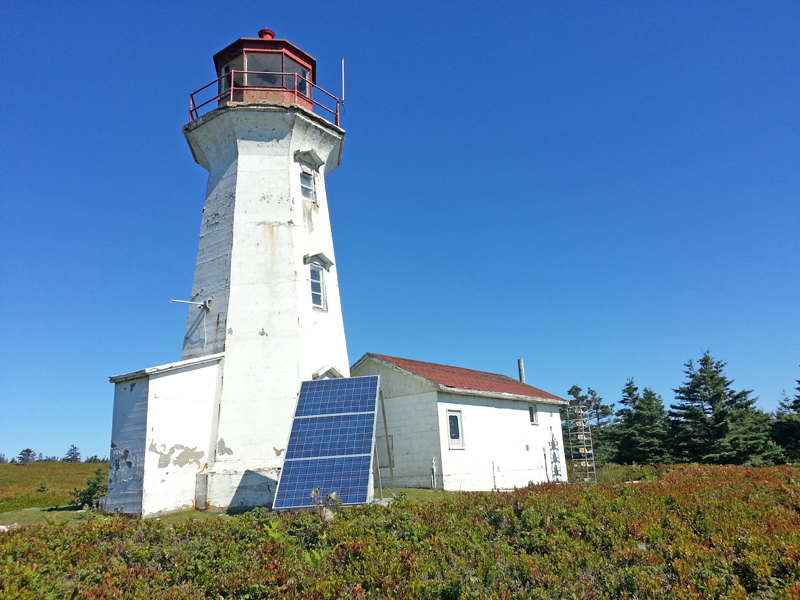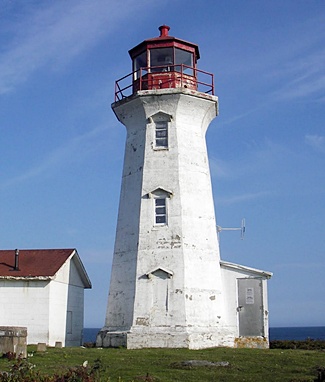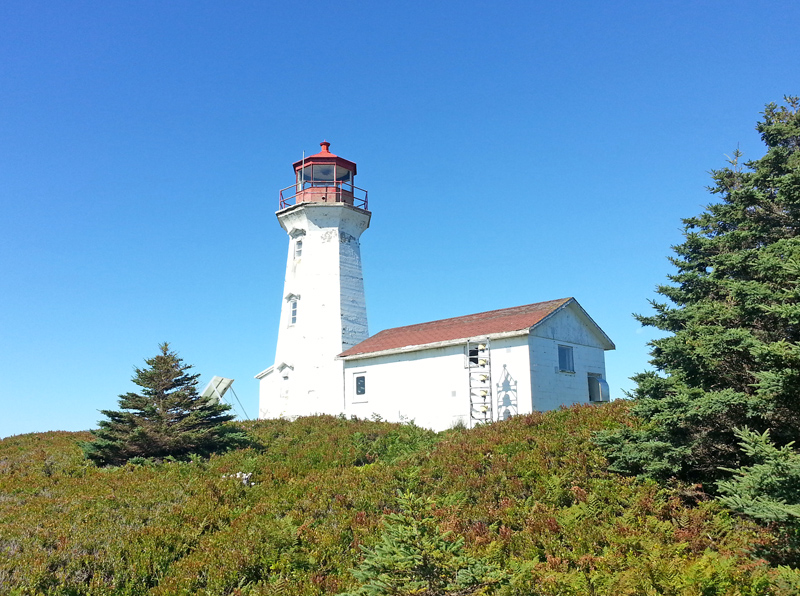 Description: Cape Negro Island consists of two lobes linked together by a narrow strip of land. James D. Coffin was contracted to build the first lighthouse on the island for $970, while $429.26 was expended for its lamps and revolving lighting apparatus. The Department of Marine provided the following description of the newly completed square, wooden lighthouse, which had a height of twenty-nine feet, in its annual report for 1872:
A minor revolving light was recently erected on Negro Island, at the entrance of Negro harbour, County of Shelburne. It shews red and white flashes alternately every minute, and should be seen at a distance of 12 miles. It has one circular burner lamp to each of two faces, with 20-inch reflectors to each lamp, and was first exhibited on the 6th September, 1872. Mr. James McKinnon was appointed keeper at a salary of $100 per annum.
The lighthouse was found in such an advanced state of decay in 1886 that repairs were deemed impossible and plans for a new lighthouse were prepared. A $975 tender to build the tower from a Mr. DeChamp was accepted, and work began on the island in 1886. The new lighthouse, a forty-four-foot-tall, wooden, octagonal tower, was connected to the east end of the keeper's dwelling, and the revolving apparatus from the old one was used in its lantern room.

In 1915, it was decided that navigation would be better served by a lighthouse on the southeast end of the island rather than the northeast tip, and D.C. Mulhall was contracted to build the current lighthouse at a cost of $11,200. Built of reinforced concrete, the octagonal tower stands forty-two feet tall and has a focal plane of ninety-one feet above the water. A wooden keeper's dwelling and a combined boathouse and oil store were also built to accompany the lighthouse.

Keepers: James McKinnon (1872 – 1897), Byron Nickerson (1897 – 1916), Freeland Perry (1916 – 1943), Harry Perry (1943 –1963), Radford Malone (1964), Carmen Cook (1965).

References
Annual Report of the Department of Marine, various years.

Location: Located on southeast tip of Cape Negro Island.
Latitude: 43.507278
Longitude: -65.345611


For a larger map of Cape Negro Island Lighthouse, click the lighthouse in the above map or get a map from: Mapquest.
Travel Instructions: Cape Negro Island Lighthouse is best seen by boat.
The lighthouse is owned by the Canadian Coast Guard. Grounds open, tower closed.
Find the closest hotels to Cape Negro Island Lighthouse
See our List of Lighthouses in Nova Scotia Canada