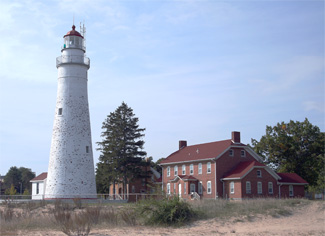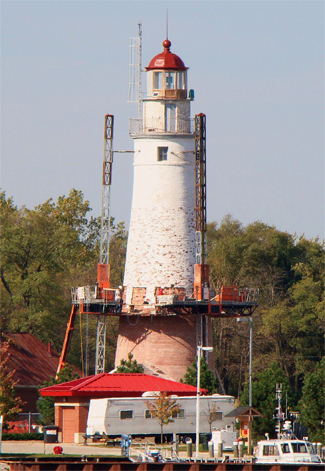 Description: In 2004, Fort Gratiot Lighthouse, deemed excess by the Coast Guard, was offered at no cost to eligible entities, including federal, state, and local agencies, non-profit corporations, and educational organizations under the provisions of the National Historic Lighthouse Preservation Act of 2000. The City of Port Huron submitted an application for the lighthouse and was recommended as the new owner, but the official transfer was delayed pending cleanup of hazardous materials by the Coast Guard. After learning that roughly $4 million was needed to restore the light station, the city council rejected the deed offered by the federal government, however, in April 2010 the commissioners of St. Clair County agreed to accept ownership. The deed for the property was transferred from the federal government to the county in September 2010.
In July of 2011, the Port Huron City Council voted 6-0 at a special meeting Monday to pay National Restoration, based in Keego Harbor, $332,900 to restore the 182-year-old lighthouse. Though the lighthouse is owned by the county, the city controls $680,000 in grant money and matching funds earmarked for the lighthouse. The county will use $40,000 of the money it has to replace the roofs of the fog signal building and an equipment building. If additional money is available, the roof of the light keeper's duplex will also be repaired.
A grand re-opening of Fort Gratiot Light Station was held on May 19, 2012.


Links:

Fort Gratiot Lighthouse

Location: Located in Port Huron on the shore of Lake Huron near the entrance to the St. Clair River and just north of the Blue Water Bridge.
Latitude: 43.00631
Longitude: -82.42241


For a larger map of Fort Gratiot Lighthouse, click the lighthouse in the above map or get a map from: Mapquest.
Travel Instructions: From Interstate 94, take the Pine Grove Avenue Exit and then turn right onto Garfield Street. Follow Garfied Street to the river and the lighthouse. Parking is available at the park just north of the lighthouse. Click here for information on visiting the lighthouse.
The lighthouse is owned by the City of Port Huron. Grounds/tower open during tours.
Find the closest hotels to Fort Gratiot Lighthouse
See our List of Lighthouses in Michigan