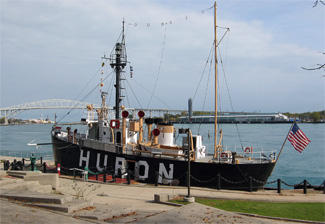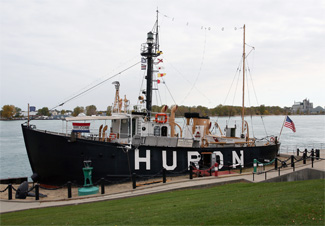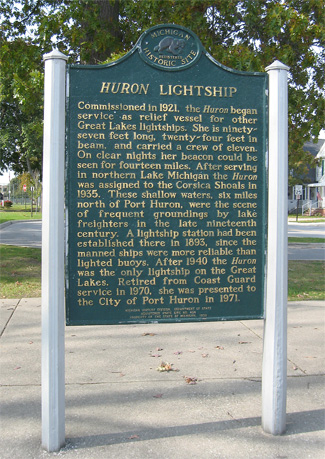 Description: On October 6, 2000, the Lightship Sailors Association presented a plaque to the Huron Lightship Museum in memory of Seaman Robert Gullickson, age twenty-one, who drowned while serving in the U. S. Coast Guard aboard WLV-526. Forty-two years after his death, his sister visited the Lightship on November 9, 2000 to view the memorial to her brother who lost his life while serving his country. She was only sixteen when, on May 7, 1958, her brother and two other sailors boarded the ship's liberty boat for a six-mile journey to the Ft. Gratiot Coast Guard Station in Port Huron, Michigan. They were to pick up groceries, mail, and payroll. However, upon arrival they learned that the groceries had not yet been delivered to the station; so, according to Fireman (FM) Neil Hamilton, he asked SN Robert Gullickson and Chef (CS) Vincent Disch to go ahead and deliver the mail and payroll to the ship and he would wait for the groceries and bring them out later. They set out for the Lightship at 10:45 a.m.

On their journey back to the Lightship, a large wave swamped the liberty boat. Gullickson endeavored to bail the water out, but the boat sank. They floated for forty-five minutes in their life jackets, talking and holding hands, blowing whistles trying to hail a tugboat and a freighter that passed--all to no avail. After a wave separated them, Gullickson made the decision to swim to shore to get help. The water temperature was 47° F, and hypothermia had already set in as he struck out for shore. It was his last decision. At noon the lightship radioed the station to find out why the sailors had not returned. The station immediately dispatched another boat that found CS Disch at 1:07 p.m. in semi-conscious condition with his arms raised ready to slip from his life jacket into the cold depths of Lake Huron. Amazingly he survived, but Bob Gullickson's body was never found. He was the only crewman lost during the thirty-five years the Lightship guided freighters safely into the narrow channel leading to St. Clair River.

On October 28, 2000, as guests were eating dinner at the Thomas Edison Inn in Port Huron, two couples overheard a discussion at an adjacent table about their tour to the Huron Lightship Museum. They interrupted to say that their cousin had served aboard that ship but had drowned while on duty. The other group asked if his name was Bob. They were astonished. How did they know? There is a memorial to him on his bunk, they were told, with a U.S Flag, the history of the event and a new plaque in his memory.

The next day the cousins and their spouses visited the ship, and Wayne Arnold had the honor of escorting them on a tour of the museum. When they reached the crew's quarters, the tour turned into a wake. The volunteer crew and family both shed tears as the family reminisced. For many years after Bob gave his life in the line of duty, each time a body washed up on shore the family contacted authorities to find out if it was…. They stated that his sister lives in metropolitan Detroit and they were going to let her know about the Lightship and the memorial. The family had been unaware that the ship was still in existence.

Two days before Veterans Day, 2000, Robert Gullickson's sister, Carol Von Kampen came aboard the Lightship with his dress uniform and presented it to the Museum volunteers in memory of her brother. "I was very moved," she said upon seeing the memorial. "It's very emotional to see this 42 years later. It's a beautiful tribute." The crew held a small service, then Ms. Von Kampen was escorted to the pilothouse, where a full master's salute was issued from the ship's whistle: Three long and two short blasts resounded over St. Clair River and out into Lake Huron.

Day is done / Gone the sun / From the lakes, from the hills, from the sky. / All is well, safely rest: / God is nigh.

The first vessel to be designated Huron Lightship was LV-61, which served at the station from September 25, 1893 until 1920, when it was condemned and then sold at auction the next year. During the Great Lakes Storm of 1913, which saw eight vessels founder on Lake Huron with the loss of nearly 200 sailors, LV-61 was driven ashore at Point Edward, Ontario.

LV-96 was designated Huron Lightship in 1921 and served at that station until 1935. LV-96 began its career as Buffalo Lightship in 1914, but in 1915 was sent to Poe Reef in the Straits of Mackinac and marked that hazard through 1920. LV-96 ended its service by serving at Cross Rip Lightship Station in Massachusetts from 1937 to 1954.

Huron Lightship LV-103 was built by Consolidated Shipbuilding Company in Morris Heights, New York at a cost of $147,428 and launched in 1920 as Lightship 103 of the United States Lighthouse Service. The lightship served as a relief vessel for other Great Lakes lightships and at Grays Reef and North Manitou Shoal in Lake Michigan. She was later re-designated U.S. Coast Guard WAL-526, then WLV-526. From 1935 until 1970 she served at Corsica Shoals, at the southern end of Lake Huron, approximately six miles north of the Blue Water Bridges and three miles east of the Michigan shoreline. When she was withdrawn in 1970 she was the last of twenty-two lightships on the Great Lakes and the only lightship to keep her station throughout World War II. In 1972, she was enshrined on the banks of St. Clair River at Pine Grove Park in Port Huron as a tribute to her vigilance and in memory of a by-gone era. In 1989, the lightship was designated a National Historic Landmark.

Length overall 97 ft.; Beam 24 ft.; Draft 9 ft. 6 in.; Displacement 310 tons (in fresh water); Mushroom anchor weight 3 tons; Dilok chain link weight 14 lbs.; Maximum ship speed 8 knots; Mast height above waterline (lantern mast) 52 ft. 6 in.; Keel laid in1918 by Consolidated Shipbuilding Company, Morris Heights (Bronx), New York. Maintained by Volunteers of the Huron Lightship Museum; owned by the City of Port Huron, and supported financially by the Lake Huron Lore Marine Society.

Station Assignments
1921-1923: Relief
1924-1926: Grays Reef (MI)
1927-1928: Relief (12th District)
1929: Grays Reef (MI)
1929-1933: Relief (12th District)
1934-1935: North Manitou Shoal (MI)
1935: Relief (11th District)
1935-1970: Lake Huron (MI)
References
The Ultimate Price by Wayne Arnold, Site Manager, Huron Lightship Museum, Port Huron, Michigan.

Location: Located in Pine Grove Park just south of the Blue Water Bridges on the St. Clair River in Port Huron.
Latitude: 42.98956
Longitude: -82.42654


For a larger map of Lightship Huron LV 103/WAL 526 Lighthouse, click the lighthouse in the above map or get a map from: Mapquest.
Travel Instructions: From Interstate 94, take the Pine Grove Avenue Exit and then turn right onto Hancock Street and then right onto Pine Grove Avenue (M-25). Follow Pine Grove Avenue for one mile, and then turn left onto Prospect Place, where you will find parking for the Huron Lightship at Pine Grove Park.
The Huron Lightship Museum is open daily from Memorial Day to Labor Day from 11 a.m. to 5 p.m. September through December and April through May, the lightship is open Thursday through Monday during the same hours. For further information, call (810) 982-0891.
The lightship is owned by the Port Huron Museum. Grounds open, lightship open in season.
Find the closest hotels to Lightship Huron LV 103/WAL 526 Lighthouse
See our List of Lighthouses in Michigan