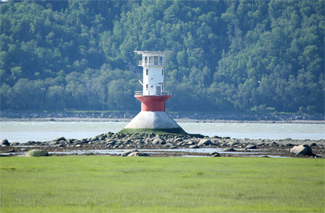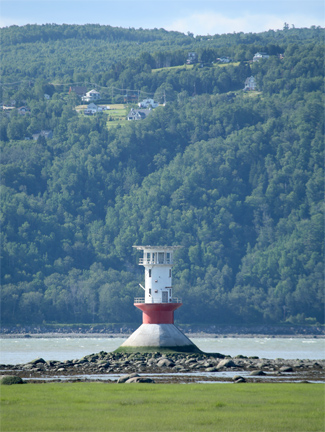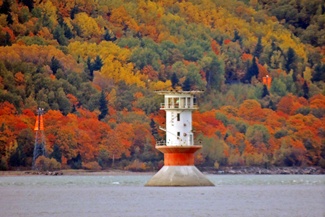 Description: Īle aux Coudres was named by Jacques Cartier in 1535 for all of the coudriers (hazelnut trees) he found there. Today, the island has many farms and is refreshingly laid back when compared to Quebec City, just sixty kilometres away. On the northwest side of Īle aux Coudres, across the water from Baie-Saint-Paul, stands Pointe de la Prairie Lighthouse, which was built in 1972. The point gets its name from the prairie-like marshland that extends from this part of the island. The tower is a white circular pillar, with a red lower portion and surmounted by a helicopter pad. Standing seventeen metres high, with a focal plane of 15.6 metres, the light receives power through an underground electric line and directs marine traffic through the St Lawrence River north shipping channel. In 2004, after years of exposure to severe conditions of salt water, continuous freeze-thaw cycles and ice flows, the base, which was beginning to crumble, was reinforced with a shotcrete mix composed of silica fume, steel fiber, granite aggregate, air entraining admixture, and a set time accelerator.
The first offshore lighthouse to mark this point was constructed in 1931 and was known as Īle aux Coudres Lighthouse. This white lighthouse rested atop an octagonal mass of concrete on the north edge of Prairie Shoal and resembled a wedding cake. A fog alarm was housed in the bottom floor of the lighthouse. The keeper's quarters were located in the second level, and the structure was topped by a lantern room.
The first keeper of Īle aux Coudres Lighthouse was J. Pedneault. No keepers were ever assigned to the present tower.
Keepers: J. Pedneault (1931 - at least 1937).

Location: Located on Grande Batture, west of Pointe de la Prairie and near the western end of Īle aux Coudres.
Latitude: 47.409389
Longitude: -70.430889


For a larger map of Pointe de la Prairie Lighthouse, click the lighthouse in the above map.
Travel Instructions: The lighthouse is best seen from the water, but a decent view is possible from the western end of Īle aux Coudres. After taking the free ferry to Īle aux Coudres, follow Chemin de la Traverse to the top of the hill, and then turn right onto Chemin des Coudriers. After 5.4 km (3.4 miles), turn right and follow the road a short distance down the hill to a dirt road, Chemin des Prairies, that parallels the shore. As you drive east along this road, you will get views of the offshore lighthouse.
The lighthouse is owned by the Canadian Coast Guard. Grounds/tower closed.
Find the closest hotels to Pointe de la Prairie Lighthouse
See our List of Lighthouses in Quebec Canada