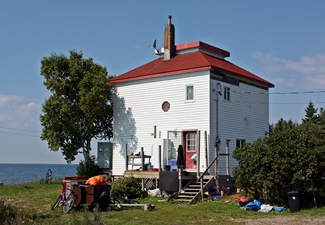 Description: Batchawana Bay, located on the eastern shore of Lake Superior, roughly fifty kilometres north of Sault Ste. Marie, was named Badjiwanung, "water that bubbles up," by the Ojibwe due to the turbulent waters in the narrow passage between Sand Point and Batchawana Island. Bounded by Corbeil Point on the northwest and Rudderhead Point on the southeast and with Batchawana Island in its middle, Batchwana Bay was an important fishing place for the Ojibwe and later for the Hudson's Bay Company, which maintained an outpost and fishing station where Batchawana River enters the bay.
Corbeil is pronounced "Corbay," and Corbeil Point was often listed on maps and charts as Corbay Point until the early 1900s when the Canadian Geographic Board clarified that the official name was Corbeil Point. A lighthouse was erected on Crobeil Point in 1873 and described in the Annual Report of the Department of Marine and Fisheries of that year:
A very superior light has been erected on Corbay Point, at Batchewana Bay, near the eastern entrance of Lake Superior, and was lighted for the first time on the 1st day of October last. It is a powerful fixed white light on the catoptric principle, and has two circular burner lamps with 20-inch reflectors, and two flat-wick lamps with 16-inch reflectors, and can be seen at a distance of 20 miles. The tower is an octagonal wooden building painted white, and 63 feet high, with a dwelling for the keeper attached. The sum of $2,030 was expended on it up to the 30th June last, and the total cost of it, up to the 31st December, 1873, was $6,125.39. Mr. David Craword was appointed keeper of this light on the 23rd September last, at a salary of $250 per annum.
Additional expenditures in 1874 brought the total cost of the lighthouse to $7,360.34.

When it came time to close down the lighthouses on Lake Superior at the end of the 1913 navigation season, Keeper Jospeh Davieau elected to remain at Corbeil Point for the winter rather than pay the high rent in Sault Ste. Marie brought about by the outbreak of World War I. A newspaper article dated December 19, 1913 noted that Keeper Davieau and a keeper on Michipicoten Island chose to remain on station "where rent, at least is a negligible factor, since no landlord can possibly come to collect it and where the only bills to be presented will be those of occasional seagulls."

Shortly after Fannie M. Salter, the last female lighthouse keeper in the United States, retired, an article entitled "Lighthouse Keeping" ran in the February 2, 1948 in which Clint Dunathan described a visit several years earlier to Corbeil Point Lighthouse at its female keeper:
On the north shore of Lake Superior, in Canada, is a deep bay named Batchewana, which is protected from northwest storms by Corbeil Point. The lighthouse is located on Corbeil Point, a low but rocky headland that has trapped many ships.

While visiting Batchewana we went to the lighthouse on the point and a woman showed us through the wooden tower, topped by the light behind a large fixed lens. We were more accustomed to seeing lighthouses made of steel and stone. This one was primitive in appearance, and lightning had thrice torn a splintery path from its top to the ground.

It was evening when we were there, and the woman light keeper took a kerosene lamp from the little cottage and we climbed with her up the stairway to the top of the tower. There she lit the lamp, adjusted the wick, and placed it behind the glass lens. By modern standards it was inadequate, yet it had served there for many, many years. We asked the woman if she had ever been in the tower when it was struck by lightning.

"Only once," she said. "It was on a nice evening, such as this, with scarcely a cloud above. The lightning plays queer tricks on this shore."
As there isn't a female in the official list of keepers for Corbeil Point Lighthouse up to the time of this story, it is hard to pinpoint when this visit took place, but the woman just may have been Philemon Reil, daughter of Keeper William Reil, who barely escaped from the lighthouse when it was struck by lightning during a severe electrical storm in June 1931 and burned to the ground. William and Philmeon lost all their clothing and belongings in the fire. Keeper Reil displayed a temporary light from a pole until a new lighthouse, a square, two-storey dwelling with a hipped roof surmounted by a lantern room, could be built.

When Keeper Reil retired in 1946, Henry Nolan, a veteran of World War II, was placed in charge of the light.

Robert Collins had been serving for two years at Corbeil Point Lighthouse when the station was changed from watched to unwatched status in 1955 and its hand-operated foghorn was discontinued. The characteristic of the station's automated light was changed from fixed white to fixed green in 1957, and the light was discontinued in 1962.

The land on which Corbeil Point Lighthouse was built was part of a reserve that the Batchewana Indians had been given in an 1850 treaty and which they had then sold to the Crown on June 9, 1859. A 115-acre parcel for Corbeil Point Lighthouse was transferred to the Department of Marine and Fisheries by an order-in-council dated May 29, 1874. After the lighthouse was discontinued, the 115-acre parcel was surrendered by the Department of Transport in 1964, and two years later it was made into Obadjiwan Reserve 15 E for the Batchewana First Nation of Ojibways.

Opportunity For Youth, a summer camp for the Batcehwana Band, received permission in 1972 to use the abandoned lighthouse for their camping program. Later, the lighthouse became home to the band's hereditary chief and was occupied by Chief Edward James Sayers and Chief Joe Tom Sayers.

Keepers: David Crawford (1873 – 1883), Andrew Crawford (1883 – 1890), Joseph Davieau (1890 – 1914), James Davieaux (1914 – 1915), William Reil (1915 – 1946), Henry D. Nolan (1946 – 1953), Franny Nolan (1953), Robert Collins (1953 – 1955).

References
Annual Report of the Department of Marine, various years.
Annual Report of the Lake Carriers' Association, various years.
"Batchewana Band History," Colleen Syrette, Darlene Syrette, and Joseph Corbiere.

Location: Located on Corbeil Point, marking the western entrance to Batchawana Bay.
Latitude: 46.889117
Longitude: -84.615669


For a larger map of Corbeil Point Lighthouse, click the lighthouse in the above map or get a map from: Mapquest.
Travel Instructions: From Sault Sainte Marie, drive 69 km (43 miles) north on ON-17 (Trans-Canada Highway), and then turn left onto ON-563 for Batchawana Bay. Follow ON-563 for 7.7 km (4.8 miles) to its end, where you will find the Corbeil Point Lighthouse. The lighthouse is located just beyond Salzburger Hof Resort.
The lighthouse is privately owned. Grounds/tower closed.
Find the closest hotels to Corbeil Point Lighthouse
See our List of Lighthouses in Ontario Canada