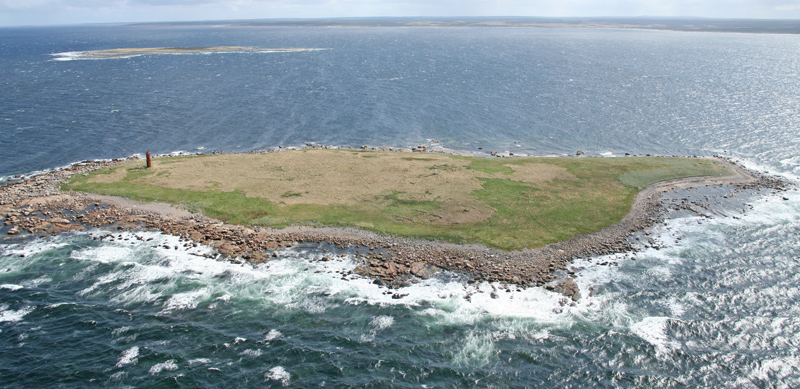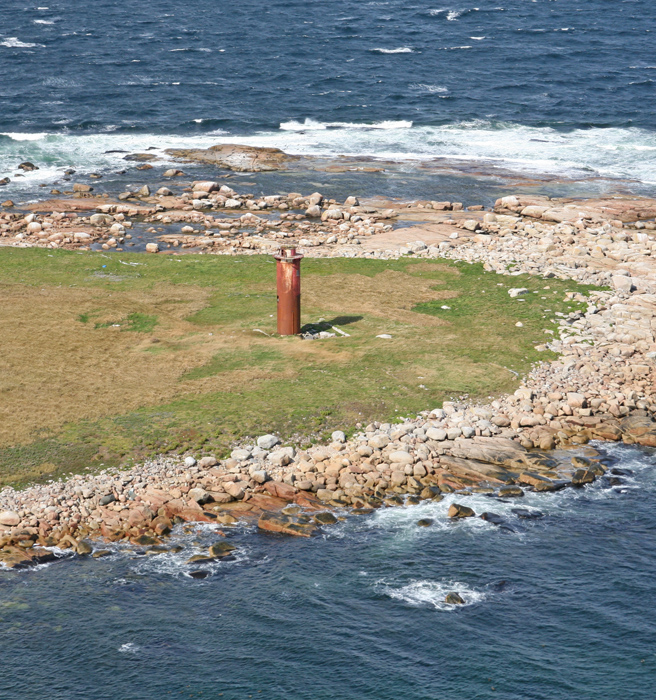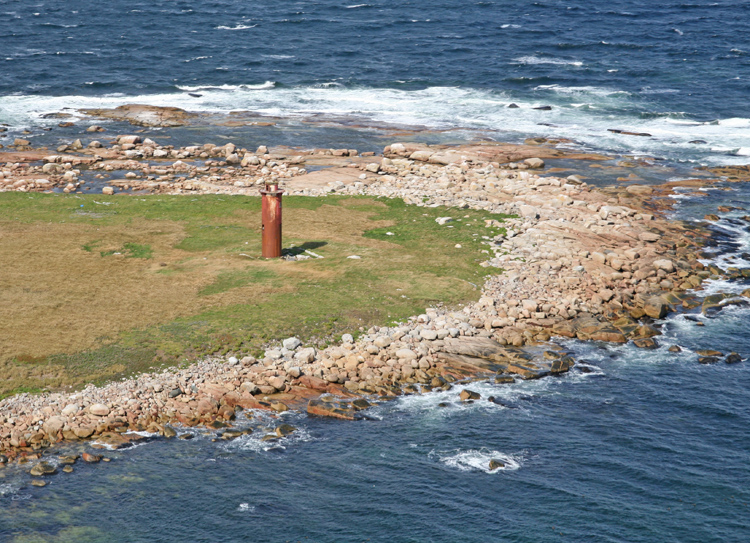 Description: There are several islands off the coast of Newfoundland named Penguin. Though the islands were named after a seabird, it isn't the penguin we know today, but rather the great auk, a large, flightless, black-and-white seabird that was hunted to extinction by the mid-nineteenth century. When explorers discovered birds in the southern hemisphere that resembled the great auk, the name penguin was transferred to them. Just off the northeast coast of Newfoundland, not far from Musgrave Harbour, are two low-lying islands known as North and South Penguin Island. The following editorial, which chronicles the effort to obtain a lighthouse for North Penguin Island, appeared in the January 19, 1889 edition of the Twillingate Sun.
We understand that a petition is being signed by electors of this district, for presentation to the Legislature, on the subject of the erection of a Light-House on the Northern Penguin Island. Petitions of a similar character have been forwarded to previous sessions of Legislature, bearing on the same matter, but they were never effectual in accomplishing the desired object, and no more was known of them than the fact they were ordered to lie on the table, and a report to that effect appearing in public print. It is to be hoped, however, that this petition will receive more consideration from the hands of our legislators, and that practical steps be taken for the erection of the long solicited Light-House, on this dangerous part of the coast, to which reference has been made. The subject has been repeatedly referred to in our columns, and the necessity for its establishment clearly pointed out. The islands are so exceedingly low, that it is difficult to discern them on dark nights or in thick foggy weather, until being too close to them to make a retreat.

Already various craft have been lost there within the past few years, and in some instances the crews had most hair-breadth escapes; though we doubt not, if some of our "hardy toilers of the sea" had met with a watery grave in that vicinity, steps would ere this have been taken for the erection of the light-house in question. There is a large amount of money paid out for public improvements, one way and another, but the share which the extern districts receive is very limited indeed, and we think that there should be no hesitancy whatever on the part of the Government in complying with the prayers of petitioners from our district on this subject. But then it must be remembered that this boon would not alone be conferred on the people of the North, but would also be participated in by nearly all our sea-going population; for there are hundreds of vessels from all parts of the colony, especially the smaller ones, that would hail with joy the erection of a light on the Penguin Islands.
The 1889 petition produced the desired result as later that year the "mechanician" working for the Inspector of Lighthouses visited the island and made arrangements "for putting up a store, making a road, clearing a foundation, collecting sand, making a well, &c.,"all things which would facilitate the construction of a lighthouse the following spring.
Men and the material necessary for constructing an iron lighthouse and keeper's dwelling were landed on North Penguin Island in early July of 1890. The department's mechanician was in charge of erecting the tower and installing the lighting apparatus, while William Stowe was the foreman overseeing the rest of the work. The light was placed in operation on October 1, less than three months from the time the workmen landed on the island.
The circular, iron tower on North Penguin Island used a fourth-order lens to produce a fixed white light at a focal plane of nineteen metres. A two-storey keeper's dwelling with a mansard roof was attached to the east side of the tower, and both structures were painted in vertical red and white stripes. Esau Gillingham, the first keeper, maintained the lighthouse until his retirement in 1918, when King George V approved the bestowal of the Imperial Service Medal for Keeper Gillingham's twenty-eight years of service.
In 1893, heavy seas prevented Inspector John T. Nevill from visiting isolated Penguin Island, and he recommended that it would be "advisable, perhaps almost absolutely necessary, to have arrangements with a resident of Musgrave Harbour to make periodical visits to fetch the monthly returns, and to answer any emergency signal from the station." Each month, a keeper was required to submit a return showing how much oil was consumed in the lantern room and in the keeper's dwelling, and how many wicks and glass chimneys were used.
Sometime around the mid-1980s, the Coast Guard burned down the dwelling attached to the iron tower. (The lighthouse was burned during nesting season, resulting in the largest Caspian tern colony in Atlantic Canada abandoning the island.) Now gone forever from North Penguin Island are the great auks and the resident lightkeepers. The iron tower remains standing, minus its lantern room, and a small patch of the tower's red and white striping remains.
Keepers: Esau Gillingham (1890 - 1918), Alexander Barter (1922 - 1929), Arthur Goodyear ( at least 1935 - at least 1945).
References
Journal of the House of Assembly of Newfoundland, various years.

Location: Located on the eastern end of North Penguin Island.
Latitude: 49.449694
Longitude: -53.812083


For a larger map of North Penguin Island Lighthouse, click the lighthouse in the above map.
Travel Instructions: North Penguin Island Lighthouse is best seen by boat or from the air.
The lighthouse is owned by the Canadian Coast Guard. Grounds/tower closed.
Find the closest hotels to North Penguin Island Lighthouse
Notes from a friend:
Kraig writes:

Heather Archambault shared the following information about her mother, Mary MacCallum, who spent part of her childhood at the lighthouse:

My mother was born in Ayr, Scotland in 1914 and was the youngest of eight children. Her father was a shipbuilder and worked for a firm in Ireland, returning only on weekends to be with his family. When my mother was thirteen years of age, her parents passed away . She had three brothers and a sister living in Australia and two other sisters living in Newfoundland. They all agreed to care for Mother, but it was decided that her sister Jean age 22 and married would look after her. Jean lived in St John's.

So my Mother, with suitcase in hand and accompanied with her sponsors, set sail via Ocean Liner for St John's, Nfld. After a period of time, Mother's sister Jean became ill, and found she could not cope . It was then that Mother's other sister, Nette, along with her husband Arthur Goodyear, Penguin Island Lighthouse keeper, agreed to care for Mother. This was quite a change for Mother, considering unpredictable weather, ocean storms, an entirely different environment, loneliness and lack of society. It was fortunate for Mother that Nette was a school teacher by profession, and she taught Mother her remaining years of education, sending her papers to St John's for marking and grading.

Loneliness was still a concern, but Mother became an avid reader, so, concentrating on her studies and her reading, it helped to pass the time and make life a little easier. Time passed and soon Mother had completed her education. She was now prepared to take responsibility of her own life.

She left the Island and again moved to St John's. However, there were a lot of mixed feelings. She had become accustomed to Island living and without saying more, she left on a note of both sadness and happiness. There were a lot of memories.

Mother married and lived her entire life from then on in St John's. A family reunion occurred years later with Nette, Arthur, Jean and her husband, which surely was a joyous occasion for all.
See our List of Lighthouses in Newfoundland Canada