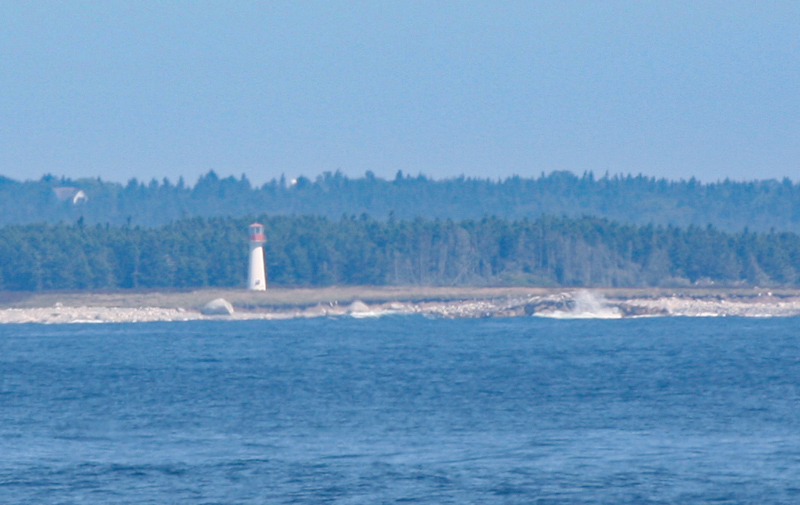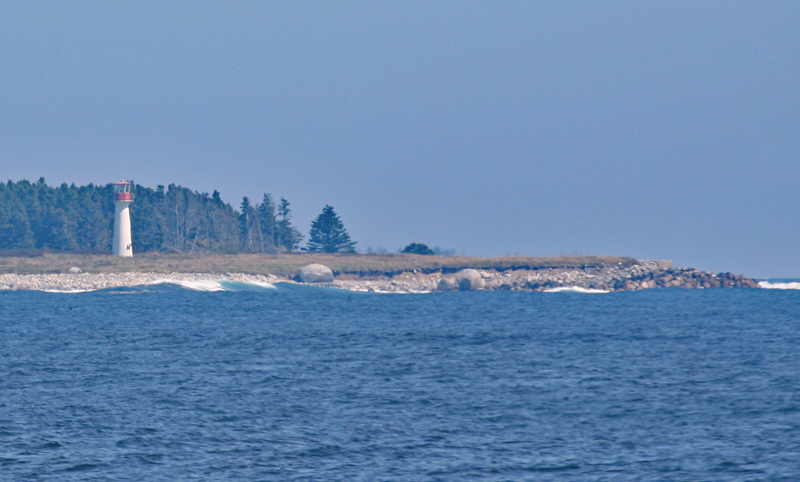 Description: Coffin Island was named for one of the grantees of Liverpool, Peleg Coffin, not something more ominous. The first light on the island, which was then known as Bear Island, was completed in 1812 and was known as Liverpool Light until 1888. Built by James Leslie from Shelburne, the wooden octagonal tower was the fifth lighthouse built in Nova Scotia, stood fifteen meters tall, and was painted with eight alternating red and white horizontal stripes. The original lighthouse was struck by lightning on June 19, 1913 and burned to the ground along with the keeper's dwelling.
The second Coffin Island Lighthouse, built in 1914 as a replacement for the original, was a white octagonal concrete tower, 16.5 meters tall, and showed a flashing white light. As the shoreline at the point where the lighthouse stood gradually eroded away, the tower was in danger of toppling into the sea. The Coffin Island Lighthouse Heritage Society was formed and mounted a successful drive to build a stone armor wall in 199to protect the lighthouse, but after a few years, it was apparent that the erosion could be retarded but not stopped. A new fiberglass tower, was erected on Coffin Island, 330 feet from the shore, in October 2006, and the concrete tower was demolished.
Coffin Island Lighthouse marks the entrance to Liverpool Bay by eastern approaches, while the western approaches are marked by Western Head Lighthouse.

Location: Located on the southeast point of Coffin Island, marking the eastern side of the entrance to Liverpool Harbour.
Latitude: 44.033639
Longitude: -64.628278


For a larger map of Coffin Island Lighthouse, click the lighthouse in the above map.
Travel Instructions: Coffin Island is best seen by boat or from the air, but distant views are available from Moose Harbour, north of Western Head Lighthouse.
The lighthouse is owned by the Canadian Coast Guard. Grounds open, tower closed.
Find the closest hotels to Coffin Island Lighthouse
See our List of Lighthouses in Nova Scotia Canada