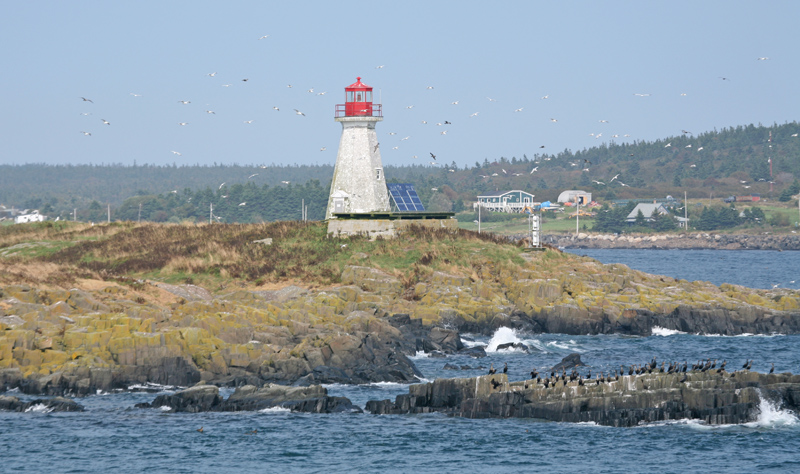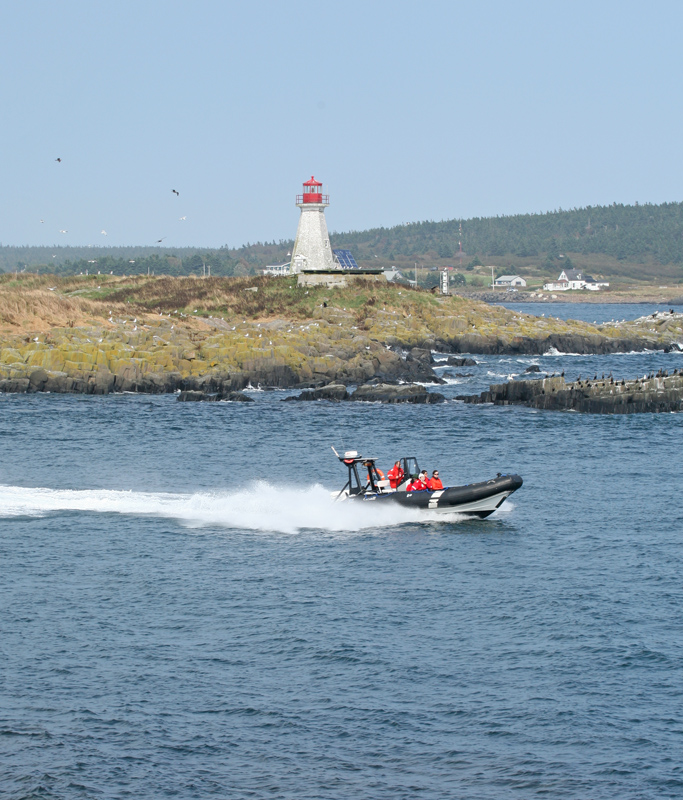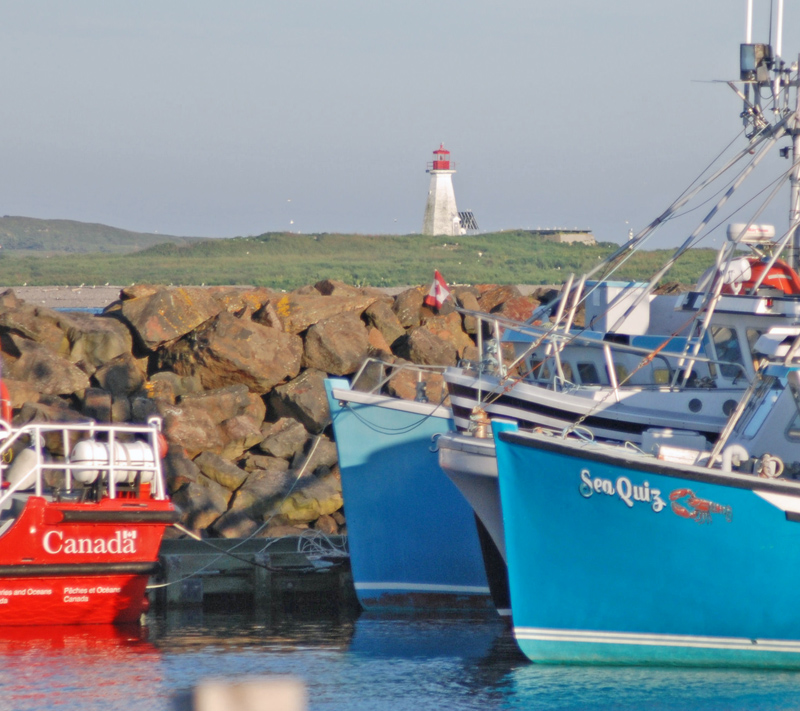 Description: The 1885 edition of Sailing Directions for the South-East Coast of Nova Scotia and Bay of Fundy notes that, "Grand passage, between Brier and Long Islands, is narrow and contains several dangers, but the principal difficulty connected with its navigation is the great velocity of the tidal streams through the channel." The guide goes on to describe Peter Island Lighthouse as "a square white building 15 feet high, standing on Peter Island at the south entrance of the Grand Passage. From the roof, at an elevation of 40 feet above high water, are exhibited two fixed white lights, placed horizontally, 24 feet apart, which in clear weather should be visible from a distance of 10 miles."
In 1909, the old lighthouse, built in 1851 and also known as the Westport Lighthouse, was replaced by the present wooden octagonal tower equipped with a dioptric fifth-order apparatus showing a fixed white light. The original illuminant used in this tower was petroleum vapor, burned under an incandescent mantle.
John D. Suthern was appointed first keeper of the lighthouse in November, 1851, and Pete Welch served as the final keeper of the Peter Island Lighthouse from 1972 until the station was unmanned in 1984. A unique feature to the octagonal tower is the circular gallery deck beneath the lantern room. The tower is 13.4 meters tall and displays a flashing yellow light.
If you travel to South Point to view the lighthouse, look for the cairn erected in honor of Joshua Slocum, the first person to single-handedly sail around the world. Slocum left Boston on April 24, 1895 and stopped for a visit at Brier Island, where he had spent part of his childhood and where his maternal grandfather was keeper of the Brier Island Lighthouse, before taking his departure from North American at Sambro Island Lighthouse on July 3, 1895. After more than three years, Slocum landed at Newport, Rhode Island on June 27, 1898, completing his journey that he would later chronicle in his book Sailing Alone Around the World. The ferry that runs between Brier Island and Long Island is named Spray after the sailboat Slocum used for his adventure. Slocum disappeared at sea after setting off for the West Indies in November 1909.
References
Annual Report of the Department of Marine and Fisheries, various years.
Lighthouses & Lights of Nova Scotia, E.H. Rip Irwin, 2003.

Location: Located on Peter Island at the southern entrance to Grand Passage.
Latitude: 44.257333
Longitude: -66.337583


For a larger map of Peter Island Lighthouse, click the lighthouse in the above map or get a map from: Mapquest.
Travel Instructions: From the ferry dock at Westport on Brier Island, turn left and travel 2.6 km (1.6 miles) to the end of the road at South Point where you can get a view of the Peter Island Lighthouse. Limited parking available.
The lighthouse is owned by the Canadian Coast Guard. Grounds open, tower closed.
Find the closest hotels to Peter Island Lighthouse
See our List of Lighthouses in Nova Scotia Canada