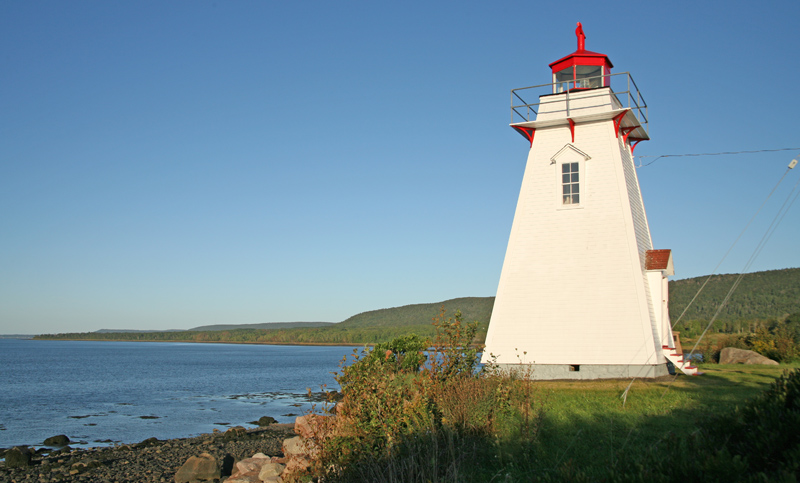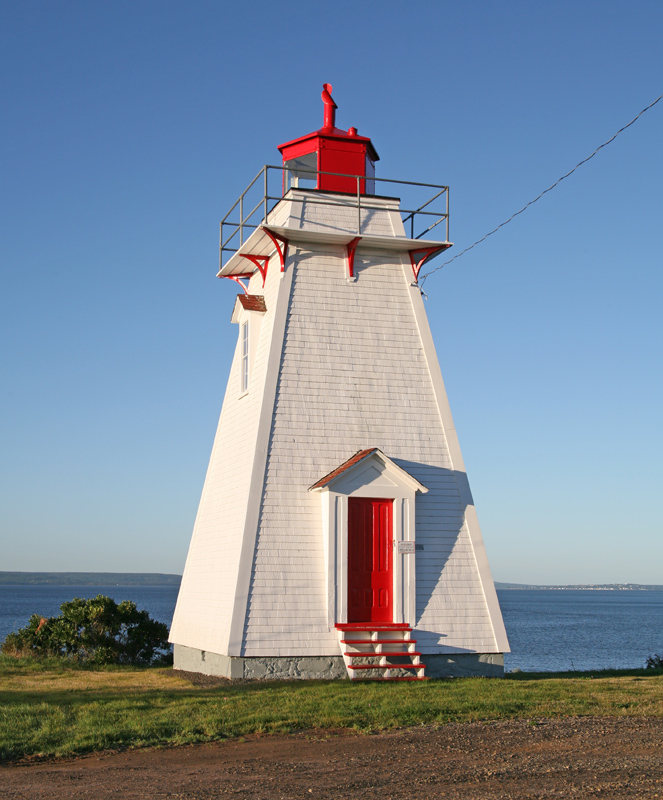 Description: The following entry is extracted from the Annual Report of the Department of Marine, for 1885, the year Schafner Point Lighthouse was built.
A new lighthouse has been erected on Shafner's Point, on the north side of the Annapolis River, in the County of Annapolis, and was put in operation on the 24th September. The work was done by Mr. John Wagstaff, of Annapolis, under contract, for the sum of $900. The light is fixed white, elevated 55 feet above high water, and should be visible 11 miles. The building is a square wooden tower, painted white, and surmounted by an iron lantern, painted red, and measures 43 feet from base to vane. The illuminating apparatus consists of a small size dioptric lens. The light is intended for the guidance of vessels navigating the Annapolis River, and especially to indicate the position of Goat Island Shoals.
Joseph K. Healy was appointed the first keeper of the lighthouse, but twelve years later the appointment was cancelled after an official investigation found "that on the occasion of the late Dominion election Mr. Healy was guilty of active and offensive political partizanship [sic]."
The lighthouse is just past the Port Royal National Historic park, a reconstruction of the first permanent European settlement in Canada, and sits between the road and the shoreline.


Location: Located just west of Port Royal on the north side of the Annapolis Basin.
Latitude: 44.709861
Longitude: -65.619056


For a larger map of Schafner Point Lighthouse, click the lighthouse in the above map.
Travel Instructions: From Route 1 (Evangeline Trail) at Lower Granville, just east of Annapolis Royal, bear right onto Granville Road that leads to Port Royal. Travel 10 km (6.3 miles), and you will find Schafner Point Lighthouse on your left, just 1 km beyond the historic Port Royal Habitation. There is a small parking area adjacent to the lighthouse.
The lighthouse is owned by the Canadian Coast Guard. Grounds open, tower closed.
Find the closest hotels to Schafner Point Lighthouse
See our List of Lighthouses in Nova Scotia Canada