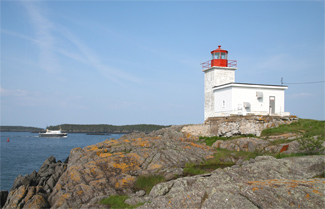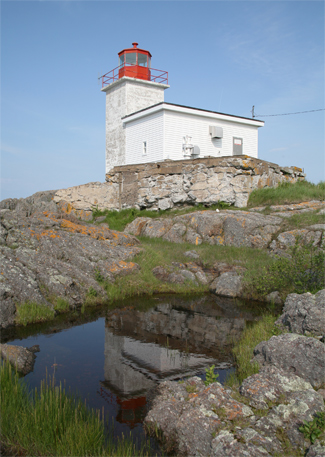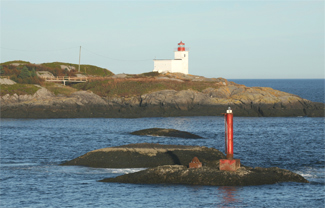 Description: Pea Island, with a length of roughly 183 metres (200 yards) and a height of about 7 metres (25 feet), lies just offshore from the southern tip of Blacks Harbour Peninsula. The Department of Marine entered into a contract for a lighthouse on Pea Point, the westernmost point of the island, in 1876, and work on the structure was nearly complete when John H. Harding, the Marine Agent at Saint John, visited the site in September of the following year. Agent Harding wrote the following about Pea Point Lighthouse, noting that its importance could not be over estimated. "It is situated at the eastern entrance to L'Etang Harbour. During my stay at this place I had an opportunity of examining more fully this safe and spacious port. Without exception it is one of the very finest harbours, in the Bay of Fundy, with a wide and easy entrance, deep water, and completely protected from every wind and storm. The two lights, one at the western (Bliss Island Lighthouse), and the other at the eastern entrance to this extensive and sheltered harbour, are two lights of the greatest value to the marine service of the Bay of Fundy."
Though the first keeper, Alexander Davidson, was on station in September of 1877, the light was not officially lit until January 1, 1878. The original Pea Point Lighthouse consisted of a wooden, square, pyramidal tower, thirty-one feet high, with an attached one-and-a-half-story dwelling and exhibited a fixed green catoptric light at an elevation of fifty-one feet above high water. The total cost of the lighthouse came to $1,905.17, and Keeper Davidson was paid an annual salary of $250.
When John H. Harding visited the completed lighthouse in 1878, he reported that the "workmanship throughout is of the roughest kind, and ought not, in my opinion, to have passed the local inspector, though I have not the specification before me to refer to. I can scarcely believe that it has been finished according to specification and contract." Harding also found the green light, which had been selected to distinguish Pea Point from other lights in the area, to be inadequate as he was "unable to discern it, when within but a short distance of it." As further proof of the light's deficiency, Harding included the following letter penned by J.N. Purdy, Captain of the government's steamship Newfield, in his annual report to the Minister of Marine and Fisheries in Ottawa.
The light at present exhibited at Pea Point is not at all suitable, as a green light does not show for any great distance, and is liable to be mistaken for a vessel's starboard light. I would respectfully suggest that it should be changed to a red flash light.
The issue with the green light must have been resolved as Pea Point would retain a fixed green signature for several more years. In 1914, a fourth-order dioptric lens was installed in the lighthouse, and the light's signature was changed to fixed white.

Pea Island was purchased for $75, from a Mr. Bennett, who was also willing to sell five acres on the tip of the nearby peninsula for $150. The purchase of this property was recommended to the Marine Department so "the keeper might have an opportunity to raise some farm produce to assist in supplying himself and family." The initial cost of the property would be quickly offset as the products of the land "would fully supplement a low salary, while without a small piece of land to work, the Department may find it difficult to retain a keeper without an increase of salary."

Various repairs and upgrades were made at Pea Point through the years. The lighthouse received an addition in 1885, and in 1895 the walls and woodwork of two rooms were painted and the ceilings of four rooms were whitewashed. The oil house was also repaired in 1895 along with the stairs leading to it. In 1898, the reflectors were resilvered, the glass in the lantern was reglazed, and a new cement floor was laid in the basement of the tower.

In 1900, Keeper Elias C. Dickson was provided a hand foghorn to be used whenever the fog signals of vessels in the vicinity were heard. A more powerful fog signal was added in 1929, when contractor J. E. Kane constructed a white, rectangular building 120 feet east of the lighthouse. Two oil engines housed in this building were used to compress air to power a diaphone that would sound two blasts of 3 ½ seconds duration every minute when needed. According to a November, 1929 article in The Saint Croix Courier, the fog alarm was expected to "be a great help for the Connors Brothers sardine boats making the harbour entrance."

After serving in the Field Ambulance Depot during World War I, Andrew Murray returned home, married Myrtle Brown a few months later, and then on November 1, 1920, became head keeper at Pea Point Lighthouse. The Murrays would raise a family of twelve children on the island, nine of whom were born in the original lighthouse between 1923 and 1939. Keeper Murray left Pea Island for most of 1942 to serve in the Second World War, but resumed his position on April 1, 1943 and served until his retirement on April 30, 1946.

A two-story dwelling was constructed on the island in 1950, and then in 1965, the old wooden Pea Point Lighthouse was replaced with the present concrete lighthouse along with a keeper's bungalow. Today, a continuous white light is shown from the square tower that rises from one corner of the one-story fog signal building. The two-story dwelling was burned in 1989, and the 1965 bungalow was relocated to Lancaster.

Keepers: Alexander Davidson (1877 – 1897), Warren P. Davidson (1897 – 1898), Elias Clayton Dickson (1898 – 1913), George Dunbar Eldridge (1913 – 1917), Percival Eldrige (1917 – 1919), Andrew Wallace (1919 – 1920), Andrew Murray (1920 – 1946), Russell Matthews (1942 - 1943), Edward Raye Brown (1946 - 1967).

References
Annual Report of the Department of Marine and Fisheries, various years.
"Willam Andrew Murray: A Pea Point Lighthouse Keeper," G. Christian Larsen.

Location: Located on a small island near the Grand Manan Island ferry terminal at Black's Harbour.
Latitude: 45.039158
Longitude: -66.808462


For a larger map of Pea Point Lighthouse, click the lighthouse in the above map.
Travel Instructions: From Route 1, take Exit 60 and travel south on Route 176 for 10 km (6.3 miles) through Blacks Harbour to its terminus at the Grand Manan ferry terminal. Just before the road ends, there is a gated dirt road leading off to the left with a dirt turnout in front of its red gate. Park and follow this dirt road on foot for 0.5 kilometres (0.3 miles) from where, at low tide, you can access Pea Island. Aim for an old foundation, which will put you on a paved footpath that leads roughly 150 metres to the lighthouse. Sturdy shoes are a must and always be aware of the incoming tide. Pea Point Lighthouse is also visible from Grand Manan Ferry shortly after leaving Blacks Harbour.
The lighthouse is owned by the Canadian Coast Guard. Grounds open, tower closed.
Find the closest hotels to Pea Point Lighthouse
See our List of Lighthouses in New Brunswick Canada