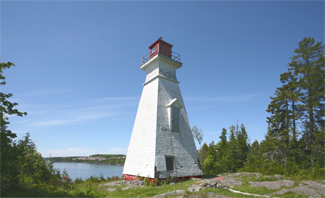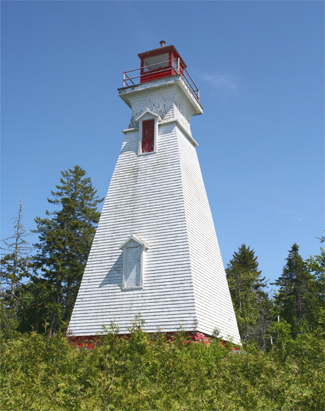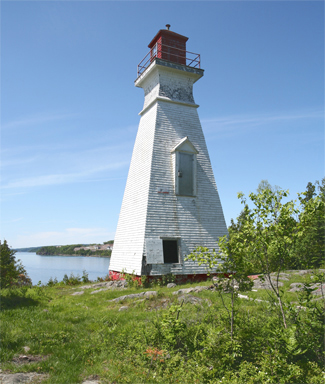 Description: Swift Point Light was one of six beacons erected in 1869 along the Saint John River between Fredericton and Saint John. The cost of constructing the lights, including the lighting apparatuses, was $2,342, with the sites costing an additional $600 or so. The original Saint John River Lights were placed in operation on August 20, 1869, with John Nelson Williams serving as the first keeper at Swift Point. In 1872, the lantern at Swift Point, also known as Green Head, caught fire and forced the suspension of the light for a few nights. After eighteen years of service, Keeper Williams resigned in 1886. A small shed for storing oil was built at the station in 1889.
The Department of Marine report for 1892 noted that the "skeleton lighthouse" at Green Head was in bad order, and tenders were to be invited during the coming winter for a new enclosed tower. It seems improbable that a replacement tower was built as the Department's report for Swift Point in 1895 notes: "part of the mast has been renewed," "a new house has been built for the lantern and new steps placed," and "a survey of the site had been made as a preliminary to building an improved inclosed tower."
While it is hard to get a good mental image of the original light at Swift Point from the Department of Marine records, the report for 1896 does provide great detail on the new tower built at the point that year.
A new lighthouse has been erected at Green Head, 24 feet east of the site formerly occupied by the old light on a mast, which is now discontinued. The lighthouse is a white, square wooden building 50 feet high, situated 105 feet above high water mark. The illuminating apparatus is dioptric, the light being fixed white, elevated 150 feet above the surface of the water and visible 10 miles from all points of approach by water. The work was done under contract by Mr. G. W. Palmer, the lowest bidder, his contract price being $579.
The pressed lens used in the tower was replaced with a seventh-order dioptric lens in 1899.
In 1900, a hand foghorn was given to Keeper Thomas E. Looney at Swift Point to be sounded whenever the fog signals of vessels were heard in the vicinity of the station. A mechanical fog bell, installed by day labour under Inspector John Kelly at a cost of $206, took the place of the hand foghorn in 1914.
Swift Point Lighthouse works in tandem with Sand Point Lighthouse to guide vessels along the Saint John River and locate the narrow entrance to the Reversing Falls section, an area of often confusing tributaries, bays, and islands.

Information on Swift Point Lighthouse

| History | Light Characteristics | Focal Height | Nominal Range | Description/Height of tower above ground |
| --- | --- | --- | --- | --- |
| Established in 1869, present tower built in 1896. | Green flash 2 seconds; eclipse 10 seconds. | 28.1 m. | 4 M | White four-sided, tapered, "salt shaker" tower, with red lantern. 13.9 m. (45.6') |
Keepers: John Nelson Williams (1869 – 1886), Thomas H. Raynes (1886), Thomas E. Looney (1886 – at least 1923).
References
Annual Report of the Department of Marine and Fisheries, various years.

Location: Located on the west side of the Saint John River, just northwest of Saint John.
Latitude: 45.28242
Longitude: -66.12133


For a larger map of Swift Point (Green Head) Lighthouse, click the lighthouse in the above map.
Travel Instructions: From Route 1 at Catherwood, take Exit 119 and travel north along Catherwood Street to Manawagonish Road. Turn right onto Manawagonish Road, and at the first traffic signal make a left onto Church Avenue, which quickly becomes Dever Road, and then make a quick right onto Green Head Road. Continue on this road then make a right turn onto Quarry Road, which will loop back onto Green Head Road. A little over midway along this loop, look for a gated dirt road on your right, where you need to park and begin your hike. As you start, you will be headed towards the lighthouse so avoid any side trails. It should take about 20 minutes to reach the lighthouse.
The lighthouse is owned by the Canadian Coast Guard. Grounds open, tower closed.
Find the closest hotels to Swift Point (Green Head) Lighthouse
See our List of Lighthouses in New Brunswick Canada