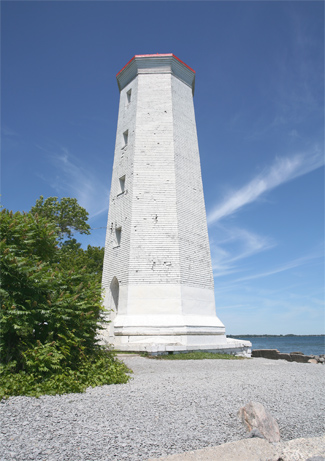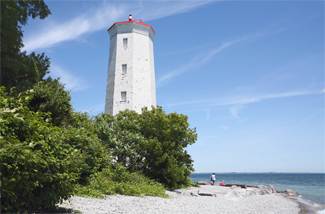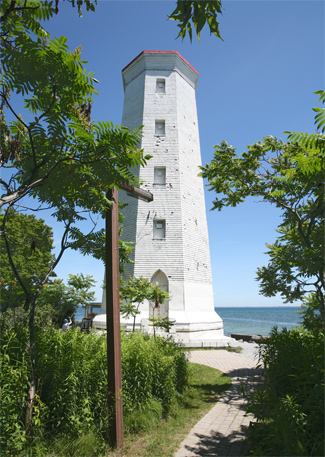 Description: The name Presqu'ile, French for "almost an island," has been applied to peninsulas on Lake Ontario, Lake Erie, Lake Huron, and Lake Superior. On Lake Ontario, the L-shaped Presqu'ile peninsula is located just west of Prince Edward County, which extends much farther south into Lake Ontario. On February 5, 1835, a petition from John Steel and 223 other inhabitants of the District of Newcastle was presented to the House of Assembly of Upper Canada, calling for the erection of a lighthouse at Presqu'ile. An act granting £1,000 for a lighthouse on Presqu'ile Point was passed on March 4, 1837, and three commissioners were appointed to supervise its construction. The commissioners engaged the services of Nichol H. Baird, a civil engineer, to design the tower, and with him, they selected the southeast tip of the peninsula on July 29, 1837 as the site for the lighthouse. Advertisements for tender were issued that same day, and a contract was made with John McLeod to erect the lighthouse for £1,050 by November 1, 1838.
Nichol Baird visited the lighthouse on April 5, 1839 and gave the following report on its state:
To complete the building, there still remains to be done the railing of the stairs – two coats of plastering – glazing the sashes – replacing the main door with one in terms of specification – some re-pointing, and levelling-off properly around the building, together with the completion of the clearing and burning-off the quantity of land required per agreement.
In addition to this, the lantern room still had to be finished and installed atop the tower.

The sixty-three-foot-tall, octagonal, stone lighthouse was placed in operation in 1840 with William Swetman serving as its keeper. No keeper's dwelling was provided in the original contract, but one was finally built in 1846. Keeper Swetman served for thirty years before retiring in 1870 at the age of eighty-five, and he was succeeded by George B. Simpson, his son-in-law, and William J. Swetman, his grandson.

In 1871, the Department of Marine received complaints that timber on the peninsula was rapidly being cut, destroying the natural windbreak that it provided for vessels seeking refuge in Presqu'ile Bay. The department discovered that the peninsula was owned by the government of Ontario and succeeded in having the land transferred to it so the remaining timber could be protected. Keeper Simpson was paid an annual salary of $700 in 1873 for looking after Presqu'ile Point Lighthouse and the range lights on Salt Point, which were erected across the mouth of Presqu'ile Bay in 1851 as a guide for entering the bay, and also for serving as a guardian of the timber on the peninsula.

In 1874, the position of keeper of Presqu'ile Point Lighthouse was wrested from Simpson and given to William H. Sherwood for political reasons. Simpson was retained as keeper of the range lights on Salt Point and guardian of the timber at an annual salary of $375, while Sherwood was paid $325 for tending Presqu'ile Point Lighthouse. The role of guardian of the timber was transferred from Simpson to Sherwood in 1878, at which time Sherwood's salary was raised to $375.

The following description of Presqu'ile Point Lighthouse was given in 1876, while Keeper Sherwood was in charge:
There are ten base-burner fountain lamps on two circles, four on the upper and six on the lower one, and ten 14-inch reflectors. The lantern is of iron, nine feet in diameter with glass 10 1/2 x 13 inches. The light-house is an octagonal stone building, whitewashed, and 66 feet high from the ground to top, of tower, and was put in good repair last fall. It will require whitewashing, however, this season. The pier around the lighthouse requires some repairs. The duties of the station are very well carried out.
Construction of a canal to link the Bay of Quinte with Presqu'ile Bay was proposed as early as 1796, but Welland Canal and Rideau Canal were viewed as more important, and it wasn't until 1882 that work on Murray Canal began. The narrow piece of land that connects Prince Edward County to the mainland has a community called Carrying Place, which is the site were early travelers would portage their vessels between the Bay of Quinte and Lake Ontario.

When the eight-kilometre-long Murray Canal opened to traffic in 1889, navigational aids were needed to marks its entrances and approaches. Three new range lights were established in Presqu'ile Bay in September 1891 to mark the western approach to the canal, and square, pyramidal, open-frame towers were erected on the north pier at both the west and east canal entrances. The new range lights replaced those formerly displayed near Salt Point.

Due to poor stone and workmanship, Presqu'ile Point Lighthouse developed cracks over time, making it necessary in 1893 to place iron bands, planking, and shingling on the tower to prevent water from entering the stonework. At this same time, repairs were made to the keeper's dwelling, which was unhealthy and hadn't been occupied for some years. The dwelling's cellar was filled up to ground level to prevent the accumulation of water, and the stone residence was lined with ceiling boards and received a full second storey. The amount expended on the dwelling was $1,457.97, while $159 was spent on repairing the cribwork breakwater that protected the tower.

A rectangular, frame fog alarm building, measuring fifty-six-feet-six-inches by twenty-one-feet-three-inches was completed on the point in November 1906, and the following year, a three-inch diaphone plant, provided by the Canadian Fog Signal Company, was installed in it. Powered by compressed air from two air tanks and two compressors, the fog alarm sounded a six-second blast each minute when necessary. William B. Ainsworth was hired as the first fog alarm engineer, and the superintendence of the lighthouse and fog alarm was performed by two men until Ross Carnrite was placed in charge of both in 1927.

In 1935, Presqu'ile Point Lighthouse was electrified and the fog signal discontinued, eliminating the need for a full-time keeper. James H. Grimes, keeper of the range lights in Presqu'ile Bay at the time, was given the extra duty of turning Presqu'ile Point Lighthouse on and off. The tower's lantern room was removed in 1965, greatly reducing the lighthouse's stateliness. Most of the property on the peninsula was transferred from the federal government to the province in 1920, but Presqu'ile Provincial Park was not formally created until 1954. To create a visitor centre, the keeper's dwelling was remodeled and expanded, and as part of this work the second storey was removed. Presqu'ile Point Lighthouse Preservation Society was formed in 2012 to repair and refurbish the tower and possibly install a new lantern room.

Keepers: William Swetman, Sr. (1840 – 1870), George B. Simpson (1870 – 1871), William J. Swetman (1871 – 1873), George B. Simpson (1873 – 1874), William Henry Sherwood (1874 – 1898), Hugh E. Smith (1898 – 1912), Fred T. Cornwall (1912 – 1926), Ross Carnrite (1927 – 1935).

Fog Alarm: William B. Ainsworth (1907 – 1914), Hugh C. McColl (1914), James William McColl (1914 – 1925), Ross Carnrite (1925 – 1927).

Range Lights (Presqu'ile and Brighton): William Swetman, Jr. (1850 – 1863), James Cummins (1863 – 1867), William J. Swetman (1867 – 1871), George B. Simpson (1871 – 1887), Hedley V. Simpson (1887 – 1922), L. McDonald (1922), J. McLagan (1922 – 1924), H. Gunyo (1925 – 1927), James H. Grimes (1927 – 1963).

References
Annual Report of the Department of Marine, various years.
Report of the Board of Works, various years.

Location: Located on Presqu'île Point in Presqu'île Provincial Park.
Latitude: 43.9978
Longitude: -77.6773


For a larger map of Presqu'île Point Lighthouse, click the lighthouse in the above map or get a map from: Mapquest.
Travel Instructions: From Highway 401, take Exit 509 and drive south on Highway 30. After 4.8 km (3 miles) turn right onto Main Street in Brighton, and then take your fifth left, which is Ontario Street (County Road 66). When you reach the lake after 2.7 km (1.7 miles), turn right onto Harbour Street, and then take your first left onto Bayshore Road, where you will find the entrance to Presqu'île Provincial Park. After paying admission, you can continue on Bayshore Road for 7.2 km (4.5 miles) to reach the parking area for the lighthouse.
There is a Lighthouse Interpretive Centre in the historic keeper's dwelling that is open daily in July and August, and on weekends in May (starting on Victoria Weekend), June, September, and October.
The lighthouse is owned by Ontario Parks. Grounds open, tower closed.
Find the closest hotels to Presqu'île Point Lighthouse
See our List of Lighthouses in Ontario Canada