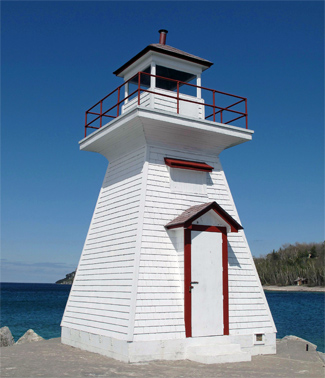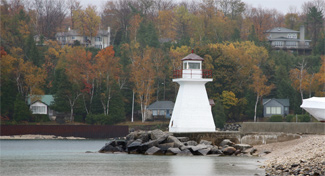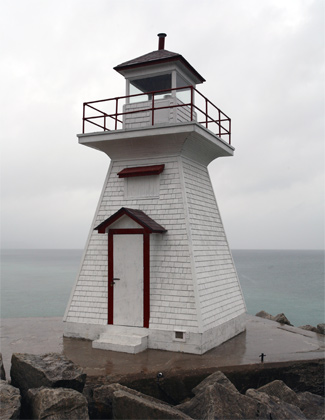 Description: The village of Lionís Head straddles the 45th parallel, meaning it is midway between the equator and the North Pole. Striking limestone cliffs, part of the Niagara Escarpment, are visible from the townís harbour, and one formation gave rise to its name.
The first light to mark the Lionís Head Harbour, a square lantern with a red light situated atop a pole, was established in 1903 on the breakwater. This light was replaced with a tapered square tower in 1911, but the new tower was toppled over by a storm during its first year of service. Hurricane-force winds accompanying the Great Storm of 1913 knocked the tower off its perch again. Recovered from the beach south of the harbour, the tower was repaired and restored to a position on the pier. It wasnít wind but rather fire that damaged the tower in 1933. In the end, however, it wasnít wind, fire, or water that did in the little lighthouse, but rather the Canadian Coast Guard, who dismantled the tower in 1969, burned its remains in the local landfill, and replaced it with a nondescript metal tower topped by a flashing red light.
Using the plans for the original lighthouse, students at the Bruce Peninsula District School built a replica in 1983 under the direction of teacher Brian Swanton and assisted with funds from the Lion's Head Rotary Club. The studentsí tower wasnít a replacement for the metal light tower on the breakwater but rather sat unlit on the nearby shoreline. Then in 2000, a violent spring storm damaged the metal pole, and the Coast Guard decided to replace it with the student-built replica. Now, a proper functioning lighthouse proudly marks Lionsí Head Harbour again.
References
Bruce Coast Lighthouses.

Location: Located on the breakwater in the harbour at Lion's Head.
Latitude: 44.99061
Longitude: -81.24827


For a larger map of Lion's Head Harbour Lighthouse, click the lighthouse in the above map or get a map from: Mapquest.
Travel Instructions: From Highway 6 in Ferndale, roughly midway up the Bruce Peninsula, turn east on Bruce County Road 9. When the road ends after 3.2 km (2 miles), turn left onto Main Street. Take your fourth right, which is Scott Street, followed by your first left and then stay right to drive around the harbour to the dock area, where you will find the Lion's Head Habour Lighthouse.
The lighthouse is owned by the Town of Lion's Head. Grounds open, tower closed.
Find the closest hotels to Lion's Head Harbour Lighthouse
See our List of Lighthouses in Ontario Canada